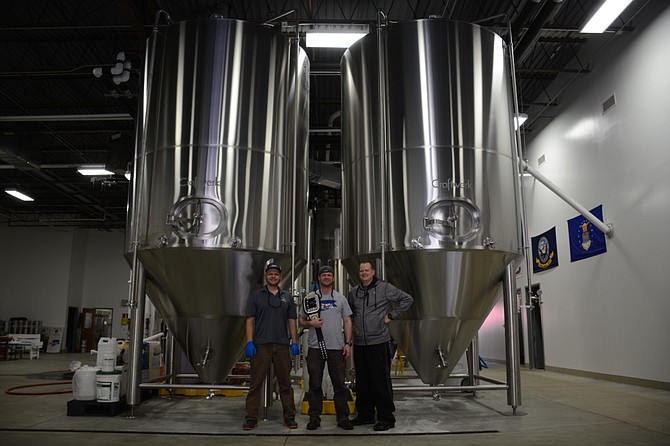 He thought they would be bigger — that was, before they were installed.
Standing an imposing 20 feet tall and weighing more than 50,000 pounds (fully loaded), head brewer and Burke resident Charlie Buettner said the twin stainless steel tanks Fair Winds Brewing Company just added to its Lorton operation are the embodiment of the young brewery's swift success.
"We've wanted to expand," Buettner said, "but this has been fast in two years. It's a tribute to the staff, and the liquid."
Looking at the tanks dwarfing everything else in the 12,600 square-foot brewery, Buettner is still getting used to them, and described their heft with a few choice words not fit for print.
That liquid, Buettner's characteristically clean, crisp, nautical-themed
libations including the Siren's Lure hop-forward Saison style and Howling Gale India Pale Ale, has already won high praise in the beer world.
Siren's Lure was a gold medal-winner from Denver's Great American Beer Festival in 2015. And in 2016, the Fair Winds took home gold, silver and bronze medals at the Virginia Brewers Cup.
The brewery's CEO and captain Casey Jones — he served 12 years with the U.S. Coast Guard — said they of course love the accolades from experienced judges. "But what's one, two degrees cooler," the Falls Church resident said, is when consumers take the time to vote for them.
FOR THE SECOND YEAR in a row, Fair Winds recently captured first place in the "Washington City Paper" Best of D.C. reader poll for Best Local Brewery.
"That was exciting," said Jones, "that they like the product that much."
Runners-up were more established craft heavyweights Port City Brewing Company in Alexandria and 3 Stars Brewing Company in Washington, D.C.
From the paper's announcement, it quoted readers as saying of Fair Winds: "A well run veteran-owned brewery. Good selection of beer styles available. Full-flavored and high quality beers. The tap room has a fun atmosphere, open, comfortable, great for socializing, or coming with your kids. And, the food truck that parks outside is excellent."
Fair Winds opened its brewery and taproom in March 2015 with the capacity to produce 4,000 barrels annually. Last year, Jones said they moved more than 2,800 barrels out the door. With the new 120-barrel (roughly 3,600 gallons) fermentation tanks, that yearly production potential jumps to 8,160 barrels.
It's truly been the rule of twos for the brewery.
Since they launched, Jones said the strategy has been an aggressive one: to double the work and success of what came before, on the way to becoming a packaging brewery player in the mid-atlantic.
Some elite microbreweries such as the Alchemist in Vermont have seen success while keeping supply limited and capitalizing on a strong reputation and a little mystique. Jones said Fair Winds' philosophy, alternatively, is boosting "the ubiquity of the beer, more about access."
In their first two years, Jones said they were lucky to form a good relationship with a distributor and have made their way into a still-increasing number of retailers and chain stores. The first true, erm, home run for distribution was landing a draft cart contract at Nationals Park.
Jones said it took a year of wooing the park management team and Levy Restaurant group, but that to win the "small bite of the apple" of being sold at alternating home stands is, in a word, "huge." As in, those sales alone more than double Fair Winds performance around D.C. for the same period.
The philosophy of accessibility is consistent in the Lorton tasting room as well, where Jones said the bottom line is Fair Winds is selling a social product. Whether patrons want to chill out and banter with the bartender or geek out with them over hop styles and brewing techniques, "we'll meet you where you are," he said.
Tasting room manager Jacquelyn Olejniczak said constant goal is for the space to be familial: "You're welcomed in the door," she said. "There's something for everyone."
The national Craft Brewers Conference having just wrapped in Washington, D.C. was a reminder of the exponential growth of craft beer as a business venture. Around the country, two breweries are opening each day. Since Fair Winds started, the total number has jumped from 3,000 to 5,200.
IN GENERAL, and in that market, Jones said it's difficult to keep expanding. To do so, they've continued to invest in infrastructure (including the twin behemoths), invest in people, and in processes, including quality control such as testing for yeast viability and dissolved oxygen content. They've had to dump beer before sending it to market, because first impressions are one place where the rule of twos doesn't apply.
"It's awesome to be able to execute your dream... in a way that's accepted by people," Jones said. "We're thrilled our taproom does numbers two years into our existence that are two and a half, to three and a half times what we did when we opened our doors."
But it's never just been about the numbers for him.
"Standing in there, watching people in there sitting around," Jones said, "the taproom has become 'third place.' It's not their home, it's not their office, but something in between. To gather, relax, I'm thrilled by that."
So maybe it's the rule of threes after all.