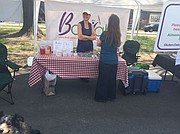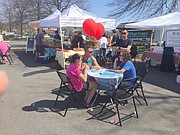 When we packed up and headed for the historic Grange Hall in early December, we never imagined that we would be setting up again in the parking lot at the Great Falls Village Centre. Planning is going a bit more slowly than expected, and we welcome the chance to delight you once again in our old stomping grounds. The search continues for a new place, but we are very grateful for this chance to gather in our old digs once again.
Our warmest thanks to TD Bank, our winter market sponsors. In the old Grange tradition, winter is a time of fidelity. During the barren winter months, the Grangers developed the leadership trait of fidelity – being faithful to their mission in spite of the empty fields – having confidence that the earth will flourish again. TD Bank made it possible for the market to continue during the tough winter months, inviting new people to join in and creating consistent conditions in tough times. During our months indoors, friendships have blossomed through the many holidays, feasts, vacations, and storms.
We are ready to delight your family with healthy food options all summer long: Diaz Berries & Veggies returns this Saturday with Asparagus as the headline! OMG Microgreens will amaze you with a good spread of microgreen choices.
Tuscarora Organic Growers Coop returns with certified organic produce. Vordonia Extra Virgin Olive Oil has the most pure, low acid, rich EVOO you can find anywhere. Our Zaatar is made of the freshest ingredients, and SpicedForYou offers cryogenically dried herbs, spices, and curries, with spices combinations from around the world.
This summer, you may find your fresh, unfrozen local fish and seafood at our market, as well as personally wild-caught Alaskan Salmon by local fishermen who travel to Alaska (Cold Country Salmon). You will find grass-fed beef, pork, pastured chickens, and eggs at our market (Liberty Hill Farm and High View Farm). All supplemental feeds are organic. If you need some help with meal preparation, there are pot-pies and soups (Liberty Hill Farm), veggie burgers (Pure Veg), empanadas (World Eats), spanakopita and more (Our Mom Eugenia).
EC Pastries has returned with her amazing selection of pastries, cakes, pies and more. Baguette Republic has built a new kitchen over the winter and has one kitchen for breads and one for pastries. Taste the difference. Lemonade is joining the market this week with coffee! That will surely entice you to linger long. Boyah Gourmet offers gluten-free, sugar-free handmade chocolate.
We have music every Saturday and tables and chairs for you to take a moment to relax and enjoy your community. If you would like to participate in or contribute to the market, please let us know at Kathleen@GreatFallsFarmersMarket.org