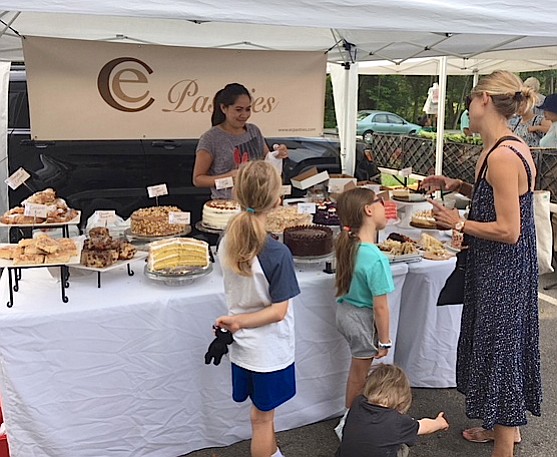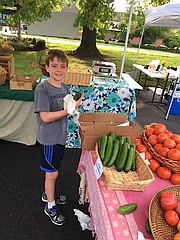 Since 2007, our community farmers market has been an integral part of the Saturday morning buzz at the Great Falls Village Centre throughout the spring, summer and autumn, and the Great Falls Grange throughout the winter. Customers who recently shopped three farmers market before venturing upon our market said that our local market had the best quality offerings and the most friendly and neighborly atmosphere. They now return every Saturday.
What makes the Great Falls market so special? The answer lies in the vendors, who bring a sense of purpose and a commitment to excellence.
Some vendors have been professionals in major corporations before realizing that their heart lies in agriculture.
Jerry of Jerry's Gourmet Berries was an aerospace executive responsible for building missiles before he desired to promote people's health through growing organic berries, heirloom tomatoes and fermented vegetables. He wrote a book, "Eater's Guide to Berries," which conveys that what you eat determines how healthy you are.
Ken Mattich of Liberty Hill Farm was a telecom engineer and sales executive before reading Jeffrey Smith's "Seeds of Deception." He and his wife, Andrea, wanted authentically healthy food, but learned that there was a gap in how animals were fed. They began raising their own meat, as no one was doing organic feed or fully pasturing grass-fed animals. They began to raise a little more animals as meat for their friends. Then they were invited to sell at the Purcellville market. Over the last 12-14 years, they have built a business they are proud of that includes grass-fed beef, pastured pork, organic-fed chickens and eggs, as well as raw milk, yogurt, kefir, butter and more through animal shares.
Babette Lamarre, owner of Booyah Gourmet, is a Board-Certified Nutritional Therapy Practitioner who realizes that healthy foods don't always taste good. She offers delicious chocolate balls of various flavors, helping people cope with giving up sugar, dairy and gluten through her amazing recipe. She believes that food is joyful and that there is added joy when we eat healthy as well. She offers nutritional counseling, and cooks for people in their homes.
Our newest vendor, Stephanie Plunkett, owner of Lemonade Café, left corporate life after receiving her college degree to open her own virtual coffee shop. Her coffee, fresh squeezed lemonade, orange juice, and hand-made pretzels are unique and amazing. She seeks to create an ambiance in which her customers find a reflective and quiet moment in their day, finding nourishment in her space.
Each vendor has their story, whether Luke Wahlgren, owner of World Eats, who sees his business as making people happy through his exotic empanada recipes from around the world; Elaine, owner of Tyme Foods, brings Zaatar, sharing a Middle Eastern herbal snack that her children love, bring the freshest and most nutritious offering available; Eva Kronenberg, owner of EC Pastries, is a master pastry chef who delights our community with her creations; Tony, owner of OMG Micro Greens, began growing microgreens to offer non-GMO nutrients that are free of chemicals to his family and friends; Asiya Sen, owner of Sen Catering, began cooking Turkish specialties for friends and neighbors before starting a catering business; John Hobson of Our Mom Eugenia brings Greek savory and sweet delicacies made by his wife for the company owned by his sons, Alex and Phil; Craig Hageman, owner of High View Farm, began raising cattle when his wife was diagnosed with cancer and he wanted to be around her to offer support. His new wife, Karen, also had her first husband die of cancer. She told him she wanted to farm. He told her that that will have to be with your next husband. Sure enough, Craig and Karen, old high school friends, met and they got the farming going full swing, as well as silver jewelry making.
There are more stories to tell – Baguette Republic, Healing Gems, the Great Falls Historical Society, Diez Berries & Veggies, Tuscarora Organic Growers Coop, and more…and we are ready to tell them. Stop by on a Saturday morning, enjoy the music, and chat with your neighbors and our dedicated vendors.