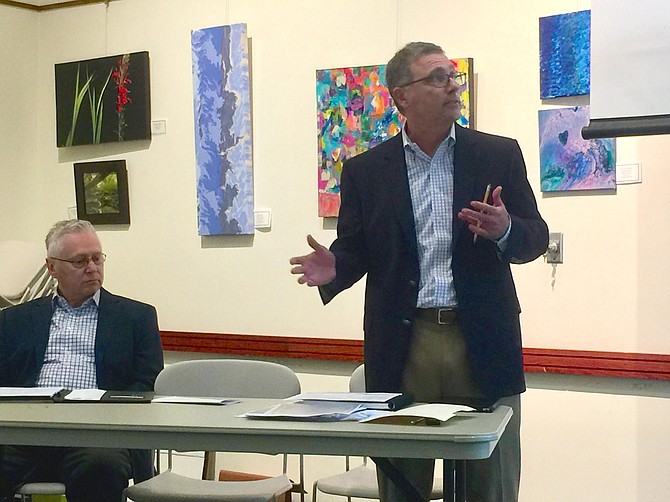 Verity Commercial hasn't yet submitted a special exception application to build a 62-unit, assisted-living, memory-care facility in Great Falls; as of Wednesday, April 19, 2018, its co-founder Herman G. Diebler hadn't even officially closed on the purchase of land from Wayne Foley at 1131 Walker Road.
But Diebler and Rick Irwin, CEO of IntegraCare, wanted to begin a conversation with Great Falls residents and members of Great Falls Citizens Association, before the land use process officially begins.
"I have to give it to these guys, they haven't even applied for their thing, but they are here, they are listening," said Eric Knudsen, past president of Great Falls Citizens Association.
Knudsen said Great Falls Citizens Association probably "delayed their process six to eight months to ask for this."
Diebler and Irwin, with their land use attorney Lori Greenlief from Maguire Woods, plan to submit an application to the county for the 62-unit facility in June of 2018; should the process go smoothly, they hope for site plan approval by the Planning Commission and then the Board of Supervisors in January 2020 and hope to be open for residents in February 2021.
"You guys are right here at the beginning," Diebler told members of Great Falls Citizens Association, at the Land Use and Zoning committee meeting held at Great Falls Library on Wednesday, April 19, 2018.
"We have to be selective in the projects we do. Because we are a small company, we have to be successful," said Irwin, whose company from Wexford, Pa. outside Pittsburgh, has acquired and developed 21 assisted-living facilities, including two in development in Reston.
A SPECIAL EXCEPTION is needed because the 2.8 acre parcel at 1131 Walker Road is less than the required five acres required to build a medical facility.
Currently, the land is split zoned C-8 (commercial) and R-1 (residential), and a 49-foot, two-story office and retail building could be built by-right immediately, without need for additional county approval.
The property is located at the intersection of Colvin Run and Walker roads. Diebler said it's the last property in Great Falls with access to sewer.
"We believe our proposed use is significantly less impactful on the surrounding neighborhood than the by-right C-8 zoning uses that are currently allowed," wrote Diebler to the Great Falls Citizens Association in early 2018, citing uses such as restaurants, gas stations, offices, a funeral home, a church or a bowling alley currently allowed. "Our proposed senior living facility will create less parking and traffic issues and less noise with no impact to schools."
Knudsen and president Bill Canis of Great Falls Citizens Association alerted its members that the community has more ability to get involved and impact the process and details because a special exception is being sought.
The soon-to-be proposed assisted living building will be 53,104 square feet in total; 20,644 square feet for a lower level memory care portion, 16,115 square feet for a second floor assisted living and 16,345 square feet for ground floor assisted living.
"We have no comment on a proposal until we have an actual plan before us," said Knudsen.
Diebler and Irwin anticipate the facility would generate approximately 169 daily car trips from the building, and that 44 parking spaces would be needed. The height of the building would be 32 feet in front, and 44 feet in back, they said.
THE POTENTIAL FACILITY would be a neighbor to Brightview Great Falls, at 12000 Colvin Mill Road, the former site of Great Falls famous Thelma's Country Store. Brightview Great Falls opened in 2014 and has 62 assisted living units and 25 memory care units.
Brightview Great Falls successfully received a special application in 2011 to build on the 3.56 acre lot, according to Planning Commission documents.
"The more involved the citizens are about the process … the more thoroughly your concerns will be vetted," said Bill Canis, president of Great Falls.
Dranesville Supervisor John Foust is interested in public opinion, said his land use specialist Ben Wiles, who attended the meeting.
"We have five [GFCA] Board members in this room; so we're listening," said Knudsen.
BUT JOE SARTIANO, a close neighbor to the facility's proposed location, hasn't forgotten the BrightView Great Falls special exception and construction process; he isn't eager to begin again.
"I lived through Brightview," said Sartiano, who organized a petition to say no to Brightview, when it sought a special exception from the Board of Supervisors in 2011 to build its facility at the site of the former Thelma's.
"I'd like to at least commend you on your transparency," he told Diebler and Irwin, "but it seems like the onus is on us to stop this."
Of the new location for an additional assisted-living and memory care facility, he said, "I drive by that property every day and it's an eyesore so I've been looking forward to something being developed, but I'm truly against the special exception."
Sartiano had hoped free market would facilitate a different type of use, even if it's the one currently allowed for by-right.
Mark West is another immediate neighbor. "I love the architecture, I love what you're trying to do," he said, on first reaction. But obviously he will be affected, and he compared the size of the facility to the size of the White House.
He wanted to learn how Great Falls Citizens Association might help him and his neighbors as they determine how to respond to the special exception proposal when it's actually proposed.
"You're not alone," said Knudsen.
Brian Clark's house is located down the hill from the proposed facility.
Because of the topography of the site, "I'm going to look up at this huge building," said Clark.
He described his walks around the area at night, when it's pitch black and quiet. "It feels like you're in absolute nowhere," he said.
"This will change the dynamic entirely," he said. If he had known that an assisted living facility was going to be proposed, he said, "we would not have bought our house."
DIEBLER AND IRWIN did their research; they know Great Falls Citizens Association advocates for dark skies.
Their architect William R. Drury, of Architecture, Inc. in Reston, plans for the inside to mirror the look of the inside of Colvin Run.
Their site engineer is a Great Falls resident and knows the community's advocacy of tree preservation and open space.
The facilities look to have the potential to be an activities director's dream, with a brick oven and open kitchen facility where residents can remain involved in cooking demonstrations. Artists from Great Falls will be invited for activities in a planned art studio as well. Amenities also include a country house cabin decor, automatic sensored doors to residents' apartments, and automatic motion lighting to help prevent falls in the middle of the night.
And Diebler and Irwin presented statistical demographics to suggest that Great Falls will benefit from an additional assisted-living facility.
"We marketed this property for a year before we decided we wanted this site," said Diebler. The land is currently assessed at $3,203,700, according to Fairfax County records.
With a total population of 17,793 in Great Falls, 3,058 people are older than 65 and 2,978 are between the ages of 55-64.
The building would include 42 assisted living units and 20 memory care units.
"To me, it's pretty striking that there's a need," said Diebler.