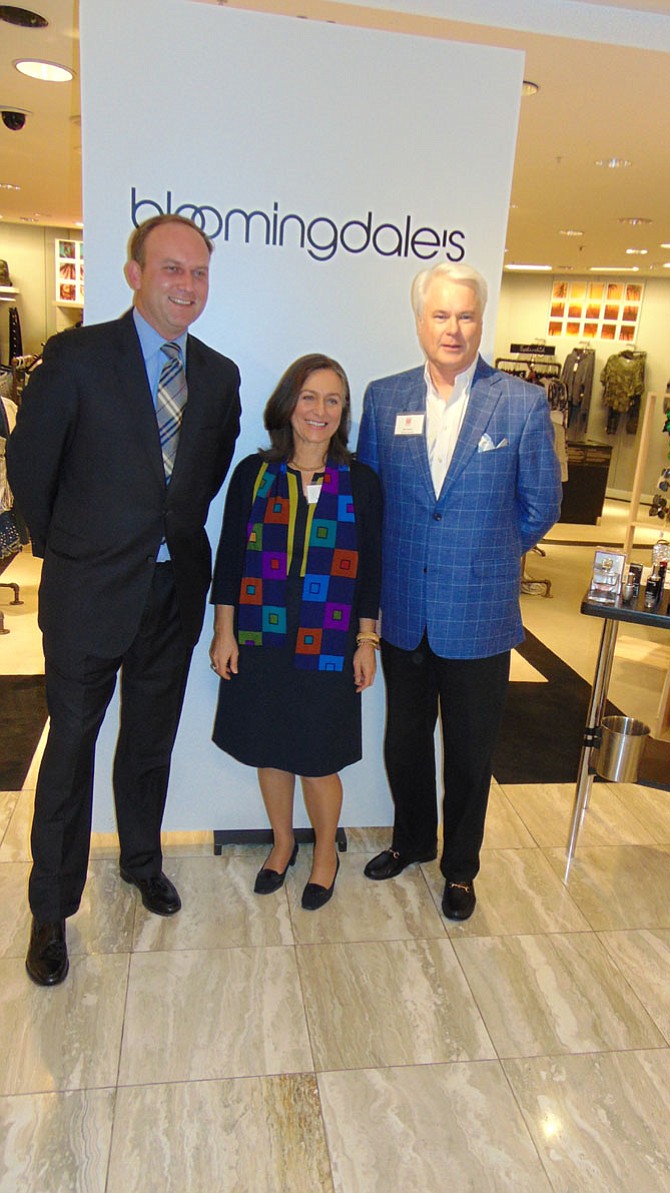 The spring fashion statement this year is the color yellow and soft pastels with ruffles thrown in for good measure. That's what we learned when the New Dominion Woman's Club (NDWC) held its 11th Annual Spring Fling Benefit Fashion Show on Sunday, March 18, at Bloomingdale's at Tysons Corner Center, which provided the clothing.
With NDWC celebrating its 50th Anniversary this year on April 5, the fashion show raised between $8,000 and $10,000 that will be distributed to four local charities: The Friends of Pleasant Grove; McLean Project for the Arts; Safe Community Coalition; and SHARE of McLean.
Some of the special guests were Dranesville District Supervisor John Foust, State Del. Kathleen Murphy (D-34), emcee Bill DuBose, and Paul Kohlenberger, President of the Greater McLean Chamber of Commerce, who modeled some clothes.
"The show is a lot of fun for all of us to put together every year. It's the kind of event that brings the club together," said Kitty Gonzalez, Vice President of Communications for NDWC. "It's really a high-energy event. We have five models who are friends or members of the club and we have professional models as well that help."
Del. Murphy added: "I'm very proud of the work that the club does on behalf of all of the people of McLean. It's a wonderful organization; it's been around for years and years and years, and they do really good work, so I'm always glad to come and help support them."
Event Chairman Desi Woltman said the fashion show has become the breadwinner for NDWC's beneficiaries. "It's our big event; it's been very successful and we owe most of our success really to the great partners we've had throughout. We want to thank Effie Elkorek, the personal shopping manager at Bloomingdale's; and Annalisa Varian, the PR manager. They are super professional; they make it very easy and fun."
About 60 guests could sip mimosas and sample finger foods catered by Ridgewells Catering while perusing the raffle items, which included a Lancôme Gift Basket, Dooney-Bourke handbag, and tickets to the McLean Project for the Arts Spring Benefit. Tickets for the show were $75/adults; $40/students.
The Platinum Premier sponsor was Bill Page Toyota; Silver sponsors were Chesterbrook Residences; District Financial Advisors; and other sponsors Monica Gibson of Keller Williams Realty; McLean Pool and Spa; Wheat's Landscape; and McLean Properties, as well as in-kind sponsors Bloomingdale's and Safeway.
NDWC also supports the Reading is Fundamental program; Adopt a Highway; and they're having a big food drive for SHARE with Giant Food on April 7. For more information on the NDWC, visit the website at https://www.ndwc.org.