Mount Vernon — Cruising down Jeff Todd Way on a hot summer afternoon did not phase Brian Phillips, who was heading back to his home in Philadelphia after a four-month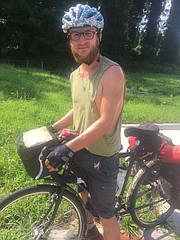 ride across country.
Phillips left the Seattle area on April 20, mapped out a route on the "transamerica" cross-country bike trail, and has experienced the USA as few people have. "It's been amazing really," he said. "A bicycle is a great way to travel, you get to go to all the small places you normally just fly right by," he added.
TransAmerica Trail is a 4,223-mile route from Astoria, Ore. to Yorktown, Va., according to its website which cyclists can access for free. The trip is divided into 12 segments, with the last one being from Christiansburg, Va. to Yorktown, which is where Phillips trip took him before his last trek up to Philadelphia. He had a map with a route that took him up the George Washington Parkway trail, across the Potomac River and further north on the Capital Crescent Trail.
"Because this route has been ridden by cyclists for years, many of the cafes, restaurants, and overnight accommodations along the route have kept journals consisting of entries written by cross-country riders from previous years, providing you with a cyclist's history of the route," trail information stated.
Phillips, a web developer, took a sabbatical from work to do the ride. "They were great about it," he said. Although he had a computer in one of his bike packs, there was no time for dabbling in web development along the way. He had enough to worry about, all 4,223 miles of it.