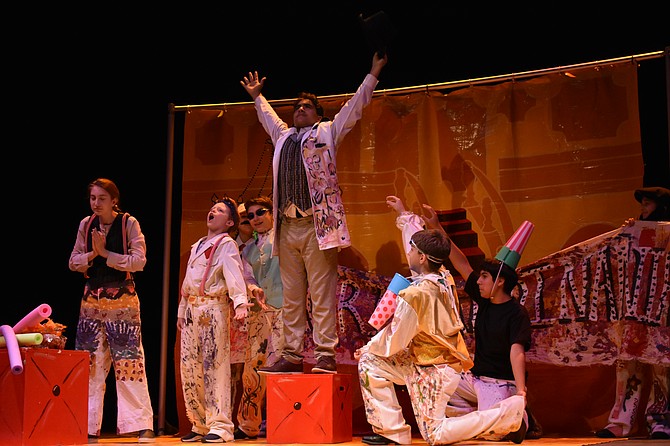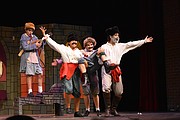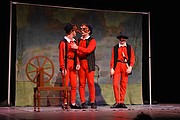 When Jeanne Harrison founded the Traveling Players Ensemble 16 years ago, she wanted to find a way to teach kids what it means to be in an ensemble. She wanted to emphasize togetherness and teach the importance of the journey of putting on a show.
"I found that actors needed the experience of caring as much about the process as they did the product," Harrison said. "I thought, 'What's the best way to teach ensemble? You take kids backpacking.' In backpacking, you remember that the journey is as important as the destination."
The Traveling Players Ensemble provides summer camps to children in third grade through 12th grade with a focus on bringing theater into the outdoors. Though it is a day camp, the young actors spend one night a week camping outside, complete with s'mores.
Friday, this summer's second session of campers performed three plays in a showcase of their work at The Madeira School. The Middle School Ensemble performed Molière's "The Bourgeois Gentleman," the High School Ensemble performed William Shakespeare's "Love's Labor's Lost" and the high school Commedia Troupe performed an original version of "Sleeping Beauty."
These three ensembles had worked for four weeks to put on these productions. Through this time, the actors developed a strong sense of togetherness.
"It's a really fun community to be part of," said Commedia Troupe member Soven Bhagat of Marshall High School. "You feel supported here. There's a like-mindedness to it, but you're with very different people that you get to learn a lot about."
After their performance Friday, the Commedia Troupe left on a nine-day tour, performing around Virginia. Prior to Friday's show, the High School Ensemble spent two nights on Skyline Drive and performed in Luray.
For the young actors, these performances are memorable and valuable. McLean resident Maddy Wakefield, 13, participated in this summer's first session of camp, playing the role of Madame Jourdain in "The Bourgeois Gentleman."
"One of my favorite memories was when I put on our show this year," Wakefield said. "It was really fun because the show went super well, and it was really funny."
The middle school ensembles from each camp session will have the opportunity to perform their show again: They have been invited to perform "The Bourgeois Gentleman" at the Reston Multicultural Festival on Sept. 22. Harrison said she will invite both casts and give a role to everyone who can go. The Traveling Players, she said, will be the only organization at the festival representing a culture that they are not from – the play represents France, but the cast is not French.
Though the play has themes of wealth and class, it is nevertheless a lighthearted comedy with singing and slapstick humor. That is one of the things Harrison enjoys about the Traveling Players Ensemble.
"I love what we get to work on. We get to tell some of the world's most complicated stories, and we put them in the mouths of teenagers," Harrison said. "And they do it. They do it well."