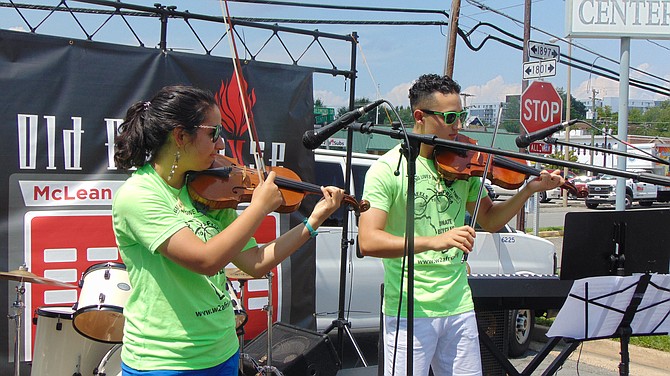 The Old Firehouse Center in McLean held its 28th Anniversary Block Party on Saturday, Aug. 11. The event included a Bands for Bikes (and Bach to Rock) concert featuring five stage acts organized by Claire Fulton and Jack Lichtenstein. The event also featured a Wheels to Africa bike collection organized by Michael Lesmez, who has been doing this since second grade.

In addition, The Old Firehouse Center held an Open House that featured a rock wall, surfboard balance obstacle and moon bounce as well as sand art and airbrush tattoos. During the event, the club heads offered samples of what their clubs do in the after-school program.
"We're really proud to have this community support from these various non-profits supporting the Firehouse and our anniversary," said Mike Fisher, General Manager of the Old Firehouse Center.
Dixie Duncan of Arlington runs Wheels to Africa, a grassroots non-profit that collects bikes in the metro area and sends them to needy communities in Africa as well as locally. Operating with a budget under $10,000, she said in 13 years, she and her son Winston have sent more than 9,000 bikes to Africa. She just returned from a three-week trip to Ghana, as well as Tanzania and Zanzibar, where she delivered bikes and looked into making new deliveries. On Saturday, they collected about 50 bikes at the block party.
For five years, Jack Lichtenstein of McLean has been coordinating the Bands for Bikes part of the entertainment, and because he's recently graduated from Langley High School and is heading to Drexel College, he's handing over the task to Claire Fulton.