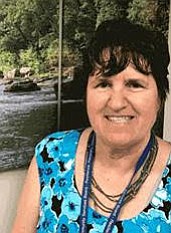 Lyn Tomlinson, a Vienna native, began her career with the Fairfax-Falls Church Community Services Board (CSB) in 1994 as a clinician providing direct services to young people with mental health and substance use disorders. As of August 18, she will hold one of the agency's top management positions: Deputy Director of Clinical Operations.
For the past four years, Tomlinson served as CSB's Assistant Deputy Director for Acute and Therapeutic Services. In this role, she oversaw a wide swath of CSB services, including emergency services; system access; wellness, health promotion and prevention; youth services; Diversion First and adult co-occurring residential and substance abuse treatment programs. Tomlinson holds a graduate degree in education with a focus on community agency counseling from George Mason University.
"Our agency is evolving. I've seen these changes firsthand and am humbled to have been a part of them. Hand in hand with our community partners and county colleagues, we are making the necessary changes to achieve our primary goal: to meet the needs of our clients," said Tomlinson. "Everyone who works with the CSB has a role – and an opportunity – to help meet the needs of the people we serve," she added.
Tomlinson came to the CSB with extensive clinical experience. Prior to working with the CSB, she was employed at a psychosocial rehabilitation center, an inpatient psychiatric hospital and at an inpatient substance use treatment program in the community. Throughout her years of service with the CSB, Tomlinson has worked at the Juvenile Forensics Unit and served as a clinical supervisor at two of CSB's residential treatment programs. She was promoted to be the manager of the Crossroads Youth Program. Tomlinson also served as CSB's Service Director for Engagement, Assessment and Referral.
She is also active in several state, regional and national behavioral healthcare committees, including serving as a surveyor for the Commission on Accreditation of Rehabilitation Facilities (CARF).
At the core of what explains Tomlinson's passion for her work is simple, she says, "It's all about our clients.
"I often run into people that I worked with during their teen years; they're now adults, with families of their own. Often, they're very open at expressing their gratitude for the help and support they received during a tough time in their lives. Truly, our treatment teams are amazing and are doing important work; it's an honor and privilege to support each of our employees to meet the behavioral health needs in our community."