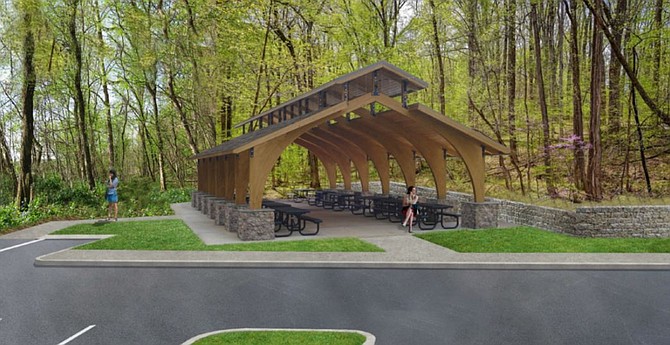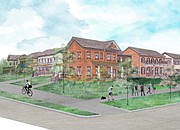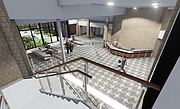 Riverbend Park in Great Falls, the only Fairfax County park located along the Potomac River, is known for its natural, educational, and cultural features. Many County school children visit the park annually to learn from naturalists who make science and history fun and engaging.
In accordance with the Riverbend Park Master Plan, the Park Authority is constructing an Outdoor Education Classroom/Picnic Shelter to support the park's educational mission. The new facility will enhance the programs Riverbend currently offers, which range from bird watching to canoeing. Construction is underway and the project will be completed this fall.
Making Herndon Metrorail Stations More Accessible
Understanding the importance of the County's investment in the Metrorail Silver Line, the Fairfax County Board of Supervisors directed Fairfax County Department of Transportation (FCDOT) staff to initiate the Herndon Metrorail Stations Access Management Study (HMSAMS) in 2012. The purpose of the study was to engage the public to identify and prioritize necessary bicycle and pedestrian facility projects to improve access to the future Herndon and Innovation Center Metrorail Stations.
The County's current six-year transportation program includes approximately $21 million dedicated to HMSAMS projects. Approximately half of that money has been programmed to bicycle and pedestrian projects. Currently in design is a project that will construct approximately 300 feet of sidewalk from Innovation Station to Dulles Green Boulevard. Another project that is under design will install almost 650 feet of sidewalk from the Arrowbrook Centre to Sunrise Valley Drive. Construction on both of these projects is expected to begin in fall 2019 and be completed in spring 2020. I look forward to continue working with the Town of Herndon and FCDOT staff on these and other HMSAMS projects.
Revitalizing Downtown McLean
The area designated as the McLean Community Business Center (CBC) is more commonly known as "downtown McLean." The CBC has long been planned to include a mix of residential and community-serving commercial uses and to serve as a focal point and gathering place for McLean area residents.
While there has been significant support for revitalizing downtown McLean, provisions of the current Comprehensive Plan for the CBC have not helped stimulate those revitalization efforts. That is why I asked the Board of Supervisors to direct County staff to initiate a community-led review of the Comprehensive Plan for the McLean CBC. That effort began earlier this year and has included three well-attended, consultant-led community workshops. The consultant is currently analyzing the input received at those workshops and will convert that data into a draft vision statement for further consideration by the community.
There will be two community meetings held in the fall to help finalize the vision statement. Once consensus is reached on the community's vision for the CBC, a task force composed of representatives from the McLean Citizens Association, McLean Revitalization Corporation, McLean Planning Committee and the McLean Chamber of Commerce as well as several other McLean area residents will work with County staff to translate the community's vision into recommendations for a revised Comprehensive Plan for the CBC. The plan they recommend will then go through another community vetting process that will include public hearings at the Planning Commission and before the Board of Supervisors. We anticipate that, ultimately, the Board will adopt a revised Comprehensive Plan for downtown McLean that will help stimulate the revitalization that has long been desired.
Welcoming Lewinsville Senior Center
This year, we will see the grand opening of the first of two buildings in the Lewinsville Redevelopment Project in McLean. That building will consist of 80 independent affordable living apartments for low-income seniors. The second building, which is also under construction, will house an expanded senior center, an adult day care center and two children's day care centers, and is expected to open in early 2019. The Lewinsville Project is a private-public partnership between the County and Wesley-Hamel Lewinsville LLC.
McLean Community Center Expands
Early next year, residents will be welcomed back to a renovated and expanded McLean Community Center. The project involves renovating approximately 33,000 existing square feet and adding 7,700 square feet to the facility. The project includes two additional multi-purpose rooms, an enclosed outdoor courtyard with seating and landscaping, refurbished meeting rooms, and a more modern look with new wall, ceiling, and floor treatments. The renovation will also upgrade the technology throughout the building and improve and enhance the storm water management system while bringing the MCC into compliance with current ADA and building code regulations. The parking lot will be regraded and resurfaced; additional parking spaces will be added, and walkway lighting will be improved. The $8 million renovation project is fully funded through the MCC's capital reserves. The MCC building has been closed since April 2017; however, programs and special events have continued to be held in various locations around town.
Transportation Projects
Several pedestrian and road projects are scheduled to start or be completed in 2018, including the following:
Route 7 Widening – A design-build contract was awarded to the team of Shirley Contracting Company LLC and Dewberry Engineers Inc. to complete the Route 7 Corridor Improvements Project, which includes widening and improving of Route 7 from four to six lanes between Reston Avenue and Jarrett Valley Drive. The improvements will decrease congestion, increase capacity, improve safety, and expand mobility for cyclists and pedestrians - all in conformity with Fairfax County's Comprehensive Plan. Delivering the project using a design-build team is expected to condense the project timeline and save two years over conventional project delivery. Construction is expected to commence was early as mid-2019 in some parts of the corridor and to be completed in late 2025.
McLean Streetscape – This project includes installation of brick pavers, lights and landscaping along the south side of Chain Bridge Road from Redmond Drive to Old Dominion Drive to Center Street, and along both sides of Chain Bridge Road from Laughlin Street to Curran Street. This project is expected be completed in late 2018.
Baron Road Walkway – Approximately 430 linear feet of sidewalk including curb and gutter will be installed along Baron Road connecting the Dead Run Park trail to Douglas Drive. This project is expected to be completed before the end of the year.
Jones Branch Connector - Work on the Jones Branch Connector is well underway. This project, being completed by the Virginia Department of Transportation in cooperation with Fairfax County, will provide an important new link to Route 123 over the Capital Beltway (I-495) for commuters and visitors to Tysons. The link will improve local traffic and access for drivers, as well as provide a vital option for area bicyclists and pedestrians. By providing an alternate route across the Beltway and linking the Tysons East and Central areas, the Connector is expected to relieve traffic along Route 123, at the I-495 interchange, and at other congested intersections. One lane in each direction is expected to be open to traffic in early 2019, and the project is expected to be completed in fall 2019.
North West Street – Construction on an important missing link of sidewalk on the border of Fairfax County and the City of Falls Church will begin this year and is expected to be completed in early 2019. Approximately 300 feet of sidewalk will be built on the north side of North West Street to connect to existing sidewalk in Falls Church. Handicap ramps and crosswalks will also be installed at the intersection of North West and Great Falls Streets. This sidewalk will connect to a future Fairfax County project that will construct sidewalk along Great Falls Street.
McLean Regional Traffic Mitigation Efforts
During the past year and a half, I have worked with other elected officials and staff from VDOT and Fairfax County to address resident concerns regarding congestion and cut-through traffic caused by the lack of sufficient capacity on the American Legion Bridge and the Beltway on the Maryland side of that bridge. On the north side of Georgetown Pike between Balls Hill Road and the Beltway ramp, VDOT constructed a pull-off area so that the police can safely enforce traffic violations in the area. Recently, two streetlights were installed to provide lighting for police enforcement. In addition, I formed a community group, the McLean Traffic Advisory Group, to consider traffic concerns in the area, make recommendations, and share updates with their neighbors. This group has met several times since the beginning of the year and is tasked with reviewing options through a regional lens.
Recently, VDOT proposed a pilot project to close the northbound entrance to the Beltway from Georgetown Pike from 1 p.m. to 7 p.m. on weekdays. A community meeting was held in early August and another will be held this fall. VDOT is seeking input from the community to determine if the pilot project will be implemented. I look forward to continuing to work with the community to address these very serious traffic concerns.