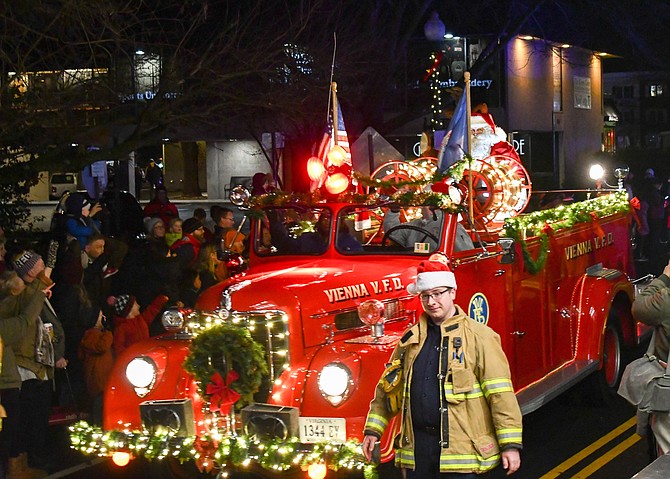 The Church Street Holiday Stroll is like a Hallmark movie come to life: the mayor welcomes the big red jolly man who rides in on a 1946 firetruck, carolers sing as you roast s'mores and sip hot cider. Animals stand at attention in their petting zoo, local goods are sold in decorated stores, instruments ring out holiday tunes, and Santa hears the hopes and dreams of hundreds of children who come to sit on his lap on the Freeman Store's porch.
The 22nd annual Church Street Holiday Stroll kicked off as Mayor Laurie DiRocco counted down with Santa to light the town's Christmas tree that sits in front of Vienna Presbyterian Church. Children eagerly await the arrival of Santa so that they could whisper in his ear what they wished for most this Christmas while enjoying a candy cane.
"This is typical Vienna," said Mike Cheselka, Master of Ceremonies for the past five years. "Everybody is here, it's like a gathering of friends and family to me, it really is cool. I think it's one of the many wonderful things the Town of Vienna does for the citizens."
Thanks to the Ayr Hill Garden Club and Historic Vienna Inc, the Freeman Store and Museum was decked from top to bottom and was brimming with new holiday items. Caroler groups such as the Vienna-Falls Chorus of Sweet Adelines lined Church Street singing Christmas tunes as shoppers enjoyed the festive stores.
Bards Alley took home first place this year as the best decorated storefront with its rendition of the Polar Express. Cycle Chi won for the most community interactive display. Caffè Amouri came in third, and Trousseau second.
As the night went on, people enjoyed a petting zoo paid for by the Town and Historic Vienna Inc. Across the way Vienna Presbyterian Church opened its doors for residents to enjoy holiday songs and readings.
"Twenty-two years ago, due to restoration of the brick sidewalks, Church Street merchants were angry that they were losing business," states Historic Vienna Inc Vice President, Nancy Moats. "After it was done, the people at Posh wanted to attract residents to this street so they had a carriage trot up and down Church Street allowing the residents to view the vendors."
More than two decades later, as the sights and sounds of the holiday's waft over the town, people are still strolling on Church Street enjoying the local shops and each other's company in preparation for the Christmas holiday.