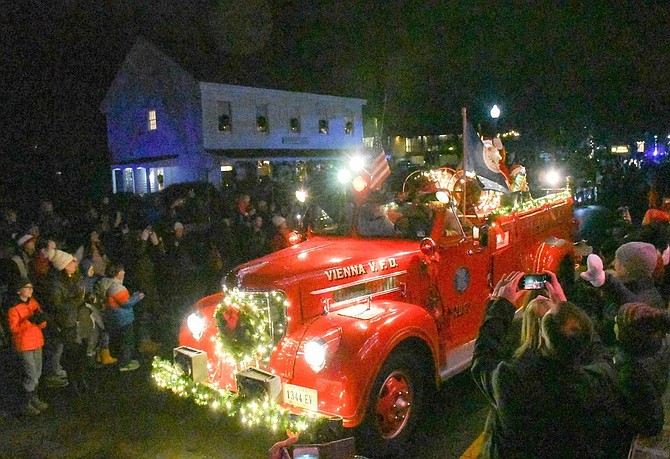 Vienna's Church Street Holiday Stroll is so full of charm, it is an event that would make any Christmas Hallmark movie jealous. The on-and-off cold drizzle did not keep residents from enjoying the 23rd annual holiday event.
Church Street merchants put on their Christmas best as Mayor Laurie DiRocco started the Stroll by giving out the awards for best decorated storefront. This year's theme was "Home for the Holidays." Merle Norman Cosmetic Studio took home the gold, Vienna Rexall Drug Center and JV Tile Ltd. both came in second, and Social Burger came in third.
Afterwards, a loud siren came streaming down Church Street as Santa rode in on the Vienna Volunteer Fire Department's 1940s restored fire engine. Screams of "Santa!" filled the air as kids cheered when Santa took his place on the front porch of the Freeman Store and Museum after lighting the holiday tree with the Mayor.
The Old Chapel of Vienna Presbyterian Church was filled with classic Christmas tunes, as residents were allowed to ring the church bells, providing the town with a "Silver Bells" vibe. Children happily roasted marshmallows on the open fire pits lining Church Street and Caffè Amouri cups were aplenty.
A petting zoo, sponsored by My Gym Vienna, outside of the Caboose, entertained people as they walked by to check out historic structures such as the Little Library, Caboose, and Train Station that were decorated and open to visitors.
The Church Street Holiday Stroll would not be possible without the Town of Vienna team, Historic Vienna Inc, and the entirety of Church Street and its merchants coming together to celebrate this traditional event and one another. Another successful Vienna event is marked in the books as the year comes to a close and a new decade is on the horizon. Here's to 2020, Vienna!