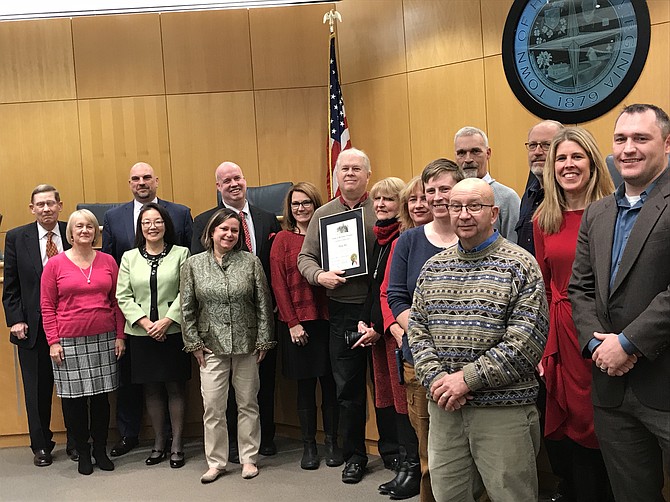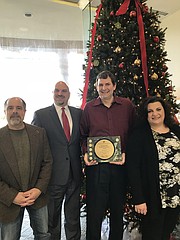 The 2017-2018 Herndon Town Council held its final Public Session Dec. 11, 2018. Highlights of the proceedings include recognition of Doug Day, Department of Public Works, on the occasion of his retirement after 37 years with the town; two finance presentations; and multiple actions to move forward the proposed Downtown Redevelopment Project with Comstock Herndon Venture LC. "I will emphatically state that I am still 100 percent behind making the Downtown Redevelopment happen," said Mayor Lisa C. Merkel during proceedings.
• The Herndon Town Council presented a Certificate of Appreciation to Doug Day, Department of Public Works on the occasion of his retirement. For more than 37 years, Day provided loyal and dedicated service to the citizens of the Town of Herndon, told Mayor Lisa C. Merkel, as she read the certificate. Merkel noted that Day's outstanding contributions contributed to the quality of life in the Herndon community. John Irish, Department of Public Works commented, "Your wealth of Herndon knowledge will be sorely missed and impossible to replace… It's not often someone will devote their entire career to one employer, and we were better for that."
After accepting the certificate, Day responded, "I love this town. I care about it. I wish I could hang on for things I want to see, the downtown redevelopment, the Metro development, East Elden with the new bridge over Sugarland Run. …but 37 years is enough for me…I leave with all the confidence in the world that Herndon will be stronger than ever."
• Matt Heatwole, Director at Brown Edwards and Company, LLP presented the Town's Comprehensive Annual Financial Report (CAFR) for the Fiscal Year ended June 30, 2018. "The Town applied for GFOA Certificate of Achievement for Excellence in Financial Reporting and received that in 2017. We will be applying again for the 2018 CAFR. I am sure there will be no issues with obtaining that again… In the CAFR itself is our audit opinion…We are expressing an unmodified or clean audit opinion this year. It is the highest opinion the town can receive."
• Bill Ashton, Town Manager, presented the Government Finance Officers Association Distinguished Budget Presentation Award to the Town of Herndon for the previous fiscal year. "We took some risks this year…the departments had to defend what they were putting forth…we streamlined…we took it from 500 pages down to 320…I was afraid we were not going to get this award this year as a result of the changes. The document was a centerpiece when we met with credit agencies this summer...It led us to a Triple A rating," said Ashton.
The 2019-2020 Herndon Town Council will hold its first Town Council Work Session, Jan. 8, 2019. All councilmembers will officially be sworn in before taking office on January 1 reported a town spokesperson. On Jan. 9, the town will hold the ceremonial swearing-in. All citizens are invited. That event will take place in the Herndon Municipal Center, 777 Lynn Street at 7 p.m.