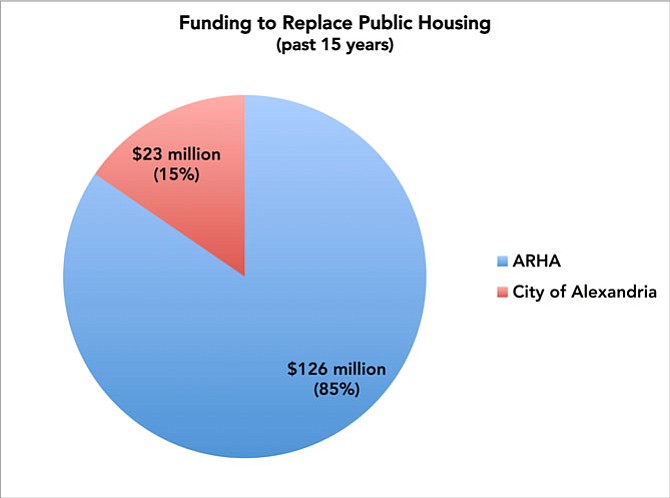 At its second meeting, held Jan. 31, the Resolution 830 Working Group considered funding mechanisms available to maintain the city's stock of publicly assisted housing in light of dwindling federal resources.
Resolution 830 is a 1981 agreement between the Alexandria Redevelopment and Housing Authority (ARHA), which administers federal housing programs like public housing and "Section 8" vouchers locally, and City Council. It requires the two bodies to ensure that redevelopment doesn't diminish ARHA's stock of 1,150 housing units. But high construction costs and shrinking government subsidies make it increasingly hard for ARHA to comply. ARHA has $47 million in capital needs for its traditional public housing over the next 19 years; but, over the past decade, it's received on average only $1.1 million per year in capital funds. And the new federal tax bill may negatively impact the market for Low Income Housing Tax Credits — an incentive program for private investors to reduce their tax liability.
"The [financial] picture here continues to be bleak; it's not getting any better," said Rhae Parkes, the working group's facilitator.
The working group will recommend to City Council and ARHA's board of commissioners how to modernize Resolution 830, taking into account local financing and policy tools and partnership opportunities at those bodies' disposal. Local measures may help to fill the funding gap; though what's available to the city doesn't amount to "gobs of money," said Parkes.
Last week's meeting focused on financing redevelopment from both capital and operating perspectives.
"Those two things are intricately linked, because you're not going to get out the door with a construction deal — nobody's going to invest in you — if you can't demonstrate that the project, once completed, is going to operate sustainably." said Parkes. Sustainability "means … generating positive cash flow to such an extent that you can repay the debt that you might carry on the property, … invest in the property itself, … save for a rainy day, … make sure that ongoing maintenance is taken care of."
While housing authorities don't have much money, they have land, said Parkes. Value extracted from land can combine with various financing mechanisms — e.g., tax credits, low-interest loans from the city, housing authority bonds, federal grants and vouchers. Together, these enable "mixed-income development," a public-private partnership model.
"Nobody is building straight-up public housing, just because those deals don't work; no cash flow gets generated," said Parkes. ARHA's long-term strategy already includes the mixed-income model as a central pillar.
A housing authority can sell or lease land to a market-rate developer to generate capital. In Alexandria, as Resolution 830 includes no geographical constraints, this usually results in replacement units displaced elsewhere in the city. Since the 2000s, through redevelopment of two Old Town properties, ARHA scattered 108 (37 percent) of 294 units offsite, mostly into the West End and Arlandria. And by increasing cash flow with higher-rent replacement units, the mixed-income model enables "cross-subsidization" within a housing authority's portfolio, according to the presentation.
For example, ARHA plans to sell part of its Andrew Adkins site for the private development of more than 500 upscale market-rate units. The proceeds potentially will leverage tax credit equity to redevelop Adkins' 90 subsidized units — 76 on site, adjacent to the market-rate building, and 14 offsite. And a spread of higher-rent replacement ARHA units will generate operational revenue. Currently, 86 percent of Adkins' households earn $40,000 or less — about 35 percent of the area median income (AMI) for a family of four. But ARHA's new development can't sustain the same proportion, according to a December cash flow analysis. A scenario in which one-third of the new ARHA units are priced at 20-30 percent of AMI and two-thirds at 40-50 percent of AMI would yield an estimated $52,000-$97,000 in negative cash flow in the first year. A scenario with units priced higher, all at 40-60 percent of AMI, would yield $272,000-$318,000 in positive cash flow.
Last week's presentation also put a positive spin on the mixed-income model's potential social benefits for low-income residents. The presentation said, citing a recent study: "Moving families from higher-poverty areas to lower-poverty neighborhoods may reduce intergenerational poverty and generate positive returns for taxpayers." And, citing another study: "properties with the most diverse income mixes have higher investments in resident support services and higher impacts for residents."
Those documents, however, may indicate more ambiguity. The former draws its conclusions from an experiment whereby residents moved out of census tracts with poverty rates of 40 percent or higher. No Alexandria tract meets that criterion, and no ARHA site takes up a whole tract. The tracts where ARHA's slated redevelopment sites are located have 4-12 percent poverty rates — already close to or below the experiment's target of 10 percent. And while the positive impact for younger children is "substantial," the study also says: "the same moves have, if anything, negative long-term impacts on children who are more than 13 years old when their families move, perhaps because of the disruption effects of moving to a very different environment."
The latter study adds: "Simply moving to a mixed-income environment is proving to not be sufficient to counteract the intergenerational poverty, marginalization and deprivation endured by many public housing residents. … Extensive social support and services are required to help low-income households to stabilize and to establish a path toward self-sufficiency." Resolution 830 makes no explicit provision guaranteeing social support and services.
The working group will meet again Feb. 21 and March 14. Visit the city's web site for meeting materials, including recordings. Submit questions and comments to Brandi Collins: 703-746-4990, brandi.collins@alexandriava.gov.
The author represents the Alexandria Housing Affordability Advisory Committee on the working group.