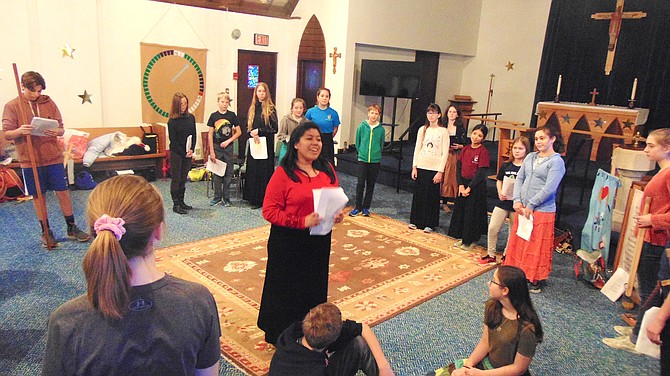 With a cast of 26 child actors, ages 9-18, Encore Stage & Studio of Arlington is presenting "Robin Hood" from Feb. 22 to March 3, at Gunston Arts Center – Theatre One.
According to Artistic Director Susan Keady: "The show is about Merry Old England during the Dark Ages and Robin Hood is a thief, a bandit who robs from the rich to give to the poor. The kingdom is ruled by King Richard who is away travelling and in his place his brother, Prince John, is doing a terrible job in taxing the citizens and going against all the good will that King Richard has created."
She continued: "Robin Hood, who is from the Sherwood Forest region, ends up gathering a band of Merry Men, all of whom are thieves, and defending the poor people. On all the state highways, they steal from the caravans and distribute to the poor."

"I want the audiences to have a sense of the culture and the time in which the play is set — through the fights, stage combat, dancing, the sense of right and wrong, good versus evil and good triumphs over evil, and that history can be really great," said Keady, who is also the director. She said that 122 youths auditioned for the show.
Xander Tilock, 14, of Falls Church plays the title role of Robin Hood. "Robin Hood is a very adventurous character with lots of charisma and determination to do the right thing and assist the people through difficult times," said the Justice High School ninth-grader.
"Some challenges were piecing together the stage combat, character acting and interacting with other characters all together, but in the end, our amazing team accomplished this," he said.
Maggie Donnelly, 13, of Arlington plays the wife to the Sheriff of Nottingham. "I am a goofy woman who likes to have fun and likes to shop in France," said the St. Ann's seventh-grader. "She's very silly and goofy and I've never really played a character like that. Not only is it hard to get the comedic effect on the lines, it's hard not to break out laughing doing it," she said.
Sam Regardie, 13, of Washington, D.C., plays Will Scarlet, one of Robin Hood's Merry Men. "It was really challenging for me to learn stage combat and fighting with other people because I have not done much of that before," said the Washington-Latin School eighth-grader.
Quinn Sumerlin, 14, of Arlington plays Maid Marian. "She's a dreamer but she's had a rough life. She's having to marry this guy who she does not like. She still finds hope and happiness and still believes in love," said the H.B. Woodlawn ninth-grader. "I think she's a very emotional character and a few people she's close to die and she has some very emotional lines which are hard to take seriously when you're a ninth-grader. Also, I talk really fast so having to slow down is a challenge," she said.
Isa Paley, 14, of Arlington plays the role of Salome. "She has been raised in riches and spoiled, but she's very dim and she's not entirely aware of the world around her, but she does pick up on little things. She's funny and doesn't have the best social cues," said the Wakefield High ninth-grader.
Oliver Meek, 13, of Arlington plays the role of Little John, another follower of Robin Hood and his Merry Men Band. "He's a funny guy and has an ironic name because he's not actually little," said the Swanson Middle School eighth-grader. He said the challenge was finding his character's specialty. "Each character has a different shtick and every character's personality works together and it makes an amazing show."
Founded in 1967, Encore Stage & Studio ("Theatre by kids, for kids") is presenting "Robin Hood" from Feb. 22 to March 3. Show times are Fridays, Feb. 22 and March 1, at 7:30 p.m.; Saturdays, Feb. 23 and March 2, at 11 a.m. and 3 p.m.; and Sundays, Feb. 24 and March 3, at 3 p.m. The venue is located at Gunston Arts Center – Theatre One, 2700 S. Lang St., Arlington. Tickets are $15/adults, $12/children, students, military, and seniors. Tickets are available at www.encorestage.org or by calling 703-548-1154.