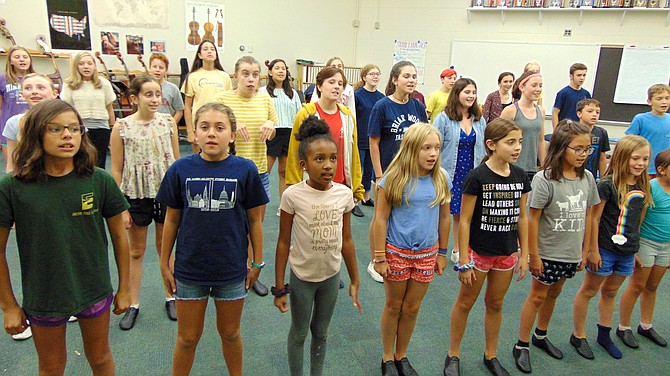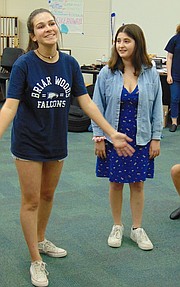 With a cast of 36 people aged 9 to 17, Encore Stage & Studio of Arlington is staging "Disney's Frozen Jr." from Oct. 11-20, 2019. In this story of true love and acceptance between sisters, "Frozen Jr." takes viewers on a journey with Princesses Anna and Elsa. When faced with obstacles, the two discover their hidden potential and the powerful bond of sisterhood. The show is produced by Rebecca Pfeil, with Sarah Markowitz as the music director.
According to director and choreographer Sarah Conrad, 29, of Falls Church: "Frozen is about two sisters, Anna and Elsa, who discover their friendship growing through trials and difficulties. Elsa's magical powers tear the sisters apart when they are young, but bring them back together when they are older."
She added: "I would say the biggest challenge is the size of the cast – coordinating where everyone moves on the stage throughout the different numbers that have the whole cast in them. We have a very wide age range so we have a variety of experience levels. The older kids have taken the younger cast members under their wings to learn the basics."
She said a special "Princess Ball" will take place on Saturday, Oct. 19, in between the two performances where audience members can purchase tickets ($20) to interact with cast members in a Frozen Party setting. Participants will be learning a dance from the show, making crafts, having a photo op with some lead characters and enjoying "Frozen-themed" snacks.
Xander Tilock, 15, of Falls Church, is playing the role of Hans. "He is cunning with a charming personality; however, he holds some secrets within. His motive is to become King of Arendelle. As a kid he was mistreated by his 13 older brothers and knows that he must marry into the throne," said the Justice High School 10th-grader.
As far as challenges, he said: "Definitely the character shift from a hero to a villain. At first, he is seen as the perfect man for Princess Anna, but later he reveals his motives and he truly has a frozen heart."
Sydney Payne, 13, of Alexandria is playing the role of Sven. "He's a reindeer that walks on two feet. He's very energetic and he's curious about everything going on. He always has a lot of emotions and cares about all the people in the show," said the George Washington Middle School eighth-grader.
As far as challenges, he said: "It's a different role than I've ever played before so I've had to explore someone who's not human and turn him into someone with facial expressions and feelings, but he still isn't human."
Molly Payne, 9, of Alexandria plays the Young Anna. "She's really energetic and she loves to make people feel good about themselves. She always wants to be around people and just have fun," said the Charles Barrett Elementary School fourth-grader.
She added: "I think it was difficult for me because this is my first-ever show I've ever done in my life. It was difficult from doing no experience with theatre to having a big role with Anna."
Carly Ratcliffe, 15, of Ashburn, plays the Older Anna. "She's very enthusiastic. She's naïve and optimistic. She doesn't really understand why her sister shuts her out. She goes on an adventure to try to figure out her relationship with her sister," said the Briar Woods High School 10th-grader.
As far as audience takeaways, she added: "I hope the audience sees how family can bring everyone together."
Encore Stage & Studio is staging "Disney's Frozen Jr." from Oct. 11-20, 2019. Show times are Friday, Oct. 11, 2019 at 7:30 p.m.; Saturday, Oct. 12 and 19, 2019 at 11 a.m. and 3 p.m.; Sunday, Oct. 13 and 20, 2019 at 3 p.m.; and Thursday, Oct. 17, 2019 at 7:30 p.m. Tickets are $15 Adults, $12 Children, Students, Military, and Seniors. Tickets are available online at www.encorestage.org or by calling the box office at 703-548-1154. Princess Ball tickets are $20, available as an add-on for the 11 a.m. performance. The venue is the Thomas Jefferson Community Theatre, 125 S. Glebe Road, Arlington.