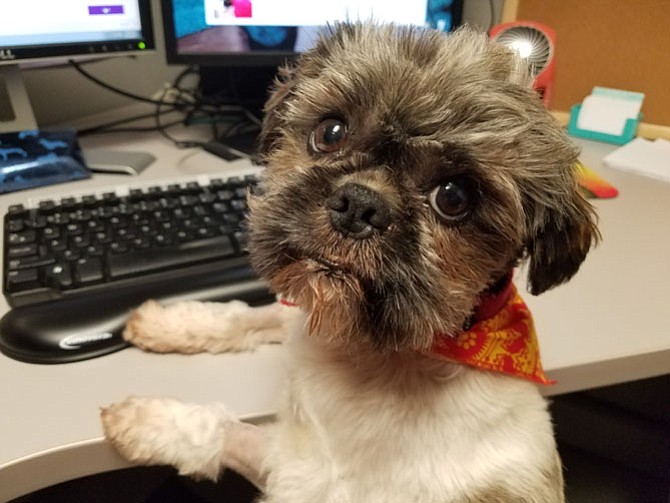 Zoo Zoo was a sweet 10-year-old Shih Tzu who found his way to the Animal Welfare League of Alexandria (AWLA) last July. When he arrived, it was clear that he was in very poor condition. Not only was the 10-pound, gray-and-cream dog suffering from kidney disease but he also had severe dental problems.
Zoo Zoo's dental health issues ran much deeper than damaged teeth. Shelter veterinarian Dr. Kaci Angelone scheduled a trip for him to a local veterinary clinic, where Zoo Zoo was found to have a severely broken jaw, assumed to be caused by a dental infection. It's true: An animal's jaw can be broken as a result of a spreading tooth infection. He was then sent on to the Animal Dental Clinic in Vienna, Va., which specializes in complex dental cases.
"Our radiographs (a special imaging technique) showed that it was much worse than a broken jaw," recalled Dr. Barron Hall, a board-certified veterinary dentist who directs the clinic. "Both sides of Zoo Zoo's jaw were disintegrating, so we had to extract all of his teeth and remove his lower jaw. Then, we performed cosmetic surgery to reshape his chin. It turned into multiple hours of surgery." Even though the surgery was much more extensive than initially planned, it was determined that this was the best course of action to enable Zoo Zoo to live and eat without pain.
Dr. Hall, who has practiced veterinary medicine for 25 years, has made dental work for pets his specialty for the last 16 years. He donates his time to keeping the mouths of animals at the National Zoo healthy and also provides his services at a discount for nonprofit organizations like the AWLA. Dr. Hall stresses the importance of pet owners' vigilance about their animals' oral health. "The most common clinical sign of a pet in distress is nothing," he said. "They don't complain or stop eating the way humans might."
Dr. Angelone says keeping on top of pets' dental health is critical. "It's hard to overstate the importance of dental care for pets," she said. "Animals are often surrendered to us who have severe dental disease that has not only affected their teeth and gums but also has resulted in severe pain and possible infection that has lasted for quite some time. We encourage all pet owners to regularly assess the condition of their pets' teeth and consult with their veterinarian to address any dental issues."
Dr. Hall said veterinary school taught him little about the complexities of animal dental health — he had to undergo years of specialized training for that — and that it's important for veterinarians to strive to give pets a healthy, pain-free mouth, which only begins with clean teeth. The veterinarian must account for all 42 teeth in an adult dog and 30 in an adult cat as well as what's happening both above and below the gum line, he said.
Small dogs like Zoo Zoo are quite prone to gum disease and bone loss because their teeth can be very crowded together, Dr. Hall said. Cats also fall victim to the problem: He does three or four full-mouth teeth extractions on cats each month. Dr. Hall says cats can get along fine without their teeth: Once healed, they can eat whatever they want. However, with regular care like tooth brushing, monitoring pets' breath for telltale halitosis and other hygiene concerns, and regular dental checkups, tooth extraction should only be a last resort.
Zoo Zoo the Shih Tzu may have had a small mouth, but he displayed a huge spirit. Besides bravely tolerating months of post-surgery treatment, Zoo Zoo befriended two former puppy-mill dogs at the shelter and helped socialize them to prepare for adoption. And, during his months of recovery, he developed a close bond with his foster "mom." In late December, right after Zoo Zoo was pronounced medically fit and ready to seek his family, she realized that Zoo Zoo had been home all along, and made it official by adopting him.
Zoo Zoo spent some happy months in his new home, but in early February suffered cardiac arrest and passed away. His adopter calls Zoo Zoo "an amazing trooper."
The Animal Welfare League of Alexandria, which operates the Vola Lawson Animal Shelter on contract with the City of Alexandria, is an independent, local, 501(c)(3) non-profit organization. The AWLA is committed to ending animal homelessness, promoting animal welfare, and serving as an educational resource for the City of Alexandria community. More information is at AlexandriaAnimals.org.