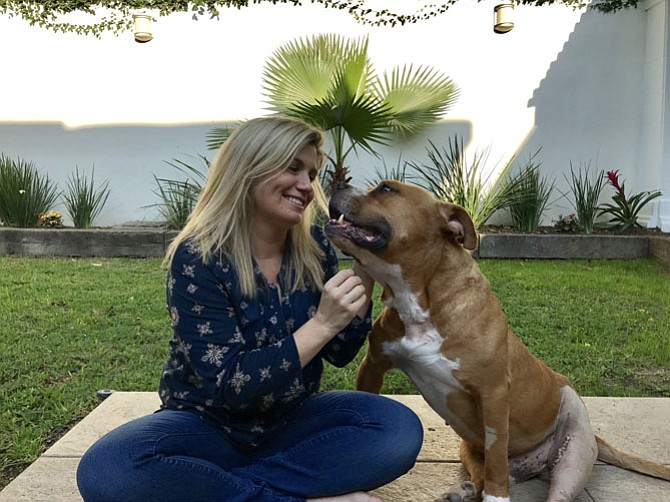 Pets who arrive at the Animal Welfare League of Alexandria (AWLA) never know where their journey might take them. A 2-year-old, 57-pound boxer mix named Max lucked out and wound up south of the border — in Monterrey, Mexico.
Max came to the AWLA shelter last November from Galax, Va., part of a relationship that brings animals from disadvantaged communities where there is less demand for pets, to Alexandria for adoption. He had a sweet, goofy grin and a tail wag that shook his body from side to side.
In Max's initial examination, AWLA's staff veterinarian, Dr. Kaci Angelone, noted a growth on one of his back legs — and also that the dog was "very sweet." Later exams revealed that Max was carrying Lyme disease and that both of his back cruciate ligaments were torn, causing his kneecaps to turn out abnormally.
As the AWLA worked to determine the best course of treatment for Max, the staff sought enrichment for him and set up a holiday stay with one of the AWLA's most active volunteer fosters, Samantha "Sam" Elfmont, who had met Max earlier at the shelter. Elfmont's whole family, including her 2-year-old son, Thomas, and their French bulldog, Tootsie, fell in love with Max.
"He's such a happy-go-lucky dog," Elfmont said. "He tolerated the pain of the torn ligaments so well. When we took him for walks, we had to slow him down." She noted evidence of a painful past — scars covering both of Max's hind legs and deep ones on his neck, probably caused by a tight collar he once wore. Elfmont and her family wanted to keep Max longer, but they were due to move to Mexico in early January, as part of her husband's job with the U.S. Foreign Service.
Meanwhile, a general veterinary surgeon determined that Max's condition was too abnormal to be corrected with routine surgery and that he needed a specialist. A complicated and expensive surgery was in Max's future, and because of the level of complexity, it might be some time before it could occur.
When Elfmont heard from Mexico that Max was again in need of foster care, she knew it was a sign. She contacted AWLA Community Outreach and Adoption Coordinator Echo Keif for more information — and to make an offer. This was not a new idea for Elfmont: She and her husband have rescued, fostered and/or found new families for more than 80 dogs and a few cats in the U.S. and Malaysia.
"We wanted to give this former stray a forever home, a place where he would be well taken care of and find peace during his recovery," Elfmont said. Her mother and sister stepped forward to help, working with the AWLA team to arrange to fly Max to Mexico, at Elfmont's expense, on March 17. After a night's stay in San Antonio, two veterinarians from Monterrey drove Max the eight hours across the border to join Elfmont her family.
Max immediately took to the family's small backyard and jumped all over little Thomas in excitement, Elfmont reports. "He wasn't nervous around the house at all," she said. After a short time to get reacquainted, Tootsie and Max resumed their friendship, lying next to each other in their beds.
Max has already undergone a preliminary surgery to remove scar tissue, allowing him to walk more easily than before. His primary surgery — which is expected to take two hours for each leg — is scheduled for May 17. Elfmont reports that Max is happy and showing no signs of pain.
Back at the AWLA, Keif was overjoyed by Max's move to a new home south of the border. "Max and Sam had a special connection, and we wanted him to go through his surgeries with a family who loved him," Keif recalled. "Sam and her family were already his people. It was a huge victory for Max, who needed lots of special care and love."
The Animal Welfare League of Alexandria, which operates the Vola Lawson Animal Shelter on contract with the City of Alexandria, is an independent, local, 501(c)(3) non-profit organization. The AWLA is committed to ending animal homelessness, promoting animal welfare, and serving as an educational resource for the City of Alexandria community. More information is at AlexandriaAnimals.org.