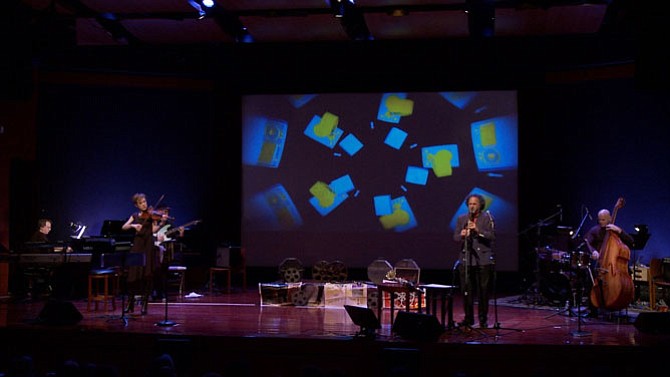 Where and When
David Krakauer and the 35mm Orchestra with "The Big Picture" at the Center for the Arts, George Mason University, 4400 University Ave, Fairfax, VA. Performance Friday, March 2, 2018 at 8 p.m. Tickets $26, $37 and $44. Call 703-993-8888 or visit https://cfa.gmu.edu/">cfa.gmu.edu.
Since Hollywood added sound to feature films in the late 1920s and then the Oscars added categories for music awards, cinema and music have been well intertwined. And even before sound was added to movies, there was often a pianist who accompanied a silent film to add rich emotions.
In the vein of the long marriage of music and movies, the Center for the Arts will have a performance of notable clarinetist David Kraukauer and the 35mm Orchestra as they meld together live music with newly created original evocative animated short films by New York-based video/graphic company "Light of Day." The evening's performance pays homage to about a dozen widely-known films. The evening is called "The Big Picture."
"David Krakauer's performance give fans of classic cinema the opportunity to gain a whole new experience from beloved songs of classic films," said Giovanna Chesler, Director and Associate Professor, Film and Video Studies, GMU/College of Visual and Performing Arts
"Live performance using music and media creates a transportative effect, which Krakauer uses to take the audience with him on a journey of personal discovery and cultural exploration," added Chesler.
The live music to be performed will be from movie musicals such as "Funny Girl," "Fiddler on the Roof," and "The Producers," as well as dramas and comedies such as "Avalon," "The Pianist," and "Life is Beautiful," to name a few. Composers include John Williams, Marvin Hamlisch, Randy Newman, and Mel Brooks among others.
As Kraukauer and his orchestra play, the films will be projected on a large screen behind the performers, so that "The Big Picture" becomes a multimedia storytelling program.
"The Big Picture" pays tribute to Krakauer's personal discovery of his Eastern European Jewish cultural heritage. But, it is more than that for patrons. Krakauer sees the evening's film journey as one for all audiences discovering their own roots. "I think this project really speaks about how people across the ages have found ways to survive in the face of adversity. It's everyone's struggle," noted Kraukauer.
"In a time when America's immigration and family unification policy is being challenged, Krakauer's timely work pays tribute to his family's own immigration to America. Using classic films with a Jewish connection, he highlights the rich artistic achievements that have come out of the Jewish experience and the immigrant experience," added Chesler.