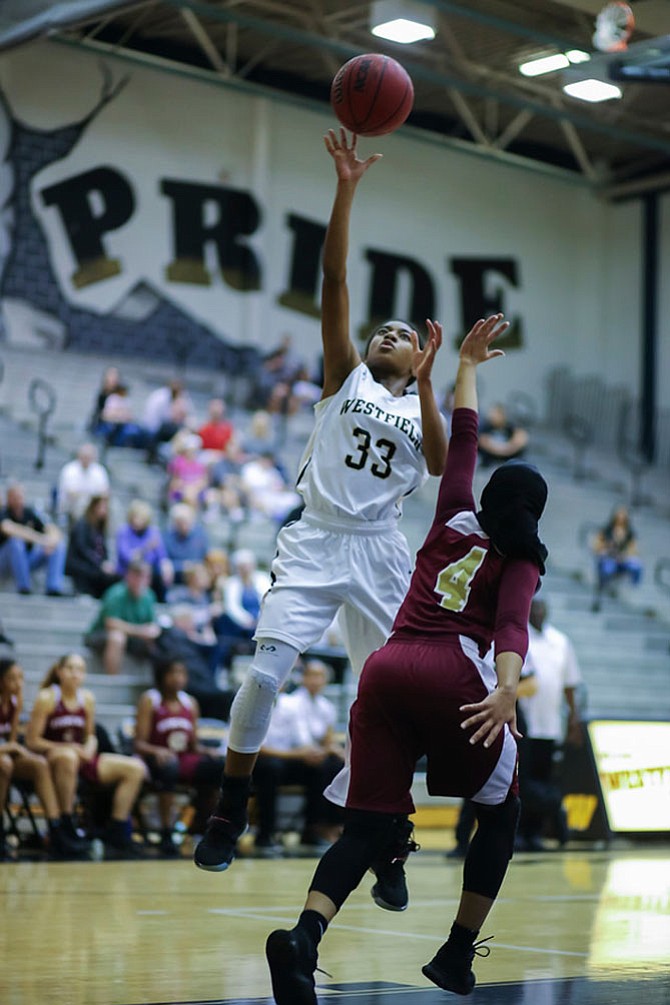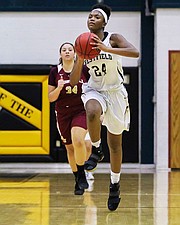 Westfield jumped out to an early 20-10 advantage after playing 8 minutes in the 1st round 6D Regional game on Feb. 20 in Chantilly.
In the 2nd quarter it was much of the same as Westfield would increase its lead to 25, 41-16 at the halfway point of the game.
In the 3rd quarter Stonewall Jackson would score 12 points , but Westfield would add 15 more giving Westfield a 56-28 lead.
In the 4th quarter Westfield Coach Noel Klippenstein substituted many from the bench and rested many of her starters. In fact 10 players scored at least two points for Westfield. Westfield was led by Wanna Wardak who had a game high 20 points including four, 3 pointers. Nicki McNamara and Gabby Reed each had 8 points. Sami Knox added 6 points both 3 pointers. Stonewall Jackson was led by Alyssa Sweeney with 17 points including two, 3 pointers. Yanessa Cabrera added 10.
Westfield advances to the 2nd round with the 66-44 win, and faced Langley on Feb. 21.
In the first two quarters Westfield would trail Langley by 10 points heading into the 3rd quarter, 24-14. However, Westfield would fight back outscoring Langley 12-2 in the 3rd quarter. The 4th quarter Langley narrowly escaped the upset bid by Westfield and defeated the Lady Bulldogs 42-39.
With the loss Westfield ends its season. Kirah Johnson scored 13 points to lead Westfield and Hannah Williams added 10. Langley was led by Jordyn Callaghan's 14 points.