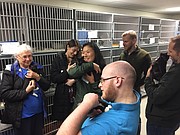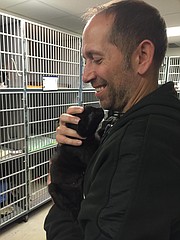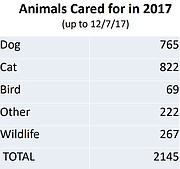 In an update to City Council at its Jan. 9 meeting, Animal Shelter Director Megan Webb offered a snapshot of the shelter in 2017.
The Animal Welfare League of Alexandria cared for 2,145 animals in 2017, the majority were cats at 822. Unlike other shelters, which mostly pick up strays, Webb says the majority of their animals come in as surrenders. These are pets whose owners are no longer able to care for the animal.
"This is unusual for a shelter," Webb said, "and our high cat numbers come from that."
The shelter and animal services in Alexandria operated on a $2.8 million budget in 2017. The majority of the funding, $1.5 million, comes from fundraising while $1 million is from a city contract. Over $200,000 was raised in in-kind support.
One of the main goals of the shelter has been reducing its euthanasia rate. Across all of the shelters in Virginia, the euthanasia rate at shelters is 25 percent. At Alexandria, the euthanasia rate is 8 percent, which includes animals that have to be put down on intake. Webb says the animals put down by the shelter are ones with medical issues too costly or dangerous to fix that are causing the animal pain or distress.
These euthanasias are a last resort for the Animal Welfare League. Webb pointed to a case this past year where Arielle, a dog with dens aplasia, a condition that causes severe spinal instability and damage. It was looking increasingly likely, despite extensive care from the shelter, that Ariele would face euthanasia. But a last minute donation paid for the expensive surgery the dog needed and it was able to make an ongoing recovery with a new adopted family.
Webb said there are also changing philosophies on animal care that are changing operations at the Animal Welfare League.
"Some of the thoughts of what was appropriate in 2009, has changed," said Webb. "Many of the cats we get show aggression in the cage, and many times assumed those cats were aggressive. But now realized most of the cats will calm down and become very friendly cats later. Making assumptions based on the way a cat or dog behaves in a kennel or shelter setting means making decisions that may not be based on what animal is like outside of the shelter."