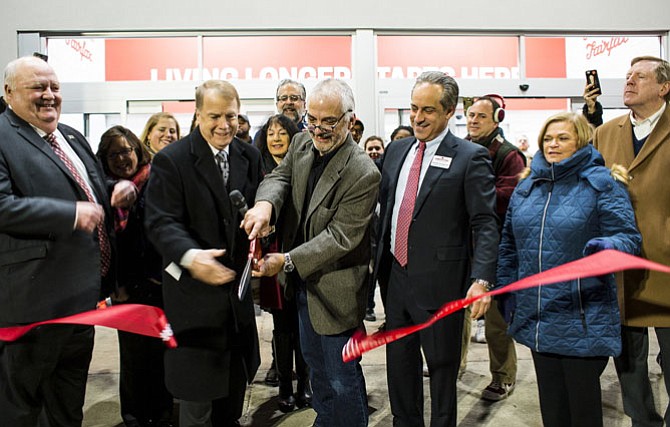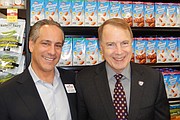 Move over, Wegmans, Whole Foods and other local grocery stores. Earth Fare just opened in the City of Fairfax, and it's already proving a big hit with area residents.
"I think it's great; they have a wide variety of foods and choices," said City resident Kingsley Brinkley. "And I love the layout; the displays are really beautiful. I think it'll be great to have some organic options close by."
"It's awesome – beautiful and bright – and everything seems so fresh," agreed Fairfax's Rugiatu Kaloko. "I like that they can tell you where everything's from, and the sushi is amazing. It's my first time in an Earth Fare and I'm very impressed."
The new, 20,000-square-foot store opened last Wednesday, Jan. 10, in the site of the former Borders bookstore and, later, Golfsmith, at Routes 50/29. Open daily from 7 a.m.-11 p.m., it's at 11052 Lee Highway. And Krista Di Iaconi – senior vice president of the shopping center's manager, Regency Centers – calls Earth Fare "the perfect addition to Kamp Washington."
"This is one of the most prominent corners in the region, and we wanted a grocer who was going to respond to the wants and needs of the surrounding office and residential communities," she said. "This center services over 100,000 people at any given time, so it's important that our lineup of retailers delivers quality offerings to the entire community."
Originally called Dinner for the Earth, the store began in Asheville, N.C., in 1975 and became Earth Fare in the early '90s. It now has 45 stores in 10, East Coast states. This is its second Virginia location; a store in Roanoke opened in November.
"We look for communities with an overall focus on health and wellness, and we found that Fairfax was the perfect match for us," said Earth Fare spokeswoman Laurie Aker. "It's a vibrant, growing community with many families. Our goal is to make healthy eating easy and accessible for everyone, everywhere, and this is a great location – we're very happy about it. The community has been welcoming and seems excited to have healthy options open to them."
THE STORE has some 130 employees, a 44-seat café and free WiFi. It also donated $3,000 to Inova Health System's Healthy Plate Club to fight childhood obesity. "The heart and soul of Earth Fare is our food philosophy," said Aker. "Every product is free of artificial colors, flavors and preservatives."
Furthermore, she said, "Our fresh meat, seafood and dairy are free of hormones and antibiotics. There's no bleached or bromated flour, and we were one of the first stores in the industry to eliminate high-fructose corn syrup and added trans fat. That's what sets us apart from the average grocery store – our dedication and commitment to our quality standards and food philosophy."
Earth Fare held a pre-opening event last Tuesday, Jan. 9, so City dignitaries and interested residents could get a sneak peek at the new store and sample its food before its grand opening, the next day. Among them were Fairfax City Council members, Economic Development Director Chris Bruno and Mayor David Meyer.
"Earth Fare is the grocery store of the 21st century," said Meyer. "It combines ethical, corporate practices and food with a social purpose. It offers healthy foods and fills a niche here in the City of Fairfax that's going to prove very popular."
Councilwoman Janice Miller called the new store "spectacular," and Bruno said he was "thrilled that Earth Fare selected Fairfax City as its Metropolitan Washington outpost. This is yet another example of a business that prioritizes quality, choosing Fairfax for the strength of its local economy."
Customer Bruce Wyman had never heard of Earth Fare before, but was glad he went to the store's pre-opening. "It's got a little bit of a Whole Foods feel to it, but not as expensive," he said. "I like its openness and wide aisles, and everything we've tasted – beef tenderloin, sushi, wine and cheese – has been terrific. It's a friendly atmosphere, too, and $9.99 for an Oregon Pinot is very reasonable."
Fairfax's Kim Luckabaugh said she was excited that Earth Fare is bringing the City "healthy food at affordable prices, tailored for the Fairfax market. I'm on the Earth Fare/Fairfax Community Advisory Board, and its whole purpose was to ensure that this community was represented in helping shape what's in this store."
The board recommended some things residents wanted, such as grass-fed beef, Maryland crabs and grab-and-go foods. And, said Luckabaugh, "Because parents want kids to have healthy foods and some people have health issues, we talked about things like gluten-free options and squeezable apple sauces. And this store also supports local vendors, which is another important component."
Aker said Earth Fare buys seafood fresh off the boat daily via Inland Seafood, and about 70 percent of its produce is certified organic. It also offers daily deals through its Healthy Rewards program to store cardholders. They include $5 whole, roasted chickens; $9.99 family pasta night; and $6 take-and-bake, 16-inch pizzas.
"A family of four can eat for about $2.50/person per meal, or $70/week," said Aker. "And every day, there's a different meal to choose from."
The store also features about 175 all-natural and organic, bulk-food options, such as herbs and spices, and even bulk liquids on tap – honey, apple-cider vinegar, balsamic vinegar and olive oil. And it carries 1,000 Earth Fare brand items, all with non-GMO ingredients. There are both local and global cheeses, hand-picked olives and a wine-and-beer section including local, craft beers and microbrews.
BAKED GOODS are made with an Old World, European, baking philosophy, kneading and stretching the dough in-store. And customers may buy an organic baguette every day for just 98 cents. The deli case offers regular, vegan and vegetarian options, and the hot bar serves breakfast, lunch and dinner. People may also purchase ready-made sandwiches or have them made to order. Pizza crusts are organic and made with olive oil, instead of butter, and there's a pizza hotline so customers may order ahead.
The heirloom juice bar features organic smoothies, juices and drip coffee, and a juice-bar happy hour – offering $1 off all smoothies and juices – is held daily. And the wellness-and-beauty area has non-animal-tested products, plus an on-site wellness specialist to answer questions.
All in all, said Aker, "We have a knowledgeable, trained team in every department. We're here to make healthy eating easy and people's shopping experience the best it can be."