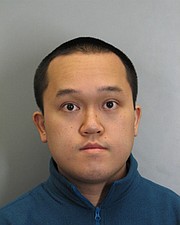 Tired after his long shift at work, Khoa Do Dang Nguyen was driving home on I-66 west when he fell asleep at the wheel. He was jarred awake when his car hit something; but instead of stopping, he continued on.
What his vehicle struck was a 37-year-old mother of four, who died as a result. And last Tuesday, Jan. 16, in Fairfax County Circuit Court, Nguyen, now 24, of Centreville, pleaded guilty to felony hit-and-run.
"Do you understand that the maximum amount of incarceration you could receive for this charge is 10 years?" Judge Robert Smith asked the young man after he entered his plea. Nguyen replied yes. Smith also made sure Nguyen was aware that no plea agreement has been made in regard to his sentence.
Then Assistant Commonwealth's Attorney Kathleen Bilton explained what the prosecution's evidence would have been, had this matter gone to trial. The incident occurred more than a year ago, on Oct. 8, 2016, about 2:10 a.m. The victim had a black Toyota Solara convertible, and Nguyen drove a Toyota Corolla.
"Yesenia Esmeralda Funes was driving on I-66 west, around mile-marker 56, when she pulled her vehicle over to the right shoulder and stopped," said Bilton. "She then got out and retrieved a water bottle from the trunk. As she was approaching her driver's-side door, she was struck by the defendant's vehicle." Funes had a female passenger who was not hurt in the crash.
Bilton said Nguyen went to the Virginia State Police, two days later, and gave them a written statement. "He wrote that he'd fallen asleep at the wheel and knew he hit something," said the prosecutor. "His windshield, bumper and side mirror were damaged."
"He wrote that he'd left work at a restaurant around 12:30 a.m. and went to eat at the Silver Diner in Merrifield, leaving there around 2 a.m." continued Bilton. "He said he didn't know what he'd hit; he thought it might have been a car because his vehicle had bounced off something. But he was tired, so he kept driving home."
Bilton said Nguyen later discovered that his side mirror and part of his bumper were gone. "He talked about it with his parents, who encouraged him to tell the police what had happened," she said. "In addition, debris at the scene matched that of the 2015 Toyota Corolla he was driving, and DNA profiles of Funes were found on his car."
Defense attorney Peter Greenspun said his client worked "40-50 hours a week — long shifts" as a server at a Mosaic District restaurant. And he noted that Nguyen was not intoxicated at the time of the crash, just tired.
"He woke up to the sound of an accident," said Greenspun. "He didn't expect that he'd hit a person. Her car was sideswiped where she was standing. He later called a friend and described what happened, and the friend thought he'd struck a guardrail."
The next evening, said Greenspun, Nguyen spoke with his parents. "His mother had heard about the fatal accident and told him about it," said the attorney. "So [on Oct. 10] when he went to the Virginia State Police barracks on Braddock Road to report his accident, he was now aware he might have done something much worse."
Judge Smith then officially accepted Nguyen's guilty plea and found him guilty as charged. He then ordered the probation department to prepare a pre-sentencing report and, after conferring with both attorneys, set Nguyen's sentencing for April 27.
Saying that the state sentencing guidelines for this offense call for one day to six months in jail, Greenspun asked for his client's bond to be continued while he awaits sentencing. He also noted that Nguyen is working and lives with his parents.
But the judge had other plans for this defendant. "Bond is revoked," he said. The bailiffs then handcuffed Nguyen and led him out of the courtroom to jail.
Funes, of Manassas, was the mother of two boys and two girls, ages 19, 18, 16 and 6. Afterward, outside the courtroom, her 18-year-old daughter, Yesenia Mejia, said, "She was a good mother. It was sad how she never came home that night."