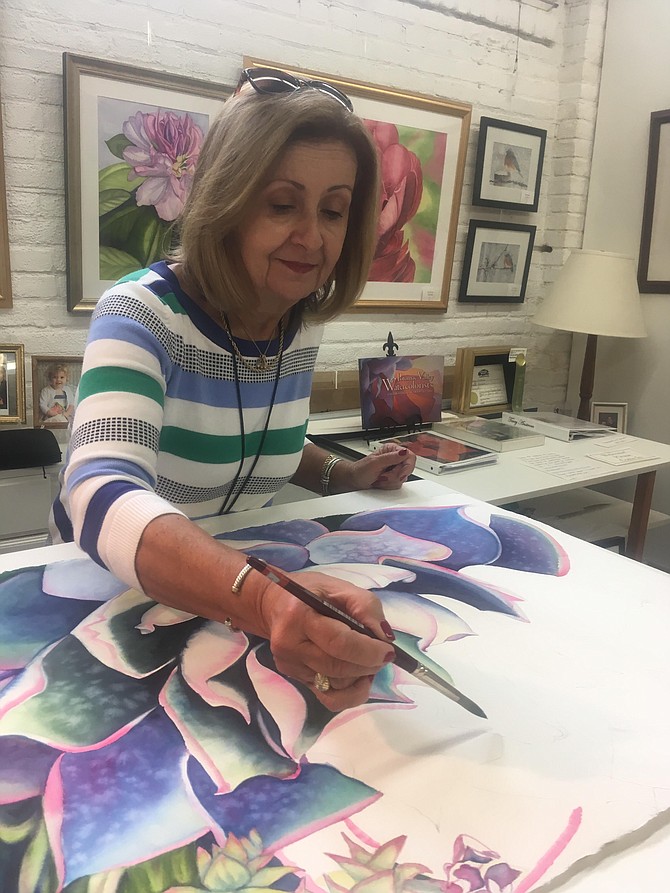 Lorton — Becoming an artist doesn't mean you shed all of your former skills, grab a brush and open a studio. Many times, it takes a variety of things to hone the talent.
Art Open House
"An Italian Perspective," Featured Artist Show at the Workhouse Art Center, in Building 6 Gallery, 9516 Workhouse Way, Lorton, from Aug. 8 - Sept. 2, 2018. The Reception is during Second Saturday, Aug. 11 from 6-9 p.m.
That's what Terry Anstrom has experienced.
In her past life, Anstrom was a math teacher at several Fairfax County schools, and even though she closed the books on that career, she finds herself using math in her paintings, making flowers balanced, and in patterns. She creates things "very meticulously," she said. "In my own way, I have achieved my own balance," she said. She taught math at Edison, Lee and Mount Vernon High Schools.
She also sees it happen with others, even visitors to the Workhouse Arts Center in Lorton where she has a studio and sees visitors frequently. "I encourage them to be balanced," she said.
When her son was growing up, his math and artistic talents came out as he was deciding on a career, and Anstrom looked for ways to incorporate art in whatever he chose. Now he's a successful architectural engineer.
"He needed a job that he could make a living," she said, "you can combine."
When parents with children come to the Workhouse, Anstrom brings up various topics to find their interests. "At an early age, they want to expose their children to art," she said. When the children come in, she asks them their favorite subjects in school, and tries to pick out something she's done that relates
to that subject.
She's had some high points in her art career, including being on the cover of the Elan Magazine in May 2013, and being a signature member of the Virginia Watercolor Society. "I participated in some national shows," she said.
Recently Anstrom went on a trip to Italy and saw several patterns on the Italian streetscape that she photographed and recreated when she got back, and these paintings are the basis of her upcoming show in August called "An Italian Perspective."
There were arches, bridges, and buildings with other architectural features that Anstrom focused on. "Whenever I paint something, they evoke an emotion," she said.
Anstrom's ancestors are from Florence, so she visited there as well as Rome and Venice, and even took a cooking class at ZaZa Restaurant in Florence. They made pasta, pizza and Tiramisu, an Italian dessert staple. "That was wonderful," she said.
The class was on the last night of their trip and as they sat down to eat, "a rainbow came out," Anstrom said. "It was a culmination of our trip," she said.