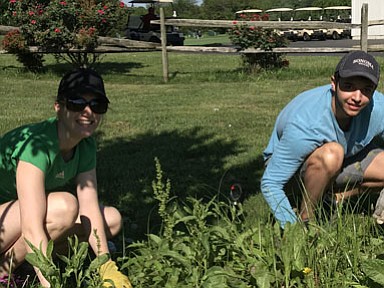 Herndon — The Town of Herndon is described as "4.3 square miles of endless possibilities." The town earned designation as a "Tree City USA" by the National Arbor Day Foundation and is home to eleven neighborhood parks. However, within those 4.3 square miles are not only parks with new trees and plantings which require endless health and welfare checks but town properties, such as those on the Town Hall Square and at the Centennial Golf Course which require endless oversight, endless weeding, and removal of dead plants and shrubs.

The Town of Herndon is fortunate to have a community forester, John Dudzinsky. According to the town website, Dudzinsky, who is a certified arborist, is responsible not only for the trees and plants on town property but also the review of plant material for new developments and the provision of information and advice to citizens on the protection of their trees against insects and diseases. He is also responsible for providing educational programs for adults and children and as town staff, Dudzinsky is part of the Community Forestry, a joint effort between the town staff, the citizens and resources available from other organizations.
On Friday, June 29, Dudzinsky drove in the parking lot of the Herndon Centennial Golf Course on Ferndale Avenue. The day was bright, sunny, hot and humid. Piled in the back of the truck were shovels, weeders, hoes and other gardening tools, enough for the dozen or so volunteers who would be arriving to help dig out dead shrubs, weed and plant new shrubs and perennials on the town-owned property.
Soon the volunteers arrived: David Fuge, the Chief Information Officer of Johnson Lambert, a CPA and Consultant firm in the nearby Town of Vienna and members of the firm's staff, Sam Rosenthal, Tyler Ernstmann, Caroline Lehman, Shannon Richard, Hannah Steer, Bob Smutsky, Riley Green, Akbar Alam and Corey Witt.
Dudzinsky explained his plan for the day. The volunteers would weed and dig out dead shrubs and trees in multiple beds at the golf course and then replant the areas as needed with new shrubs, trees and butterfly-attracting perennials. They would begin with the Monarch Way Station at the entrance to the golf course.

Fuge said community service is part of the Core Values of Johnson Lambert and that the firm volunteers in the communities in which they live and work. Asked how the firm planned for volunteering this day, Fuge said, "We can be out here today because we knew this event was coming and prioritized for it. We are able to meet our clients' commitments, and do this."
Bob Smutsky added;" It's not hard to find volunteers at our office. We're always willing to help."
When asked how he finds volunteers, Dudzinsky replied the need is posted in Volunteer Fairfax and on the Town of Herndon websites. Parks and Recreation also gets the word out, Dudzinsky said. "We work closely together asking for volunteers. Once a corporation knows we are organized and have projects, they return year after year."
Asked what type of projects work best to get volunteers, Dudzinsky said, "I think one draw for volunteers is if it is a one-time opportunity, compared to a once a week or monthly service commitment."
After many hours and many water bottles, the garden beds look amazing. They were weed-free with many new shrubs and perennials, thanks to the staff and Chief Information Officer of Johnson Lambert in the Town of Vienna.