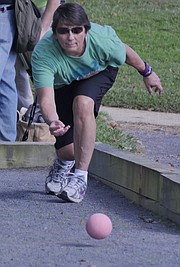 Northern Virginia Senior Olympics (NVSO) is gearing up with a free Bocce Picnic and Play event on Thursday, Aug. 2 at the host site for the 2018 bocce competition at Green Acres Center in the City of Fairfax. Medalists from past competitions are expected to be present at the picnic offering tips on bocce moves.
The event will be held by RSVP, which is the region's largest volunteers group for those 55 years and older. They serve more than 30 of the local non-profit organizations and government agencies. To register for the event, contact volunteer specialist Carly Hubicki at 703-403-5360 or www.rsvpnova.org.
This year's NVSO is scheduled to begin on Sept. 15 and conclude Sept. 25 with the bocce competition on Thursday, Sept. 20 at Green Acres. Registration for the NVSO events began in June and will end Aug. 24.

The NVSO is a joint project of the cities in Alexandria, Fairfax and Falls Church and the counties of Arlington, Fairfax, Fauquier, Loudoun and Prince William. It includes more than 60 events from swimming and diving, track, pickle ball, bowling, golf to duplicate bridge with three new events added this year: canasta, croquet and beach ball wallyball. For a complete list of events, visit www.nvso.us.