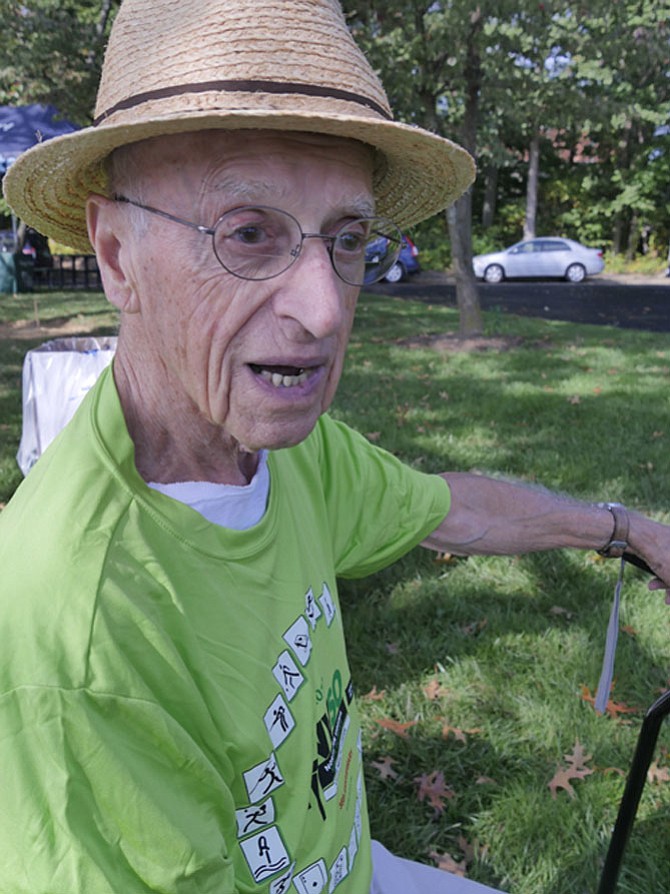 Despite forecasts of post-Hurricane showers, things rolled along in bright sun at the Northern Virginia Senior Olympics bocce competition on Thursday, Sept. 14. Nineteen competitors in five age groups from 50-99 are signed up at Green Acres Senior Center in Fairfax. Competitors and onlookers sat at picnic tables munching donuts and drinking water to cool down as they waited for the competition to begin.
Ninety-two-old Henry Coletto from Oakton, the oldest competitor, has no one in his age group for competition so he was paired with Sonny Caputo from Springfield in the 80-89 age group. Caputo says this is his first Senior Olympics although he is playing in the regular bocce league. Coletto's regular league partner, Nicholas Garito of Fairfax, is also competing. "Henry and I had a tough year. We came from last place to third place," Garito said, adding he got the bocce program started 10 years ago and convinced the Lions Club to build the court five years ago.
Coletto says he lived in Massachusetts for 82 years and then four of his children who live around here "kidnapped me and brought me here." He had driven to the competition from Oakton. He said, "My children don't believe I should drive too much anymore."
Robena Reid of Lorton and Lynn Thompson of Fairfax started out with the women's 55-59 competition. Reid says she is kind of a novice, and Thompson says this is her first tournament, and she has practiced twice. Pink balls, blue balls, back and forth.
Charlie Perla, bocce ref, said, "Here we go measuring again. Blue is closer and touching. No, no, no it's red." He adds, "Get out the dollar bill." The test of touching is whether you can get a dollar bill between the balls. "I can't believe it: did they both get gold?" He measures again and the final result is Reid wins by one inch.
Herb Levitan of Arlington plays one of the later competitions. He says he is registered in 27 events this year but may not be able to do a couple of them on Saturday since he is also organizing a table tennis match at the same time.