"These aren't revolutionary ideas or proprietary. Just common sense." — Jeremy Fridling, volunteer at CJPVFD and Stop the Bleed instructor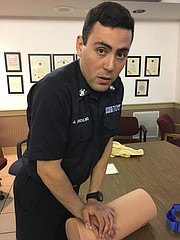 The Cabin John Park Volunteer Fire Department is offering free Stop the Bleed classes to the public. The one-hour class will demonstrate ways to stop life-threatening bleeding.
"Thankfully, injuries that cause life-threatening bleeding are relatively rare," CJPVFD Chief Corinne Piccardi wrote in a press release, "but they happen — not only because of gun violence and vehicle accidents, but from household incidents involving broken glass and power tools. And they can kill within minutes."
Jeremy Fridling, a volunteer at CJPVFD, and a Stop the Bleed instructor, said the roll out of the Stop the Bleed class is modeled on CPR [Cardiopulmonary Resuscitation] classes. But in it one learns the basics of bleeding control.
"Any bleeding can be life-threatening, depending on the timing," Fridling said. "Car accident, broken glass, shooting or stabbing, natural disasters, accidents in the kitchen, power tools …."

After heart disease, cancer, chronic lower respiratory diseases and stroke, number five in the Center for Disease Control top five causes of death is unintentional injuries which is where most bleeding deaths occur.
"Unintentional injury risks include lack of seatbelt use, lack of motorcycle helmet use, unsafe consumer products, drug and alcohol use (including prescription drug misuse) exposure to occupational hazards, and unsafe home and community environments," according to the CDC website.
With that in mind, Fridling said he thinks the course is good for everyone.
"Our big goal is to create immediate responders," Fridling said.
Fridling, who grew up in the Potomac/Rockville area, is a first-year medical student at Quinnipiac University in Connecticut. He said he took a tactical Combat Casualty Care class as his first Stop the Bleed class.
"It was taught to be a military buddy care class," he said.
He saw right away the advantages to having the public learn the three simple techniques used in helping a bleeding person and became an instructor in August 2017.
He estimates that he has taught about 40 classes since then, instructing more than 700 people in the basics of Stop the Bleed.
"The [pupils] were an amazing mix," he said. "Medical students, school teachers and nurses, construction workers, first responders and a group of high school students."
This summer he is helping to set up the classes at Cabin John Park VFD.
"These aren't revolutionary ideas or proprietary," he said. "Just common sense."
The Stop the Bleed Name and logo are owned by the Department of Defense. Many of the techniques were developed during the wars in Iraq and Afghanistan.
The course consists of three sections: Direct Pressure, Tourniquet Use and Wound Packing. Both a video and hands on practice are part of the class.
It was developed by the U.S. government with the help of Federal agencies, nonprofit organizations and corporations.
According to the website ems.gov. it was launched in October 2015 by the White House as a "national awareness campaign and call to action. Stop the Bleed is intended to cultivate grassroots efforts that encourage bystanders to become trained, equipped and empowered to help in a bleeding emergency before professional help arrives."
The website also notes that "a person who is bleeding can die from blood loss within five minutes …."
For information on classes offered at Cabin John Park Volunteer Fire Department, 8001 River Road, contact Chief Piccardi at cpiccardi@cabinjohnparkvfd.org.