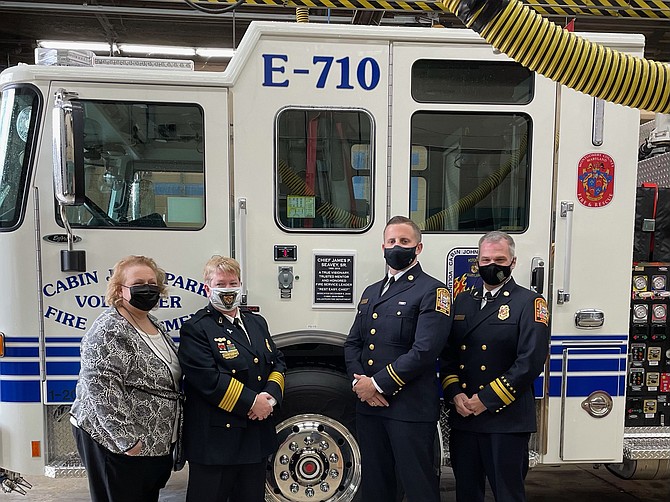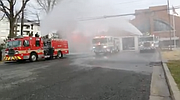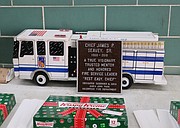 Saturday's dedication of the new fire engine #710 at Cabin John Park Volunteer Fire Department was a combination of different and traditional.
Different, because of restrictions required by COVID-19. Traditional, exhibited by parts of the ceremony that harken back to times when fire trucks were pulled by horses.
"Normally we would have a lot more people here," CJPVFD Fire Chief Corinne Piccardi said to the department members who were present and to the people watching live on Facebook, "But unfortunately, we have to [comply with] COVID restrictions."
Piccardi thanked the members who worked to purchase the new engine and have it ready for service.
That included former Fire Chief James P. Seavey Sr., who served as a first responder in the greater D.C. area for 42 years, beginning as a volunteer firefighter at age 16. Seavey became Cabin John chief in 1992, stepped aside as chief in 2017 and died the next year.
In addition to his volunteer service at CJPVFD, Seavey was a member of the D.C. Fire Department.
"Forty-two years of service," Piccardi said.
Piccardi presented a copy of the dedication plaque on the door of the new engine to Seavey's wife Mary Seavey on Saturday, and the two of them christened the engine with a bit of Jack Daniels.
Jack Daniels, a favorite of Chief Seavey's, was in lieu of holy water because, Piccardi said, she could not invite a clergy person to the ceremony.
The next stage of the ceremony, the "wetting down," took place outside.
Wetting down again is a tradition from the days of horse drawn engines and, maybe, more holy water.
Piccardi said the horses were blessed with holy water and prayers for health, speed, and long life. That could be the connection with wetting down a new engine, but Harry Fones, the department's communications director, explained it differently.
Fones said firefighters took great pride in the look of their equipment and a sister company's members would come and wash a new engine down, then dry it off just to be sure it was sporting the best look as it began service.
Either way, it was a stirring moment when the new engine pulled out of its bay at Station 10 on River Road with lights and siren going, and passed through an arch of spray from two other engines.
Driver Patrick Khaghani then backed up the engine and most of the members present took towels and wiped the engine down before gathering around to "push" it back into its bay as Khaghani drove it in reverse.
Horses could not [supposedly] walk backward to back up an engine, so the firefighters would have to push the engine back under cover, leading to this tradition.
According to Fones, if the many people who are usually at a dedication ceremony had been at Saturday's ceremony, they would really have pushed the engine.
A dedication ceremony does not happen very often, Fones said. New fire engines are very expensive and are expected to stay in service for a number of years.
Engine 710 went on its first call Saturday night.
Correction
This story on the dedication of Cabin John Park Volunteer Fire Department's new fire truck mistakenly reported that former Fire Chief James P. Seavey retired in 2017. Seavey stepped aside as chief in 2017 but remained an active member of the department until his death the following year.
Also noted by CJPVFD communications director Harry Fones was the apparent discrepancy in the story on the history of the wetting down ceremony for new fire trucks. Fire Chief Corrine Piccardi explained the tradition of blessing the horse with holy water, while Fones' explanation referred to the wetting down of the new engine.