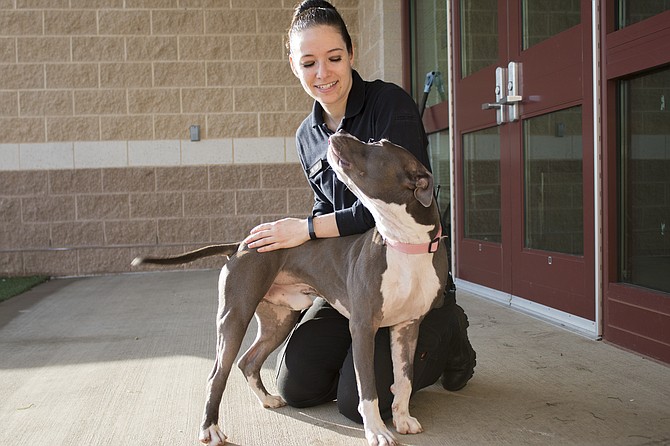 Even after eight years with the Montgomery County Animal Services and Adoption Center (MCASAC), this moment still brings tears to Maria Meyer's eyes. She and other volunteers and staff stand in the lobby and applaud. A dog walks out of the door with its new collar, matching leash, and proud new owners. They are celebrating a new adoption. Meyer has seen this happen time and time again, but it is still "the best thing" in her experience at the shelter, she says.
The MCASAC is the county's only open admissions animal shelter. Program Administrator Hannah Carl explains that this means "[the shelter's] doors are open to any animal that comes." This includes strays, owner surrenders, and animals that are part of legal cases.
A report from 2016 shows that the shelter took in about 6,000 animals and had a total of 2,000 adoptions that year. Carl says these numbers are an average and "don't vary much from year to year."
Meyer adds that this amounts to around 300 animals on any given day. The animals include many dogs and cats, but also small mammals such as rabbits and guinea pigs, reptiles, and the shelter even has a barn.
The recently rebuilt shelter boasts "state of the art facilities," says adoption counselor Melissa Gallagher.
Splitting her years of volunteering between the two shelters, Meyer speaks to the impact of these upgrades. She contrasts the change in the dog kennel as "night and day." The previously "high stress" environment in the kennels was reduced by switching from a chain link to cinder block and glass structure. This gives the dogs more privacy from each other, she explains. Additionally, implementing a fresh air exchange and heated floors ended the previously prevalent issue of "kennel cough."
Meyer adds that at the shelter, the animals are provided with "top notch vet care" in a vet suite. Animals are kept in healthy condition as volunteer dog-walkers and staff take them out on the facility's large exercise walking path.

Adoption is a "fairly painless process," says Carl. Anyone who is interested is required to visit the shelter in person to fill out an application and speak to an adoption counselor.
Adoption counselor Gallagher explains that she helps clients make a good match with an animal. She says, "My advice [for people looking to adopt] would be to take a serious look at their lifestyle," their expenses and vet care. Gallagher admits that adopters must be "up to the challenge" of adding a member to their families. To help with this, she says that both counselors and behaviorists are on-call "to answer questions if there are any problems transitioning" post-adoption.
For one day only the shelter offers free adoptions. This is because the shelter participates in an annual national event called Clear the Shelters. This year, it will be held on Aug. 18 from 10 a.m.-3 p.m. Carl says that in the past this has been "a really great event [where] we send a lot of animals home."

Meyer encourages others to take part in the "very rewarding" experience of volunteering. She says that "anyone who comes in to help is truly making a difference." Applications can be found online, and positions vary from dog walker and cat handler to tour guide and behaviorist assistant.
Gallagher adds that the shelter is always looking for people to foster animals and for donations. She says that this type of community support is "really [what] helps keep the shelter going."