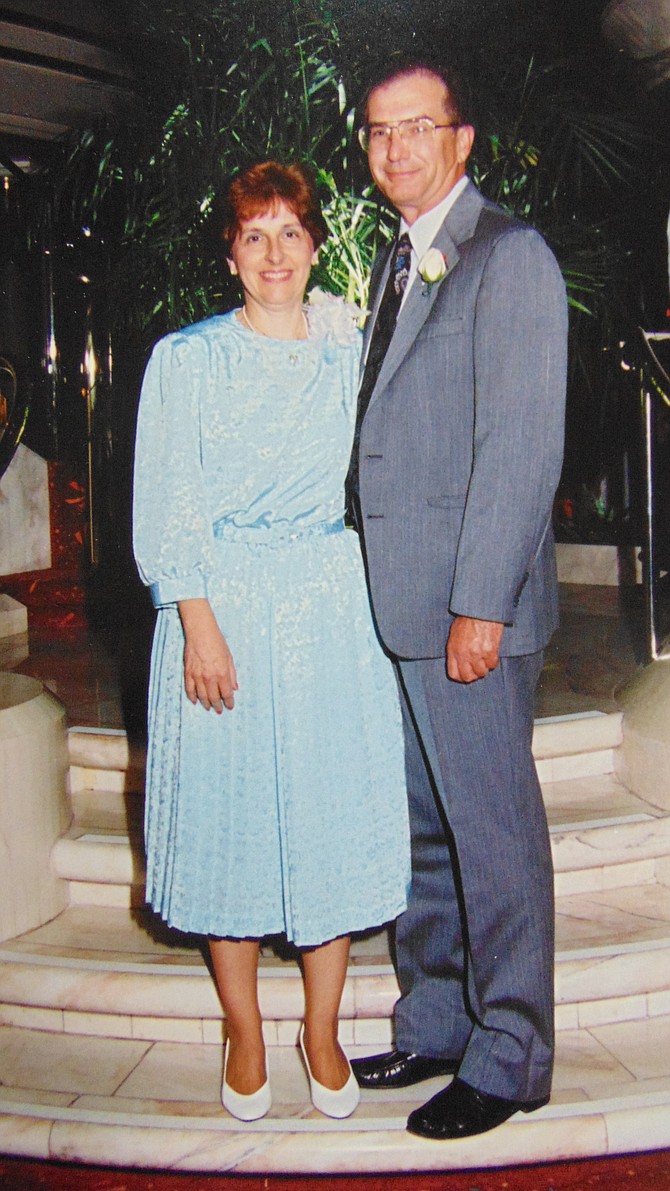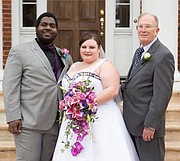 Larry Denholm, who ran the Flowers 'n' Ferns shop located in the Burke Town Plaza Shopping Center in Burke, died on Saturday, May 26, 2018 from lung cancer. He was 78.
Larry was married to wife Fern, now deceased, and the couple had two grown children: daughter Karen Fountain, 51, of Manassas who currently manages Flowers 'n' Ferns; and brother Paul, 48, of Denver. Larry lived in the Winston Knolls neighborhood in Springfield.
"I have been a blessed man with a wonderful family and a career that led me to meet so many friends. When you walk up to someone and hand them flowers and you see their face light up with a smile, well what better moment is that? I've been blessed and fortunate to see years and years of that happiness," said Larry a week before he died.
"As a long-time resident of the Springfield-Burke community, we consider ourselves the community's personal florist. He wanted to thank people for allowing him to serve them for so many years," said daughter Karen.
Larry's visitation will be held at Fairfax Memorial Park on Sunday, June 10 from 4-7 p.m. The address is 9900 Braddock Rd, Fairfax, VA 22032. On Monday, June 11 at noon, there will be a graveside service at Stonewall Memorial Gardens, located at 12004 Lee Hwy., Manassas, VA 20109.
FIVE WEEKS AGO, Larry wasn't feeling well and thought it was kidney stones, said his daughter Karen. "Unfortunately, he was diagnosed with cancer. Because of his radiation treatments coming so quickly, he was not able to let his customers know," she said.
"He wanted to be able thank the community for all of the support he's had through the years. A lot of customers have become friends," she said. He technically retired three years ago after 50-plus years in the business and was still involved in various ways, like making flower deliveries, for example.
Karen said what he enjoyed the most was the camaraderie of getting to know the customers on a personal level. "He has some Navy men who like to chit-chat. Those are the type of people you get to know over and over. That's one thing with the floral industry. Our business is an emotional business; you get the ups and downs," she said.
Larry was born in Warren, Ohio, outside of Cleveland and moved to Arlington when he was 8. One of his fondest memories was taking the bus into D.C. for accordion lessons and walking around by himself at the age of 8.
"He had been working since that age and had a newspaper route, and when he became a teen, he worked as an usher in a theater in Arlington; he ended up going into the Navy out of (Hammond High) school," she said.
After graduation, he went on active duty and was assigned to the navigation department aboard the U.S.S. Boston, a guided missile cruiser, as an aerographer's mate. His duties included plotting weather maps and systems for the navigation of the ship. He served during peacetime to places like North Africa, Turkey, Cuba, crossing the Arctic Circle and the Mediterranean Sea.
After the Navy, he used the G.I. Bill to study accounting at Benjamin Franklin University and landed as a bookkeeper in Conklyn's Florist in 1964, a local flower shop in Arlington, as well as another florist called Elliott's in Arlington.
In 1975, he heard that Springfield Florist on Backlick Road was up for sale and so he and Fern bought it and became the owners. They torn down that shopping center and merged two shops and opened Flowers 'n' Ferns at Burke Town Plaza in 1979 as one of its original tenants. Today the shopping Center has a CVS Pharmacy, Safeway and a Glory Days Grill.
"My dad decided when the little kids came in they called him 'Mr. Flowers' and my mom's name was Fern, so that's how it became 'Flowers 'n' Ferns,'" said Karen.
"My mom and dad tried to be active in the school system. They volunteered with the DECA program at West Springfield High and Lake Braddock Secondary. They worked with the Girl Scouts and gave them classes on flowers to help them do their badges. They were involved in the Burke/Springfield community and the Springfield Chamber of Commerce, where he was a Board member and served on several committees," said Karen.
THE COUPLE did floral arrangements for the inaugurations of Presidents Reagan, Bush, and Clinton, and were active in the Cap Center's Washington Garden and Flower Show in the late '70s and early '80s. As a full-service florist, they also did arrangements for birthdays, funerals, anniversaries, proms as well as Mother's Day, Valentine's Day, and Christmas for people in Springfield and Burke. Fern died from cancer in 1997.
Karen said as a mom-and-pop local florist, they get to know their customers on a personal level, talking on the telephone, and getting to know their tastes and needs—like if a customer was allergic to baby's breath, or matching the colors of their prom dresses with the flowers, as an example. "That's the nice thing about being a smaller local florist—you get to know your customers," she said.