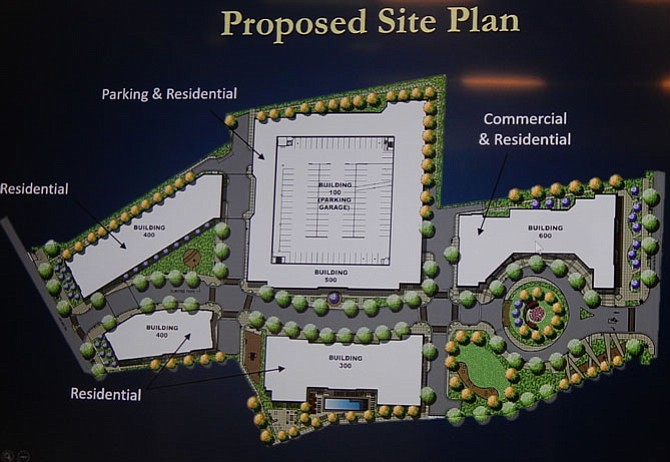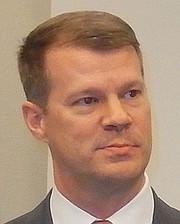 In February 2015, the Fairfax City Council approved Novus Fairfax Gateway LLC's proposal to transform part of the Kamp Washington triangle between Fairfax Boulevard and Lee Highway into a modern, community-serving, mixed-use project. But nothing was ever built.
Now, though, after three years, big changes are afoot. The project – loosely referred to as Fairfield – will eventually be renamed; and the new developer – FF Realty IV LLC – wants to alter what was originally approved.
That plan called for the 8.33-acre site to have 403 multifamily apartments –24 of which would be affordable units, 29,000 square feet of first-floor retail and commercial uses – including a 4,000-square-foot office space for use by a nonprofit and a 5,000-square-foot restaurant – plus 11,000 square feet of residential amenities. And a seven-story parking garage was to feature an additional half-story on top for a pool.
The site is currently a car-storage lot for Ted Britt Ford. But when redeveloped, three- and four-story buildings will front on Lee Highway and Fairfax Boulevard. A five-story building will be centrally located,
There'll be a through street with a connection at the Bevan Drive signal at Fairfax Boulevard, plus a new, un-signalized entrance on Lee Highway. And the development's road network could correspond to the future redevelopment of the rest of the Kamp Washington triangle, while treating the section connecting Lee Highway to Fairfax Boulevard with several, traffic-calming elements to reduce cut-through traffic.
Retail frontage was to be on the Lee Highway side and along Route 50. The parking structure will be completely surrounded by residential buildings, and the urban streetscape is to have attractive facades on all sides. Trails will connect to adjacent properties, plus open space including a 5,600-square-foot contemplative space next to the Jermantown Cemetery. Overall construction is expected to take some two years to complete.
FAST FORWARD to 2018, and the project's new developer appeared before City Council, during an April 10 work session, to present details of the revised proposal. The City's senior planner, Kelly O'Brien, said it's already gone to the Board of Architectural Review and the Planning Commission.
The hoped-for changes include removal of a building, reduction of the commercial square footage, relocation of residential units, relocation of the pool and other changes to amenities. And they'd require the City to approve proffer and general development plan amendments, special-use permits and special exceptions.
The new proposal retains the same number of apartments, but cuts the amount of commercial space by nearly 10,000 square feet to 19,136 square feet – which includes the 4,000-square-foot office space for a nonprofit. The restaurant is now envisioned as 11,000 square feet, with just 4,136 square feet of ground-floor retail.
The parking garage is shortened from 7-1/2 stories to six stories, with the pool relocated from its rooftop to ground level behind a residential building. A two-story, commercial and residential building is deleted and replaced with a park, and the pedestrian bridges linking three other buildings are removed.
Commercial uses along Lee Highway are replaced with residential units from the deleted building, and both the landscaping and streetscape plans are revised. Retail is no longer planned for a building along Lee Highway and will now only be in a four-story building along Fairfax Boulevard.
Parking has been reduced from 994 spaces to 735 total – 685 in the parking garage and 50 on-street spaces throughout the site. And a dog park has been added south of the building nearest the pool.
"We look forward to breaking ground in the first quarter of 2019," Andrew McGeorge, Fairfax Residential's vice president, development, told City Council. "We need to make these modifications to make this project economically viable."
Councilman Michael DeMarco asked if the developer has the option of converting some of the amenity space to retail/office uses, and attorney Sara Mariska, representing the developer, replied affirmatively.
Councilwoman Jennifer Passey wasn't happy that the revised proposal contains less retail space. And when questioned about the reduction, McGeorge said, "There's already a tremendous amount of retail within walking distance of the project today, and we want to have occupied retail."
Councilwoman Ellie Schmidt asked what type of retail is envisioned for the project, and McGeorge said, "A fast-casual restaurant and boutique fitness, but we're open-minded and will work with our retail experts on this."
Fairfield Residential's development manager, Bryan Condie, added that they can divide up the 15,000 square feet of retail space any way they want. So, for example, the restaurant can be smaller than the 11,000 square feet currently planned for it.
Schmidt also asked what kind of amenities are planned for the residents living there and was told a pool, fitness facility, clubroom, business center, dog park, dog spa and a media/business room.
Noting that the new plan eliminates sidewalks on both sides of Fairfax Boulevard, Councilwoman Janice Miller told McGeorge that road is difficult to cross. But O'Brien said that part is "in an area where there's just a small section of space and there's no room for a sidewalk."
However, Councilman Jon Stehle wondered how the residents would get to and from the nearby Earth Fare and restaurants on foot. Also concerned about the plan's removal of the pedestrian bridges, he said, "Having folks walk from one building where they park to another building where they live is difficult for me to understand – especially with no protection from the weather."
DeMarco said he wanted to know where the crossing points at Fairfax Boulevard and Lee Highway are, and Schmidt said she'd like to see the sidewalks connected. "I'm a little concerned about the reduction in parking, so I'd like you to take a look at that," she told McGeorge. "And I share my colleagues' concerns about the reduction in commercial space. I understand the challenges of the marketplace, but the reality is residential units cost [the City] money, and commercial units generate revenue."
However, replied Condie, "We're bringing the residential component needed for retail to thrive." But Councilman Jeff Greenfield wasn't buying his explanation and didn't mince words when it came to his feelings about the changes.
"I voted against this project, the first time," said Greenfield. "We were promised a lot and weren't able to get it. And now it's not the project that went through our expensive public hearing and was approved. Now you're cutting back quite a bit in a number of areas. Why would someone want to be here, vs. Fairfax Corner or the Mosaic District? What would be the attraction?"
"When we look at the jobs, demographics and household income here, it's a strong area with great schools and a lot of opportunities," answered McGeorge. "I don't know why someone wouldn't want to be here."
THE NEW PLAN also uses less brick and more siding in the buildings than in the original proposal. Mayor David Meyer said he hopes this project "will be a catalyst to other building sites in that area." But, he added, "I'm disappointed to see some of the facades aren't the same as previously. I like the diversity among the units, but I'm concerned about the streetscape and the connectivity between the project and Earth Fare and CAVA."
Noting that the public will also have the opportunity to weigh in on the revisions, Meyer said, "I'd like us to continue to work with the applicant to address our concerns. The applicant might have to make an additional expenditure because the building quality has decreased. But looking at this long-term, if not this, then what?"