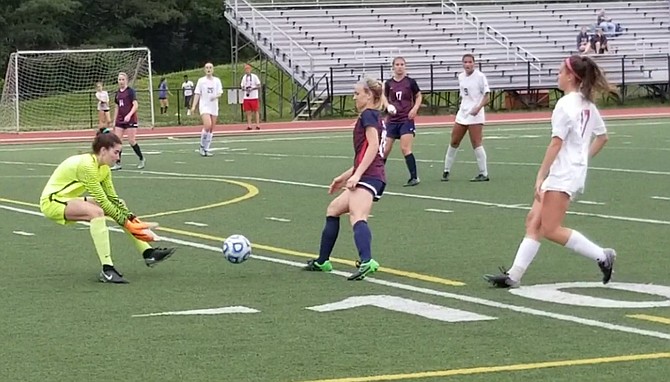 "This is my last year and I don't want to leave without a state ring." —Woodson goalkeeper Jordan Silkowitz
Woodson goalkeeper Jordan Silkowitz stuck out her right leg and deflected a shot by T.C. Williams' Erika Harwood early in the teams' region semifinal match.
Later, with Woodson leading, Silkowitz made another kick save, this time turning away Titan standout Claire Constant.
In the second half, Silkowitz displayed her desire to win and took nothing for granted. The senior sacrificed her body to protect the net, laying out even as Titan shots sailed high over the crossbar.
When the referee blew the final whistle, Silkowitz had earned another clean sheet and the Woodson girls' soccer team had secured a state tournament berth.
Woodson defeated T.C. Williams 2-0 in the Region 6C semifinals on May 30 in Alexandria. Two days later, the Cavaliers beat South County to win the region championship. On Tuesday, Woodson defeated Chantilly in the state quarterfinals, setting up a semifinal match against Madison at noon on Friday, June 8 at Deep Run High School.
"We might not be the most talented group," Silkowitz said, "but we all work well together and play for each other."
Silkowitz, who will play college soccer at Ohio State, has been a big part of Woodson's success this season, helping the Cavaliers shut out more than 10 opponents.
"She's on another planet," Woodson head coach Warren Williams said. "She's going to Ohio State for a reason. Every day she comes, she wants to get better, she wants to improve. She's got drive that a lot of kids, a lot of adults, we don't have. She gets the most out of everything she has and she wants it so much for this team. I couldn't be happier for her."
For the region semifinal match against the Titans, Williams said the Cavaliers' plan was to contain Constant, who will play at Virginia, and Bella Ponzi, who will play at Georgia. Silkowitz and the Woodson defense produced a shutout while the Cavaliers received goals from Kate Herz and Chloe Dawson.
"We couldn't finish," T.C. Williams head coach Ally Wagner said. "Their keeper is -- I haven't seen another keeper like that since I've been at T.C. … They were just all over Claire Constant. They put a lot of pressure on our forwards. We barely could touch the ball without someone just being right there on them."
Woodson will enter Friday's state semifinal with a 16-1-3 record. If the Cavaliers beat Madison, they will take on the winner of First Colonial and Frank Cox in the state championship match at 3 p.m. on Saturday, June 9 at Glen Allen High School.
"This is my last year and I don't want to leave without a state ring," Silkowitz said after Woodson beat T.C. Williams in the region semifinals. "We have worked so hard all [four] years. I want to do it [not] just for myself, but I want to do it for my coaches, for my teammates."