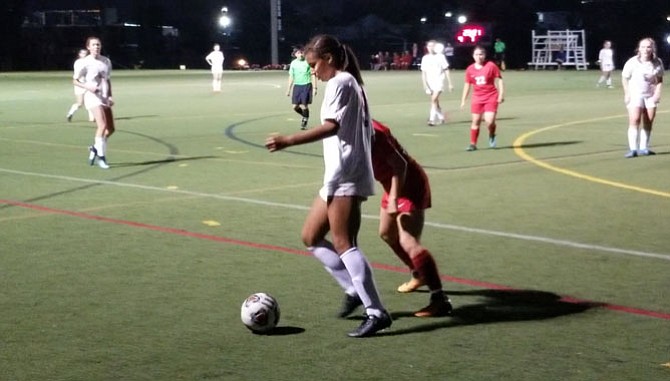 Claire Constant was the fifth and final member of the T.C. Williams girls' soccer team to be honored prior to the Titans' senior night match on April 27 against Annandale.
As Constant walked to midfield with family and friends, it was announced that one of her favorite memories was the Titans' run to the 2016 state tournament. Constant was a sophomore when TC captured the first conference championship in program history and eventually reached the state semifinals.
Two years later, Constant and the Titans appear ready to create some new memories.
T.C. Williams defeated Annandale 7-0 on Friday, improving the Titans' record to 11-1 and extending their win streak to seven. With the postseason approaching, TC appears capable of a return to states.
"I think this team is just very hungry, as was that 2016 state cup running team," said Constant, who will play at the University of Virginia. "We all know what the goal is and we all know how to achieve it."
While the Titans are on the same page about their desire to reach states, Constant and a few of her teammates have the benefit of leading through experience, having been members of the 2016 team that put T.C Williams girls' soccer on the map. Those Titans won 19 games, including a victory over Woodson in the conference final and surviving an 11-round penalty kick shootout against Chantilly in the opening round of the region tournament.
Senior midfielder Bella Ponzi and junior forward Caroline Bates were also key contributors on the 2016 team and have helped put this year's squad in a position to make a deep postseason run.
"I think one of the biggest similarities [between the 2018 and 2016 teams] is that everyone wants it — everyone's looking toward that goal of states," said Ponzi, who will play at the University of Georgia. "I think that makes a big difference. We're confident in ourselves and I think that really helps."
Constant and Ponzi each scored two goals against Annandale on Friday.
Bates found the back of the net with a header that gave the Titans a 4-0 lead late in the first half.
"We can play [Bates] anywhere," TC assistant coach Liz Blount said. "We can play her at defender, midfield or forward and she can adapt to any situation anywhere we put her and be successful."
Sophomore midfielder Caley Zack and senior forward Rachel Sedehi each scored a goal for the Titans.
TC sophomore keeper Charlotte Russell did not surrender a goal.
The Titans have also received contributions from nine freshmen this season, led by starting center backs Ava Chader and Megan Munson.
Through 12 games, TC outscored its opponents 67-7. The Titans' only defeat came against Hayfield on April 6, when TC came out on the wrong end of a 2-0 final.
"I actually think we knew [we would have a strong team] coming into the season," Blount said. "We have a core group of returners from last year and we have a group of nine freshmen and they've just mixed well and have become this one unit working interchangeably. We can put any 11 on the field at a given time and they can succeed."
TC faced Forest Park on Wednesday, after the Gazette Packet's deadline. The Titans will close the regular season with a Gunston District road game against Mount Vernon at 7:15 p.m. on Tuesday, May 8. From there, the Titans will enter the postseason with their sights set on returning to the state tournament.
"I think this is the team to do it," Constant said. "I don't think I'd want any other team going into my senior year. I believe in these guys and, definitely, this is the time we're going to get our state ring."