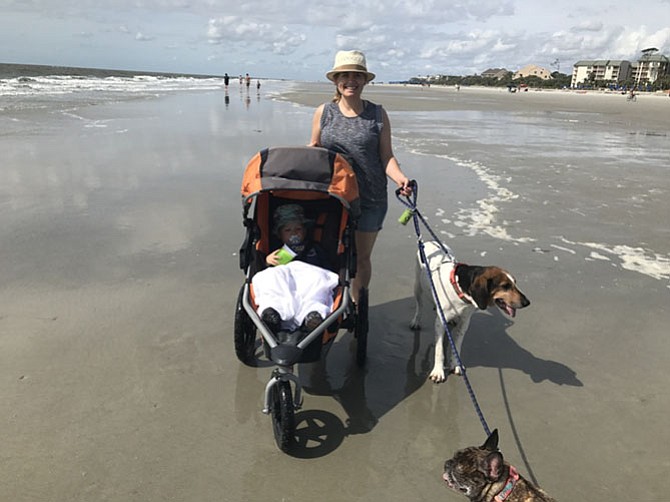 Melody was a brown, white and black hound dog in Page County, Va., who'd run out of options. The animal shelter where she had taken residence realized that with her large, painful mammary tumors, Melody likely would not get adopted. She was transported to the Animal Welfare League of Alexandria (AWLA), where, it was hoped, Melody might have a chance for some kind of happy ending.
She arrived at the AWLA on Jan. 3 of this year, and tests confirmed a diagnosis of mammary carcinoma, the most common malignant cancer in female dogs. Before proceeding with surgery to remove the large masses, the AWLA shelter ordered chest X rays to determine whether the cancer had metastasized to Melody's lungs. Unfortunately, the X rays showed that it had. Yet despite this sad news, the shelter chose to move ahead with surgery to make Melody more comfortable. "Melody was eating well, playing well and just a great dog," said AWLA staff veterinarian Dr. Kaci Angelone.
Dr. Natalie Henigan and Dr. Eume Jung at VCA Old Town Animal Hospital successfully removed the dog's large tumors, at a special discounted rate, leaving Melody with about 50 staples and the need for weeks of convalescence at the AWLA. "It all healed well and looked fantastic," Dr. Angelone recalled.
But despite the smooth recovery, a veterinary oncologist confirmed that Melody probably had only a few months to live. She seemed a perfect candidate for AWLA's new "fospice" program, a sort of hospice for animals, in which foster individuals or families take in pets to help make their last days happy ones — and allow them to die peacefully. AWLA continues to oversee the pets' medical care and provide food. "It takes a special person to volunteer for fospice," said Echo Keif, manager of AWLA's foster program.
Melody found one, actually a whole family. "Our one-year-old son took to 'Mel' as soon as we walked into the kennels at AWLA, and the dog licked his chubby toddler hands," said Samantha Elfmont of Alexandria. Melody quickly became a member of the family, bonding not only with Elfmont's son, Thomas, but also with their other dog. The family even brought Melody along on a trip to the beach in South Carolina earlier this month. "She loved running the beach, chasing seagulls and just lounging in the sun," Elfmont said.
Recently, Melody has developed a mild cough due to the cancer in her lungs, but she continues to be smothered with love. "There is never a day that goes by when we don't kiss Mel good night or give her an extra treat just because," Elfmont said. "You might think that fospicing is sad, but we actually think it is the opposite. We couldn't imagine having Mel live elsewhere at the end of her life."
The Animal Welfare League of Alexandria (AWLA) is an independent, local 501 (c)(3) nonprofit organization. The AWLA is committed to ending animal homelessness, promoting animal welfare, and serving as an educational resource for the City of Alexandria community. More information is at AlexandriaAnimals.org.