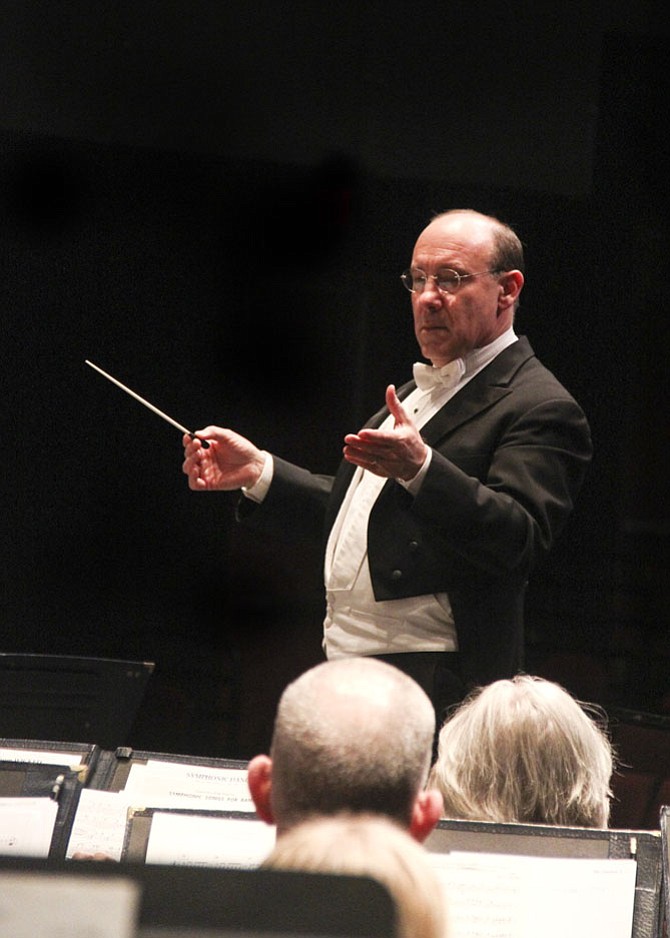 City of Fairfax Band in Concert
Pouliot will next conduct the City of Fairfax Band on March 24 at 7:30 p.m. in the Richard J. Ernst Community Cultural Center on the Northern Virginia Community College campus in Annandale, 8333 Little River Turnpike.
The concert is themed "Polkas, Fugues and Foxtrots." Selections will include "Aragon 1945-1952," a suite of post-World War II swing style dance music by Ira Hearshen; a segment from Leonard Bernstein's "West Side Story" musical; and Rodgers and Hammerstein's "Shall We Dance?" from the musical "The King and I." Classical pieces will include "Four Scottish Dances" by the renowned Malcolm Arnold, "Symphonic Dance No. 2" by Clifton Williams, and the "Thunder and Lightning" concert polka by the great Johan Strauss.
Tickets are $15. Go to http://www.fairfa...">www.fairfaxband.org. Parking is free.
The national Association of Concert Bands (ACB) has chosen City of Fairfax Band Music Director Robert Pouliot to receive its highest honor for a band leader: The Outstanding Conductor Award.
Pouliot, who has led the nationally acclaimed City of Fairfax Band since 1994, will be only the fourth person to receive the award since its creation in 2010. The national honor recognizes conductors who have demonstrated musical leadership excellence, conducting skills, musicality, community contributions, educational foresight, and dedication to the ACB organization.

"There are a number of awards that honor the community band as an ensemble, but the Outstanding Conductor Award is the only one that singles out the conductor," said Gail Brechting, creator of the award and chair of its selection committee. "Sometimes we (conductors) get to bow, but people have no clue about the work that goes into it," she said.
The award's selection panel—two past ACB presidents and two previous Outstanding Conductor recipients—noted that Pouliot often selects music for the City of Fairfax Band that is more challenging than typical community band pieces. However, the concerts he creates always entertain and engage audiences at all levels. He also secures exceptional guest artists, Brechting said.
Nominating Pouliot for the award required the City of Fairfax Band Association to submit a 40-minute audio of live concerts he led, a video of a performance he conducted the past year, and three recommendation letters from fellow band directors or well-known musicians. Brechting said the band played very well and the recommendation letters for Pouliot were "exemplary."
Plans call for an ACB representative to present Pouliot the award plaque later this year.
A Rhode Island native, Pouliot received his bachelor's and master's of music degrees from the University of Connecticut at Storrs. He accepted a U.S. Air Force commission in 1986 and spent seven years conducting concert and jazz band tours in 15 states and in Central and South America. He also was on the conducting staff of the U.S. Air Force Band in Washington, D.C.

Since his appointment as City of Fairfax Band music director in 1994, Pouliot has released three compact discs with the band, secured world-renowned guest artists, and instituted the annual Young Artists Competition that awards scholarship funds to Northern Virginia musicians.

In addition to the ACB Outstanding Conductor Award, Pouliot has received the National Band Association's Citation of Excellence. In 2015, he was bestowed the John Mason Arts Achievement Award that recognizes those who have contributed significantly to the arts in the City of Fairfax community.