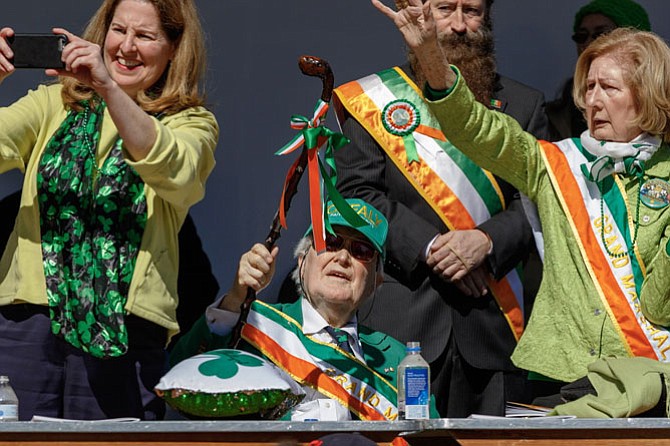 Pat Troy's Irish eyes were smiling as Alexandria's 37th annual St. Patrick's Day Parade was held March 18, two weeks after its originally scheduled date due to exceptionally high winds throughout the region.
"I am so proud to sit on the reviewing stand and see the flags of Ireland and the United States flying together," said Troy, chairman emeritus of the Ballyshaners organization and founder of the parade. "John Fitzgerald and other city founders were from Ireland and are a significant part of our history. Those flags are flying in their memory and for a legacy that should not be forgotten."
Originally scheduled for March 3, the parade was postponed as high winds moved through the city leaving thousands without power. While the traditional pre-parade Classic Car Show was unable to be rescheduled, the Animal Welfare League of Alexandria held its annual Fun Dog Show in Market Square prior to the start of the parade.
With sunny skies and mild temperatures, thousands lined the streets of Old Town as Irish step dancers, bagpipers and four-legged parade participants entertained the crowds.
"I never thought 37 years ago that all these great things would be happening," Troy said. "It's beautiful to see the streets lined with Irish flags and to know our heritage continues to be celebrated."