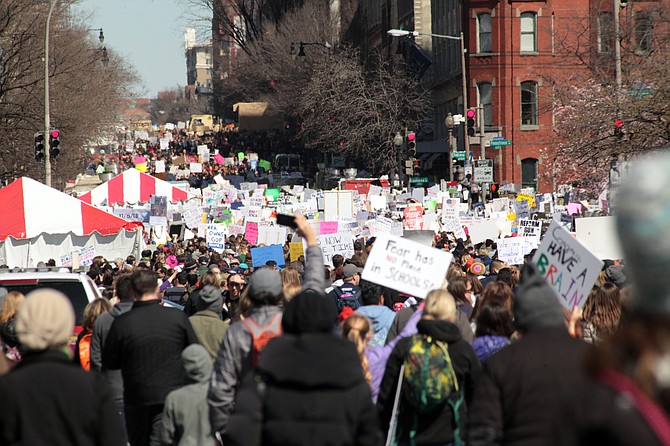 Naomi Wadler touched the hearts of the world. On Saturday, the 11-year-old student at George Mason Elementary School in Alexandria, spoke in front of an estimated 200,000 people at the March For Our Lives demonstration in Washington, D.C. She recently helped organize her school walkout on March 14 in the aftermath of the Feb. 14 shooting that left 17 teachers and students dead at Marjory Stoneman-Douglas High School in Parkland, Fla.
"I am here today to acknowledge and represent the African American girls whose stories don't make the front page of every national newspaper, whose stories don't lead on the evening news," she said.
The March For Our Lives event on March 24 was led by students from across the country, and 800 events were held around the globe. Chants of "Vote them out!" rang out as Parkland survivors rallied their generation to take their message to the polls.
"This is a movement," Marjory Stoneman-Douglas High School senior Delaney Tarr told the audience. "We can not move on. If we move on, the NRA [National Rifle Association] and those against us will win."
T.C. Williams High School student leader Jay Falk, 18, who organized a day against gun violence at her school on Feb. 27, marched with hundreds of her classmates.
"Gun violence hits high schools with a very personalized terror," Falk said. "We see the victims in Parkland and they look very much like us. This Saturday we stood up for the very first time as a generation and proclaimed, 'Not one more!' This is only the beginning of a groundswell for young people in America. We are 30 percent of the electorate, and politicians with an A from the NRA are going to start feeling it at the polls in November."
Maya Nir, 18, a senior at H.B. Woodlawn marched with 12 of her friends.
"We watch people our age and younger innocently lose their lives, like time and time again, their whole childhood and we think it's time for a change," she said. "We think there needs to be common sense gun control in America. We want to see a ban on assault rifles, we want to see universal background checks, mental sanity checks and we want to set limits on the kind of ammo people can load in small periods of time. We don't think assault rifles belong in our schools in the hands of people our age. "
Kai Davis, 18, left Great Mills High School, Md., two months ago because he felt "unsafe." One 16-year-old student was killed and another injured when a 17-year-old opened fire outside the school at 7:57 a.m. on March 20.
"I didn't feel welcome or safe there," Davis said. "I'm transgender and it wasn't really, like, healthy for me to stay there. I thought my friends were killed in the last school shooting and it affected me personally."
Julia O'Brien, 13, drove nine hours to D.C. with her family and friends from Savannah, Ga.
"We see this in the news and we just think how we don't want it to ever happen again," O'Brien said. "I think that we should get rid of semi-automatic weapons and bump stocks and silencers."
Imani Scott-Blackwell, 22, is a student at the University of Georgia. She's running for the school board in Clarke County, wore a Black Lives Matter T-shirt and marched with 20 others belonging to the Athens Anti-Discrimination Movement.
"We don't want teachers armed," Scott-Blackwell said. "We don't want more officers, we don't want occupation in the schools. We want policy changes to make children the priority."
The NRA did not release a statement regarding the march.
U.S. Sen. Tim Kaine (D), a former Democratic vice presidential candidate, governor and mayor marched in his hometown of Richmond.
"To all who participated in #MarchForOurLives yesterday — your activism is changing the equation and putting the right pressure on Congress to finally pass reforms that will make our communities safer," Kaine wrote on Facebook the following day. "We couldn't have passed the changes on background record checks and gun violence research that we did this week without you, and we're going to need your continued active engagement in order to go further. Next step: universal background checks and an assault weapons ban."
Kaine's counterpart, U.S. Sen. Mark Warner (D) did not march, but his office noted a recent interview on CBS' Face The Nation, where Warner discussed the rallies and need for Congress to act on gun legislation.
"I think it's time to change our positions and re-examine them," Warner said. "I think this time it's going to be different … I think we can actually get it done."
U.S. Rep. Don Beyer (D-8) was unable to march since he was on a fact finding mission at Yellowstone National Park.
"After years of inaction, students and young people across the country have inspired millions to demand real gun reform," Beyer said in a statement. "Their sustained pressure over the past month is why this time feels different. I applaud their grassroots organizing, commitment and dedication to ensure this remains a movement, not just a moment. Because of them, I am more optimistic than ever that we can actually get something done to reduce gun violence in this country."
U.S. Rep. Gerry Connolly (D-11), who met with Parkland students in his office prior to the event, marched with Del. Eileen Filler-Corn (D-41).
"Inspiring day down on the National Mall for the March For Our Lives!" Connolly wrote on Facebook. "Our young people are leading the way and Congress must honor their activism with action. The times we live in demand no less."
U.S. Rep. Barbara Comstock (R-10) did not march, "and was in the District for a job fair, a school event and a number of other community events she was already committed to," according to Jeff Marschner, her deputy chief of staff. "Coming from a family of educators, the congresswoman is committed to finding common sense solutions for school safety and preventing gun violence."
Virginia Governor Ralph Northam marched with Lt. Gov. Justin Fairfax and Attorney General Mark Herring in Washington.
State Sen. Adam Ebbin (D-30), co-chair of the General Assembly's Gun Violence Prevention Caucus, met with over 70 Alexandria Democrats at the King Street Metro station and took the train into D.C.
"I attended this march to both show solidarity with the student organizers and to recommit my efforts to prevent gun violence legislatively and in every way that I can," Ebbin said. "For too many years, the corporate gun lobby – the NRA – has dictated the terms of any public conversation at all. They have rolled over gun safety advocates and now they can get out of the way or be rolled over themselves."
Del. Mark Levine (D-45) is a victim of gun violence, when his sister, Janet Levine March, was murdered by her husband, Perry March. Levine led the effort to track down March and put him in jail and marched across the Memorial Bridge with Arlington Democrats.
"I'm marching today because we need a movement to stop gun violence," Levine said. "We need legislation in Virginia and in the nation and our politicians are not doing enough, and we need help."
Del. Patrick Hope (D-47) also marched across the Memorial Bridge, and said that the march was just the beginning.
"I don't care whether you're a Democrat, an Independent or Republican," Hope said. "We can't support people who don't support common sense gun regulations. That's common sense. Universal background checks, a ban on assault weapons, not letting kids get their hands on assault weapons … close the gun show loophole. I could talk to you for hours about that."
Del. Alfonso Lopez (D-49), who marched with his son across the Memorial Bridge, spoke before the appearance of former Virginia Gov. Terry McAuliffe.
"It's scary when I have to listen to constituents who are scared about their kids going to school and what might happen, who say every day, 'God, please let my baby get home safe tonight,'" Lopez said. "I thought Terry McAuliffe was an amazing governor and I think he's an amazing leader and I'm looking forward to seeing what we can do today and it's going to be amazing to have everyone together fighting for the same cause."
McAuliffe, who walked to the Memorial Bridge meeting point with Arlington Democrats, said he was only a former governor and took the microphone.
"It's the students who are going to lead this revolt, and it is not only the march today but we've got to make sure we're marching in '18 in the elections," McAuliffe said. "We've got to make sure we pick up four Democratic members of Congress, we've got to take control of the Democratic Congress. The first thing out of the box will be background checks for all Americans. And then we're going to come back in '19 and we're going to pick up those two seats in the House of Delegates and we're going to pick up the State Senate, because folks, for four straight years as governor I proposed gun restrictions — common sense, background checks, getting rid of assault weapons, putting back one gun a month — every single year they defeated us. They did it in committee, they did it without recording votes and this year before I left office I put a whole slew of them up again. Every single one of those gun laws were defeated. It's time we defeat them."
Alexandria Mayor Allison Silberberg also traveled with Alexandria Democrats at the King Street Metro.
"What a memorable, meaningful and important day at the March For Our Lives," Silberberg said. "I was glad to see so many Alexandria residents. We must continue to stand up and speak out for common sense gun reform laws now. So proud of all the young people who spoke, including our own fifth grade student from George Mason Elementary School, Naomi Wadler. The youth of today inspire us all as we fight for the causes we all hold dear."
Fairfax County Board of Supervisors Chair Sharon Bulova did not march, but said she was "incredibly moved and impressed with the students and young people who organized in D.C. and all over the world around a very important issue. They are offering ideas to solve a serious problem and are engaged in making our communities and schools safer."
Alexandria Vice Mayor Justin Wilson, who is running against Silberberg in the upcoming Democratic primary for mayor, was unable to attend the march, but spent the morning packing donuts for marchers at Sugar Shack Donuts in Arlington, Sugar Shack Donuts in Alexandria with Sheriff Dana Lawhorne and delivering Meals on Wheels for Senior Services of Alexandria.
"I cannot tell you how exciting it is to see youth leaders using their voices to make change in their communities," Wilson said. "I was excited to be able to support those efforts and look forward to working side by side for change."
Alexandria City Councilor John Chapman marched in D.C. and said that it was an energizing experience.
"It was so inspiring to see so many young people from across the country coming together, supported by so many older people. It gives me real hope for the future of our country — that together we can make meaningful change," Chapman said.
Jill Caiazzo, chair of the Arlington Democratic Committee, said that her mission is to put the lives of children first before guns.
"We're not anti-gun. We're simply pro-common sense gun safety measures," Caiazzo said.
Clarence Tong, chair of the Alexandria Democratic Committee, was also at the King Street Metro station.
"Our group was led by T.C. Williams High School moms, who had their sons and daughters participate, so our objective was to support the efforts of the students to raise awareness of gun violence," Tong said.
Alexandrian Gail Gordon Donegan founded the Alexandria chapter of Moms For Action and marched across the Memorial Bridge with her husband and several Democratic friends. She said that when Donald Trump began openly disparaging certain groups and promoting violence at his rallies, the mood of the country soured and pockets of hate emerged around the country by people who are frustrated and felt left behind and were looking for someone to blame for their troubles. Violence has begun to seem normal.
"Groups like Moms Demand Action and Everytown for Gun Safety and Gabby Giffords' Americans for Responsible Solutions responded to that hate with a strong movement for rational gun legislation, and for years it felt like they were pushing a boulder up a mountain. I think Parkland was the tipping point, and I'm really, really proud of these kids that have taken over and are pushing this movement forward," she said. "These kids are fast and furious and they're pushing that boulder down the other side of the mountain now and they're going to mow the NRA right over with it and I'm so proud of them."
Alexandrian Boyd Walker marched and said that such an event should be unnecessary and that students should not have to take such drastic steps.
"Looking around today, it is easy to see that these young people will be or are voters, passionate activists and that they won't stop until we change the laws and the politicians who prevent gun safety laws from happening," Walker said.
Marcher Alexandrian Tom Gibson, a former captain in the U.S. Marines, said that many people do not understand the power that comes with knowing how to treat a weapon.
"We were trained in a classroom for two weeks before we were allowed to touch a weapon," he said. "I feel like our legislators have failed us and we need to stand up for better gun control laws and just show how much support there is for change. "
Alexandrian Megan Challender, a domestic violence attorney, marched across the Memorial Bridge with her teacher husband, Daniel Baldwin, and her two-year-old son Eli.
"My clients, who are often domestic violence victims, are at great risk of getting killed by guns and we need greater protections for them. For my husband, we need protections in our schools, and for my son we need protections in our schools and for the country to make sure that our children are safe," she said.
Darryl Green, of Baltimore, marched down Pennsylvania Avenue promoting his website, www.deepforgiveness.com. His younger brother was killed in 1988, just six days after turning 17 – stabbed in a bowling alley when an altercation broke out over a pair of shoes. The murderer, 14-year-old Kimyon Marshall, spent 25 years in prison, and Green and his family later testified for his release.
"There were 343 murders in Baltimore last year," Green said. "So, now Kimyon and I work together saving lives all across the country and internationally. Therein lies deep forgiveness. Hurt people hurt people, and as a result of that, if I can forgive the man who took my brother's life, surely we can forgive our neighbors, or brothers and sisters. He has taken my brother's place. He's like my younger brother now. He's an outstanding young man. We're changing lives."