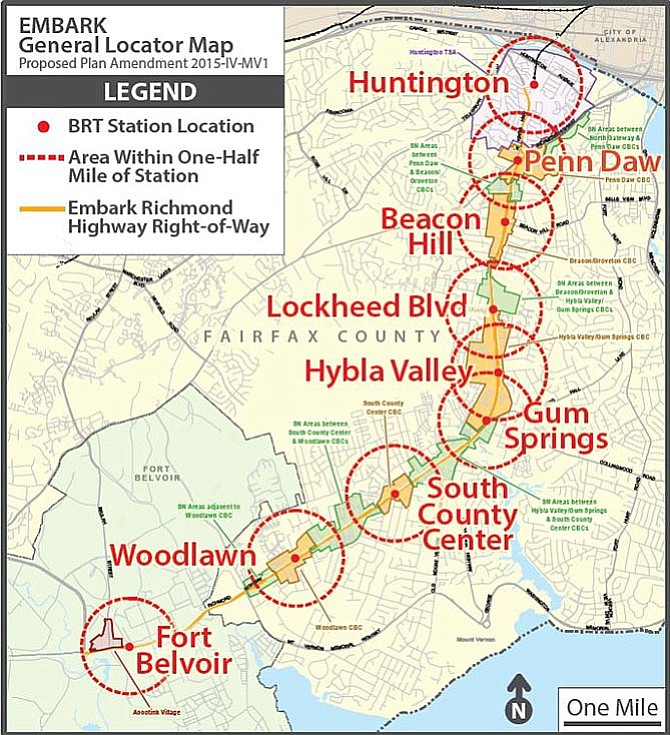 More than three-quarters of a billion dollars will be needed for the new vision for Richmond Highway. But enthusiasm for Embark Richmond Highway has already been cemented in place.
"We love the Embark. We think it's beautiful, we think it's well designed, it's environmentally great, we hope it wins an award," said Mary Paden, of the South County Task Force, during a Board of Supervisors public hearing on Tuesday, March 20.
"It's exciting for us who live in the Lee and Mount Vernon districts to see the potential for what our community can become as it redevelops. This plan amendment tells us that all of you see the potential, too," Catherine Ledec, president of Friends of Huntley Meadows Park, told the Board of Supervisors.
"The staff did an amazing job," said Edythe Kelleher, of the Southeast Fairfax Development Corporation.
"The level of detail, all the threads they pulled together, all the public comments that they had to sift through over the course of two and a half years, the manner in which they made everything so transparent to the community so that everyone could follow what was happening, this is truly a model of how this type of project should move forward," she said.
"An amazing, amazing complex fabulous document," said Carolyn Gamble, of Friends of Historic Huntley.
The Board of Supervisors, following an hour and a half public hearing, approved the Plan Amendment for Richmond Highway on Tuesday, March 20.
"Much like we've invested in the Tysons, Dulles and Reston corridors, Richmond Highway is ripe to be the next major reinvestment in the county," said Mount Vernon District Supervisor Dan Storck.
THE PLAN CONCENTRATES more mixed-use development, especially residential, within a half mile around nine planned Bus Rapid Transit stations.
There could be as many as 18,000 housing units and 8.5 million square feet in nonresidential development. Buildings could be as tall as 22 stories in the Beacon/Groveton town center.
There are six future business centers along the Richmond Highway corridor, with most of the future growth in four centers: Penn Daw, Beacon/Groveton, Hybla Valley/Gum Springs and Woodlawn. The densest development will be focused in Beacon/Groveton and Hybla Valley, the locations for the two future Metro stations.
"This amendment clears the way for modern transit-oriented development in the Richmond Highway corridor to support a bus rapid transit (BRT) system, from the Huntington Metro Station to Fort Belvoir, and ultimately a Yellow Line Metrorail extension," said Storck.
The Woodlawn hub includes historic sites, such as Mount Vernon, Washington's Grist Mill, Woodlawn and Pope-Leighey House, and would be a cultural corridor and tourist hub, including a hotel and conference center near the BRT station.
The plan also emphasizes important environmental resources.
ADVOCATES WANT to ensure details in the plan, such as underground utilities and affordable housing and attention to common areas and green spaces.
"We just want to make sure that the people who work and live in it maintain the diverse ethnic and economic nature of our community. We're very proud of that," said Paden. "I'm proud that I live in a house and on one side is a U.S. citizen from Ghana, on the other side, I have soldiers who work at Fort Belvoir, and next to them is a family from Bolivia. I think it's a great strength of our area and we don't want to lose it, we don't want to get gentrified."
Chairman Sharon Bulova and the board gave unanimous support for the project.
"This truly is a transformative project and truly is exciting," said Springfield District Supervisor Pat Herrity
"It's a wonderful, wonderful corridor, it's a corridor full of environmental treasures and a corridor especially full of historic treasures," said Bulova. "And Embark recognizes that and incorporates all those things into the plan. I think this is exciting, I congratulate you both," she said to Storck and Lee District Supervisor Jeff McKay.
"If you take anything away from this, take the solidarity of the people that testified," said McKay. "This has been a robust effort with a huge amount of community input."
"The number one thing I say we need is action, we need to secure money and we need to get money," said McKay. "Too many times, I've seen communities focus on a perfect plan and lose the opportunity right in front of them. We're not going to let that happen with Route 1."