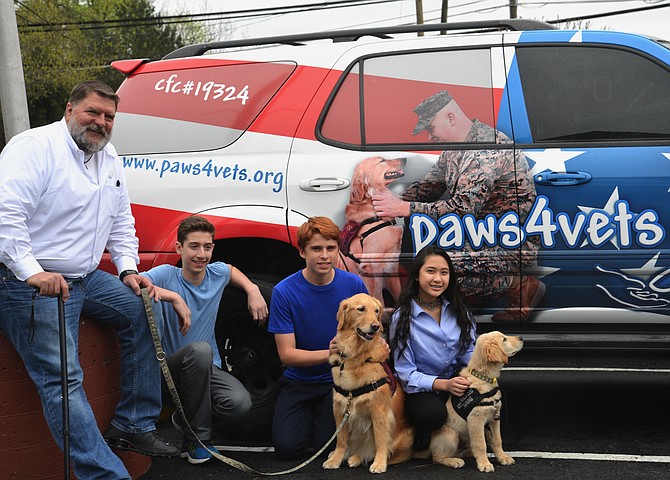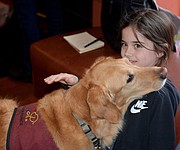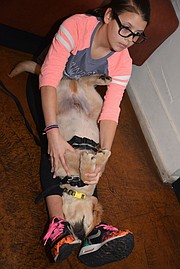 Mookie's BBQ Restaurant in Great Falls was the April 25 setting for the DEL Donates fundraiser benefiting paws4vets.
Two years ago, middle schooler Dylan Kurtz of Great Falls was introduced to the paws4people foundation by local photographer Joan Brady. The organization breeds, raises, trains and places assistance dogs with children, veterans, military dependents, First Responders, and civilians living with disabilities – physical and/or emotional. There is no cost to the recipient, but for the organization, costs range from $40,000–$60,000 per dog, with specialized training and transportation for both. The client/dog teams also receive certifications, insurance and support throughout their careers.
The combination of dogs and the opportunity to help others convinced Dylan to try his hand at fundraising. If he had any doubts that someone of his age could take on such a project and really make a difference, those doubts were quelled when he discovered that the nonprofit was founded in 1999 by Kyria Henry when she was only 12 years old.
Under the banner of "Dylan Donates," the youngster struck a partnership with neighborhood Mookie's, raising $2200 for the charitable group during that first undertaking.
FAST FORWARD to the present, and solo enterprise Dylan Donates has added Joyce Kilmer Middle School classmates Evan Preta of Great Falls and Lara Jae Evangelista of Falls Church to form the trio of "DELDonates" – with a letter representing the name of each group member. Together, they took on the second fundraising effort, this time focusing on paws4vets, a division of the original foundation, serving veterans and First Responders.
For the past six months, the Del Donates crew has been rounding up sponsors and donors for an online auction, which they set up on the BiddingOwl website with items ranging from gift certificates to local businesses, to jewelry and pet-related products.
Dylan and Evan admitted that making those donation requests was a bit intimidating at first. "Sometimes you never heard back when you asked, but a lot of people were really friendly and interested," said Evan.
Apparently it didn't take much convincing to get Brian Varani, owner of Mookie's, on board once again, and the date of April 25 was chosen. Ten percent of Mookie's total sales for that day were earmarked for paws4vets, and the DEL trio were on hand at a booth showcasing some of the auction offerings. They also were more than happy to show patrons how to use the bidding site with an electronic tablet, as they occasionally left their posts to wander among the tables.
Aside from soliciting for their adopted cause during the event, Dylan, Evan and Lara were able to educate patrons and potential supporters about the early stages of raising and training these spectacular four-legged assistants. To gain a better understanding of the paws4people/paws4vets process, they visited one of the prisons in West Virginia, where carefully vetted inmates are assigned a puppy to work with, further socialize and begin the training regime.
"It was an amazing experience," Evan said of the visit. While the end result is to aid veterans and others with emotional and physical needs, "caring for these puppies does a lot of good for the inmates, too."
"It really helps you see," added Dylan, "that this whole thing does a lot of good for everyone involved."
The DEL Donates gang were joined at the event by MORGAN, a paws4vets canine graduate, with her human teammate, Randy Powers.
"MORGAN and paws4vets really changed my life," said Powers, a veteran of both the United States Air Force and the Army National Guard. Powers was deployed to activate and operate Enemy Prisoner of War camps for Operation Desert Shield/Desert Storm.
After his final honorable discharge, due to numerous injuries and physical ailments, Powers found walking increasingly difficult, and suffered further injury from resultant falls. "Before being chosen by MORGAN," said Powers, as he described the way in which dog and human form their partnership, "I could maybe make 75 or so steps. Now MORGAN helps keep me balanced and I am pretty much on the go."
Powers wasn't kidding when he described his life since becoming a paws4vets client. He and MORGAN really are "on the go" since Powers is now the Relationship Development Officer for the paws4people foundation, and man and dog attend many fundraisers and educational events throughout the year.
FROM SEPTEMBER THROUGH DECEMBER, his mission is to visit as many Government agency fund raising events as possible to show just what the human/canine partnership can mean to struggling veterans and their futures.
MORGAN may have been in attendance to showcase an assistance dog in action, but her young colleague SILAS was there as part of his early socialization assignment – and probably to tug on a few heartstrings, as well, as the Golden Retriever puppy made friends with one and all.
SILAS was accompanied by his "foster family," Lindsay Orem of Herndon, and her stepdaughter Abby Lungren. Abby has been working with SILAS on the exercises given to prepare him for the next phase of his training, while Orem has been getting SILAS used to the action of the wider world, often taking him to work with her at Iron Bow Technologies, a Herndon-based company that has made paws4people one of the charities they actively support.
"It's great when our associates can see what they are supported," noted Orem, and having him around really makes everyone's day."
Orem and family are getting ready to say their "good-byes" to SILAS, who will soon start his prison-based training. "Of course, we will miss him," she acknowledged, but knows that SILAS has a good life of love and partnership ahead, and that she and her family were able to contribute to that happy outcome.
When Dylan decided to go all-in for another fundraiser, the goal of DEL Donates was to simply surpass the monies collected during his first venture. Mission accomplished.
"Happy to report that our final total doubled the goal," reported Susan Kurtz, Dylan's mom and DEL Donates supporter. "$5,417!"
Because the dedicated youngsters raised more than $5,000, aside from a big "Thank You!" from the foundation, they are also invited to choose a name for a puppy born in the next paws4people/paws4vets litter. When asked what was next for DEL Donates, Dylan Kurtz wasn't ready to commit, but with a vested interest in a future canine assistance star, there may be more work ahead for the young philanthropists.
In the meantime, Del Donates encourages a visit to www.paws4people.org to learn more about the programs and "of course, feel free to donate!"