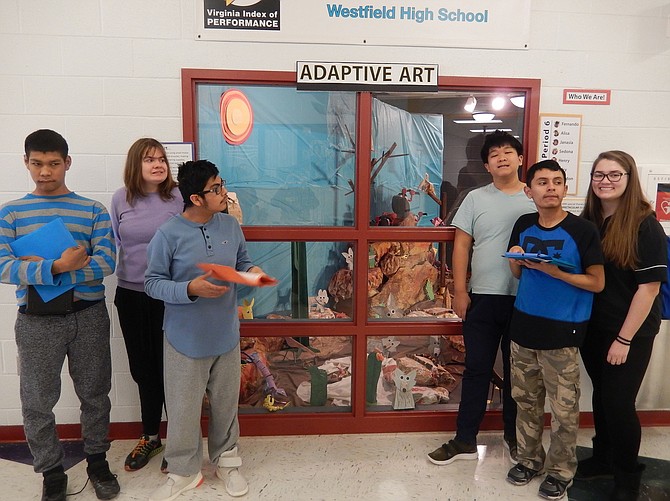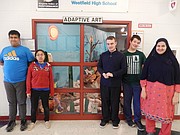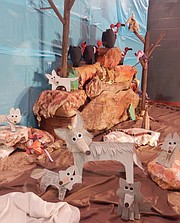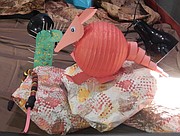 Besides teaching digital art at Westfield High, Kerry Johanson teaches two classes of Adapted Art for students with special needs. And although many of them have difficulty communicating verbally, they're able to express themselves through art.
So imagine their joy at having their artwork on exhibit for the rest of the school to see. "One of our goals is inclusion," said Johanson. "During the year, they display their work in the art cases and in the library, just like any other art students."
Recently, however, they did something extra-special. "We've had art in the pyramid art show before," said Johanson. "But this year, the students created a 20x8-foot, 3D, Southwestern U.S. desert scene that was displayed for three weeks in the student gallery in the main foyer." Most of the items were paper sculpture and included cactus, scorpions, a coyote mom and her pups, armadillos, desert owls, vultures, coral snakes, roadrunners, dead trees, lizards and painted rocks.
"They got a lot of compliments from students and staff, and it was delightful," said Johanson. "They were just thrilled to have their work on display; they're kids — they beamed. And we made signs with their names and faces on them, at the display, so everyone else could see who created everything."
She has 10 students in one class and seven in the other. And since they have various intellectual and physical disabilities, among her goals are imparting to them both functional and life skills. So while creating art, they improve their fine-motor skills, such as hand grip, control and pressure. They also learn how to clean up after themselves and protect their clothing.
Besides that, the students learn about sequencing, colors, numbers, shapes and sorting. And they hone their social skills — including voice volume, personal space appropriate touch and taking turns — while interacting with their classmates. "They treat others with respect and accommodate others' preferences," said Johanson. "Meanwhile, they're learning to follow through and have the stamina to complete a task or painting."
"Westfield pioneered the Adapted Art course in Fairfax County, and we're very proud of our program," she said. "We want all our students to feel an integral part of the Westfield family. Displays like the desert scene help our kids feel the pride of accomplishment and give them something to show off and talk about with other students."
Hers are studio art classes so, just like other Westfield art students, Johanson's do 2D painting, drawing and printmaking, plus 3D sculpture with various types of media. That way, they get to sample a variety of materials and techniques to create a work of art.
"We've done weaving, painting with acrylics and watercolors, and a lot of sculpture," said Johanson. "The kids also draw but, for most of them, it's difficult" because of the hand coordination required. They employed their skills to make each part of the desert exhibit, and they dazzled even their teacher with their talent.
She designs and engineers her students' class projects — but doing so takes extra effort. "I have to think through how they can do them with their particular limitations," she said. "For example, folding is difficult because it's an abstract concept. But whenever I see how the students do their artwork, I learn something new."
They use a great deal of recycled materials, and Johanson said the faculty is wonderful about bring them to school. "Then we turn these items into something terrific, like robots," she said. "We even just created giant Venus flytraps. And whatever the students create, they also learn about. For example, they've learned about spiders and their habitat and how bats are beneficial to people. So everything they do has some educational component."
All their artwork falls into four main categories — nature, art history, people and things (such as the robots). For art history, for instance, the students made totem poles and learned about different cultures around the world. Johanson also taught them how the birds and animals on their poles represent the various strengths and powers of a community.
In addition, her students have folders that go with them from class to class. "I write notes in them about what the kids did that day, and then the parents can talk with them about it," said Johanson.
Before they do a new project, she shows them PowerPoints about what they'll make and explains each step to them and to their adult, instructional aides. Calling these aides kind and amazing, Johanson said, "They know the kids so well — and even if they're having a bad day or don't feel good — because they're with them for several periods a day. I honestly couldn't do it without them. We're a team and, by the end of the year, we've become like a well-oiled machine."
In addition, she said, "We have some wonderful, peer-helper students who come to every class. They socialize with the kids and help them with their projects and, in so doing, they become friends. I like to have at least two peer-helpers per class, and both they and the kids love having them there."
For some of her students, said Johanson, "It's about the process, not the product; they just enjoy manipulating the materials. But most also enjoy the final product; and when they take it into their next classes, their other teachers and classmates praise them on it."
She's currently in her 16th year at Westfield and started the Adapted Art program six years ago. She said it takes "an enormous amount of time" designing and engineering the projects and preparing the materials and patterns her students will use to create them. But she has no regrets.
"About 10 years ago, I saw the Adapted P.E. program and wondered why there wasn't one for art — and whether a non-special-ed teacher could teach it," said Johanson. "So we started it as a pilot program and it became really popular. Although in many ways, we still have to invent our own wheel."
But, she said, "Working directly with these students is just a different kind of wonderful than my other teaching. There's great joy in little successes, and they're often more appreciative than the average student. They also get to do a lot of decision-making, such as choosing which colors and scissors they want to use. And that's important because some of them don't get a lot of choices in the rest of their lives. They're individuals, like anyone else; they're people — and I like them."
Johanson also enjoys "figuring out and solving the problems of how these kids can successfully do a project, themselves. Sometimes, they do it differently [than I envisioned it], but that's OK. If they're happy with it, then so am I. And all the effort I put in is worth it to see their artwork delight them — and to see their happiness in their accomplishments."
"It's just a million little things, moment by moment," she continued. Seeing her students' unabashed joy in expressing their emotions is also precious to her. And, she added, "For those who don't show a lot of emotion, even a little glimmer is a victory for me."
During class recently, two of them said how pleased they were with the desert display. "I did scorpions," said Bruce.
"I like to paint," said Sedona. "We spent a lot of time doing our desert scene, and I took my vulture home."
In this class, said Rebecca Shen, one of the instructional aides, "The students get a sense of being able to do things on their own, and they enjoy that feeling of being independent. They like expressing themselves, and I get to partake in some of the beautiful art they make."
Also glad to be there is peer-helper Amber Williams, a Westfield senior. "I'm interested in teaching art to children and doing art therapy with them," she said. "And for a lot of them, that's what this is — physical therapy helping their coordination.
"They seem happy to be in class and interact with each other; it's a really nice environment," she continued. "And I like being able to facilitate an activity they enjoy doing. I'm also passionate about art, so we have that in common."
Williams said these students are all "really unique and special" and she's built good relationships with them: "One girl can't communicate very well, but she gets really excited when I come into the classroom, and that makes me feel like I'm making a difference."