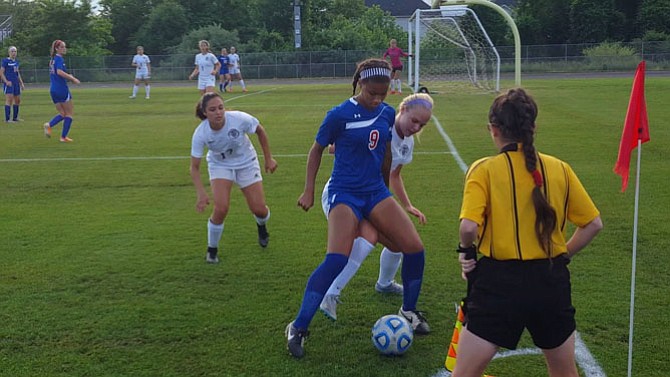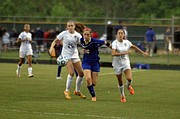 After making the 40-mile drive to Haymarket, the T.C. Williams girls' soccer team surrendered a goal to Battlefield less than five minutes into Friday's 6A North region championship game.
After settling into the match, the Titans missed an opportunity to equalize in the 24th minute, when Kaily Kocot's header hit the post.
After starting to show they belonged on the same field as the two-time defending state champions, TC's deficit doubled when a Titan miscue led to a Battlefield goal in the 38th minute.
After hanging around for 60 minutes, TC experienced more frustration when Izzy Diz's shot from inside the six-yard box hit the crossbar.
T.C. Williams created multiple scoring chances during the region final but each time the Titans came up empty during a 2-0 loss to Battlefield, which captured its third straight 6A North crown on June 3 at Battlefield High School.
Sophomore Claire Constant said the Bobcats were the best team TC had faced all season. The Titans, however, sounded like they let one slip away.
"I think that it took us about halfway through the first half to get in our rhythm," TC head coach Ally Wagner said. "Just two unfortunate events and they capitalized on them and from then [it was an up-hill battle]. But we're resilient. We're hoping to see them again [this] week in the state tournament."
A rematch with Battlefield would happen if both teams advance to the state final on Saturday. First, TC has to get past 6A South region champion Cox in the state semifinals at 10 a.m. on Friday at Robinson Secondary School.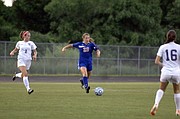 "It's very frustrating, but we'll bounce back," Wagner said. "We're looking forward to the state tournament [this] week. We're confident going into Friday's game and, yeah, we're hoping to see them again on Saturday."
What went wrong against Battlefield? One factor, Wagner said, was getting used to playing on grass — something the Titans hadn't done since traveling to Gar-Field on March 17.
As for the Battlefield goal in the fourth minute, Constant had multiple explanations.
"I think we just feel asleep," she said. "I think it was a miscommunication. I think we just weren't ready for it."
TC would allow a second goal and couldn't capitalize on its own scoring opportunities.
"We weren't expecting them to be so fast and strong and so technical — they're a very good team," Constant said. "I think we did a very good job of handling it, but we just couldn't find the back of the net."
Diz said TC continued to battle after falling behind and the Titans are confident they can bounce back at states.
"It's very frustrating, especially when I hit the crossbar, that was really frustrating," Diz said. "I thought we kept it up and we kept pushing ourselves harder and harder and it was just tough that we couldn't get one in, but we'll get them in the states, so that's good."
The loss dropped TC's record to 19-3 and snapped its eight-game win streak. Battlefield's two goals were the only ones the Titans allowed during the run of play in four region tournament games.
Battlefield, which has played in three consecutive state finals, improved to 19-2-1. The Bobcats will take on 6A South region runner-up Grassfield in the state semifinals at noon on Friday at Robinson.
"I'm disappointed that we didn't start off stronger because usually we start off really quick, get some chances early and have momentum going forward and obviously we didn't this game," TC senior defender Hannah Bates said. "We messed up at the very beginning, which gave them an easy goal, but I feel like even after the second goal, we were on them the whole time and I'm really proud of how everyone played.
"... I think everyone kind of feels the frustration with this, so hopefully we can channel that into the next game at states. I know I don't want the next game to be our last game. We want to see these guys again in the state final."