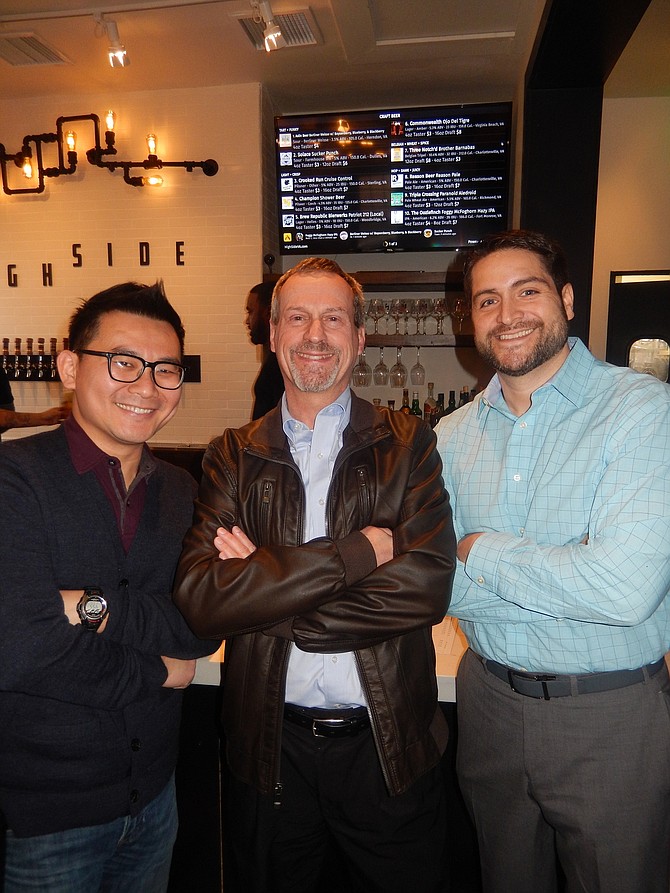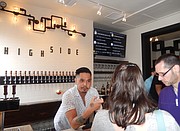 The newest hot spot in the City, and a welcome addition to Old Town Fairfax, is High Side. A craft-beer bar offering Asian street food, it's on the former site of Italian restaurant Villa Mozart at 4009 Chain Bridge Road.
It opened in February and has quickly become a destination for residents and tourists alike. And co-owners Jinson Chan, Tom Strat and Fito Garcia couldn't be happier.
"Jinson wanted to open a craft-beer bar with Asian street food, and I have a marketing company, so that's how we got together," said GMU grad Garcia. "When you get a cool, craft beer made with integrity – and a local brewery trying to make a name for itself – it's like gold."
Before High Side opened, people had to travel to Richmond, Herndon and Woodbridge to get craft beer, he said, but that's changed now. And, he stressed, "Every brewery we deal with delivers beer to us as fresh as if people drank it there on site, and it's because of the integrity of the clean lines the beer travels through. A lot of these breweries won't deliver to restaurants anymore, but we explained that we'd keep the draft lines clean, so the flavor would stay pure."
HIGH SIDE offers 20 beers on tap, plus four ciders, and customers only pay for the number of ounces poured. Three types of glassware are used; of the two, stemmed glasses, one is a 4-ounce taster and the other is an 8- or 12-ounce pour. The third is a 16-ounce Pilsner glass.
"If you want to drink it warmer, you can hold it with your hand and cup it to warm it," said Garcia. "Or just hold the bottom of the stem to keep it cool. The curvature of the glass creates more oxygen when pouring, which allows you to inhale the beer's aroma when you drink it. That way, it looks and smells better and tastes just as good as direct from the brewery."
Noting that all the beers are from Virginia, he listed some of the most popular ones. "Aslin, in Herndon, is one of the most sought-after breweries, and its Berliner Weisse with boysenberry, blueberry and blackberry is really fruity," said Garcia. "And the Triple Crossing Paranoid Aledroid, from Richmond, is amazing quality."
The Ocelot Space Cadet, made in Sterling, is a "great beer," he said. "And Old Bust Head Caramel Macchiato Stout comes from Vint Hill. It's a coffee-chocolate-caramelly stout and is probably one of the best of their beers I've ever had."
Hours are Tuesday-Friday, 4 p.m.-midnight, and Saturday-Sunday, noon-midnight. Twenty parking spaces are available in the back, after 4 p.m., plus 5-10 spaces in the adjacent building, after 5 p.m., as well as some spots across the street.
"We want people to come in here, enjoy their beer and food and socialize," said Garcia. "It's not a place to get drunk. People come to enjoy the quality of the craft beer and spend time with friends and family. Fairfax needed something like this – the demand was here. Our customers are young professionals, beer lovers and newbies who want to learn about it."
Besides that, he said, "It's our neighborhood – Jinson lives in Fairfax City – and we're the only people providing this experience. We want to appeal to the beer connoisseur, grow a network of everyone who loves beer and eventually license this concept to others."
As for the food, he and his partners wanted a simple menu and saw the demand for non-traditional, Asian cuisine. "I'm originally from Malaysia, my wife is from Taiwan and we both came to the U.S. at age 24," said Chan. "We both love food and good beer, and we thought Asian street food and craft beer would be a good match."
There are several small plates, plus dishes for lunch or dinner. Among the most popular is the Grilled Taiwanese Sausage. "It's a little sweet, but is served with fresh garlic to make it savory," said Chan. "And our Taiwanese Popcorn Chicken is a staple in Taiwan. It's breaded, deep fried and served with fresh basil."
OTHER CUSTOMER FAVORITES include the Garlic Noodles with Grilled Shrimp, Sour Plum Sweet Potato Fries, Taiwanese Fried Chicken, Pork Chop Rice, and Malaysian Chicken Satay with peanut sauce, cucumber and red onion. In addition, High Side offers bottled beers, craft soda and wine.
"My wife and I have lived here [in Mosby Woods] since 2009, and I wanted a place for us to hang out that wasn't a franchise," said Chan. "I wanted something different and to focus on things we do well."
Pleased to have a hit on his hands, he said, "It's amazing. We're excited and proud to be part of the Fairfax City community. We chose downtown as High Side's location because of its vibrant population and highly dynamic neighborhoods. The City of Fairfax government has been a big supporter and gave us a lot of help along the way. So it made me believe this City would be the place to start a small business."