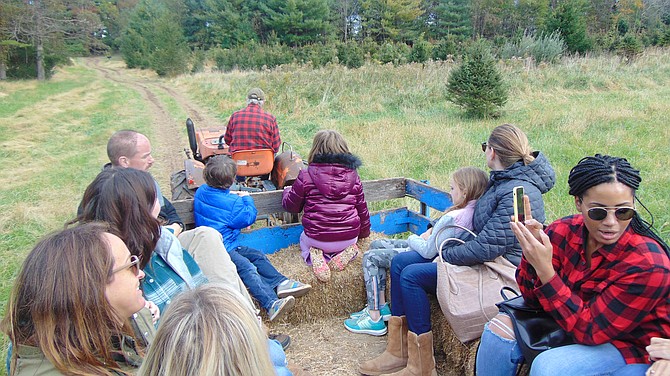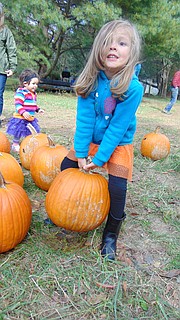 Krop's Crops, a 22-acre farm located at 11110 Georgetown Pike in Great Falls, held a Halloween Outing on Sunday, Oct. 28, 2018, for about 30 kids with pumpkin carving, hayrides around the farm, s'mores, and a chance to play in the corn bin and see live chickens.
Larry Krop, the owner of Krop's Crops, said his primary business is as a Christmas tree farm since 1976. In addition to growing their own trees, they also import them from North Carolina, Pennsylvania and Oregon. Krop's also sells local produce like tomatoes, fall squash and gourds, harvest and Halloween decorations, and apple cider from Stephen's City near Winchester.
He said his family started buying their property from Jack Crippen whose family owned a farm on both sides of Dranesville Road. Through the years, they accumulated five different parcels.
Krop's also provides night-time campfires for groups, which require a reservation. This week, a group of 220 people from McLean Presbyterian Church attended a campfire with dinner.
Preschoolers visit, get a hayride, a small pumpkin and the chance to play in the corn bin, which has 6,000 pounds of corn from Poolesville, Md. Krop got the idea from his grandparents who grew corn in Kansas. "I used to play in the corn bins and I remembered that when I was a kid – and that's what prompted me to do this," he said. Now it's gotten bigger and bigger every year.
He added: "We want it to be simple; we don't want it to be big. I like what I'm doing. …I've got enough to do."
Leading the pumpkin carving, s'mores and a little fire station was SafeSpot, a children's advocacy center in Fairfax County, whose goal is to provide a safe place for children who have been abused.
According to Brett Burnette, SafeSpot junior board member, "[SafeSpot] is the one centralized location so they can come and bring in all the resources to help support them after an event so doctors, police officers, therapists can all come to one centralized location in Fairfax City so they don't have to go around to different areas and tell their story multiple times. There's someone who is assigned to their case that helps them through the process and gives them support along the way as well."
He added: "We try to do two to three fund-raising events per year and we tailor them towards young adults, some towards children, some towards adults in different areas in the region with the goal of trying to get the word out about SafeSpot's mission as well as just having a good time with the kids."
For more on Krop's Crops or to make a reservation, visit www.kropscrops.com or email lkrop@hotmail.com. For more on SafeSpot, visit www.safespotfairfax.org or call 703-385-5437.