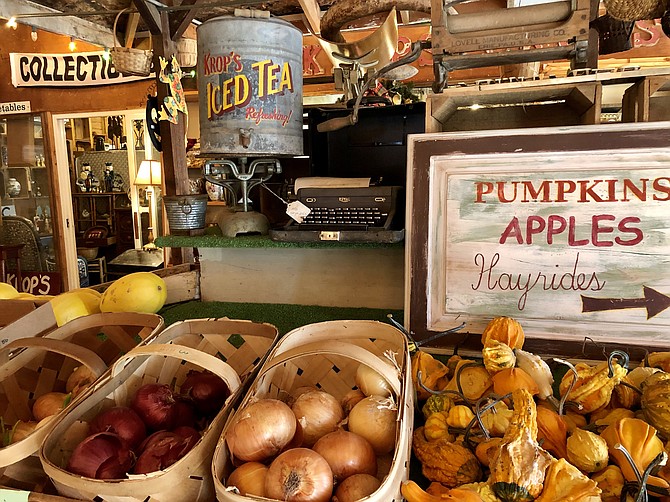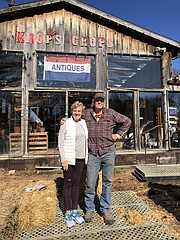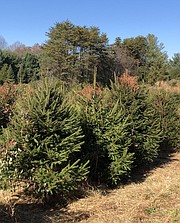 Tucked off the Georgetown Pike is a seasonal farm known as Krop's Crops. Upon first steps up the driveway, visitors are greeted with hay bails, bright pumpkins, and rustic, farm-style signs and lettering to welcome you to the marketplace. Owner and manager, Larry Krop, was outside arranging pumpkins to decorate the entrance, and bookkeeper, Donna Sanson, gave a friendly wave from across the driveway.
Krop's Crops is in the thick of kicking off the holiday season. Sanson shared that "the biggest draw of the season are for Larry's pumpkins. We'll have a line out the door just for the pumpkins." Coming up next for the holiday season at Krop's Crops, will be the sale of wreaths and Christmas trees. Behind the marketplace is an enormous, sprawling field of Christmas trees that wait to be brought home by a family for the holidays. Krop pointed out some rows of Christmas trees that reached about knee-height, and shared that they are in their very early phases of growing. Krop shared that he and his team "planted around 1,000 Christmas trees last year" over the 20-acre stretch of land Krop owns.
Sanson takes a lot of pride in being a part of the Krop's Crops team and admires how conscientious Krop is of the Great Falls community and beyond. "He is so generous with his space and his time. You know, he could very well sell this place and do something bigger, but this is what he wants to do. He stays because he enjoys it that much."
A natural craftsman, Krop often repurposes material for any building or repairing projects needed at the marketplace. Krop knocked on the side of a recent extension to the marketplace that houses a number of antique vendors' goods and said "I built this a little while back. We needed the space and I knew where to get the supplies, so I figured why not do it myself?"
With sustainable goods and produce from local partners, to seasonal fruits, veggies, and trees nurtured on-site, to the recycled roof visitors stand under, Krop's Crops gives a new name to homegrown. To keep up with the seasonal festivities available at Krop's Crops this year, follow their Instagram under the handle, @kropsvintagemarketplace. Photos of produce, antiques, and other gifts blanket the feed, with captions that help followers find ingredients for a fall recipe, great gifts for a hostess, or intricate glassware for a holiday party.