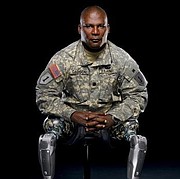 Col. Gregory D. Gadson (ret), former Garrison Commander of Fort Belvoir, will be the keynote speaker at the Alexandria Chamber of Commerce Salute to Veterans Awards Nov. 8 at the Carlyle Club.
A resident of Alexandria, Gadson is a 1989 graduate of the United States Military Academy at West Point. He has served in every major conflict of the past two decades, including Operations Desert Shield/Storm in Kuwait; Operation Joint Forge in Bosnia-Herzegovina; Operation Enduring Freedom in Afghanistan and Operation Iraqi Freedom.
In May of 2007, while returning from a memorial service for two soldiers from his brigade, he lost both his legs and severely injured his right arm to a roadside bomb in Baghdad. Gadson continues to serve as an advocate for wounded warriors, veterans and those with disabilities.
Gadson retired from active duty in 2014 with more than 25 years of service. He is currently an entrepreneur and managing partner of Patriot Strategies, LLC, an Alexandria-based government services company. He is also an accomplished photographer and artist and remains active in cycling, skiing and scuba.
World War II veteran Philip K. Lundeberg, one of only 27 survivors of the sinking of the USS Frederick C. Davis warship in the Battle of the Atlantic, will be presented with the 2018 Distinguished Patriot Award.
Other awards being presented include: Small Veteran Owned Business of the Year — Gold Works by David Martin; Large Veteran Owned Business of the Year — Jack Taylor's Alexandria Toyota; Business Empowering & Hiring Veterans — Capitol Post; and Veterans Outreach — Alexandria Police Officer Bennie Evans.
The event will be held at The Carlyle Club, 2050 Ballenger Ave., beginning at 8 a.m. For tickets or more information, visit www.alexchamber.com.