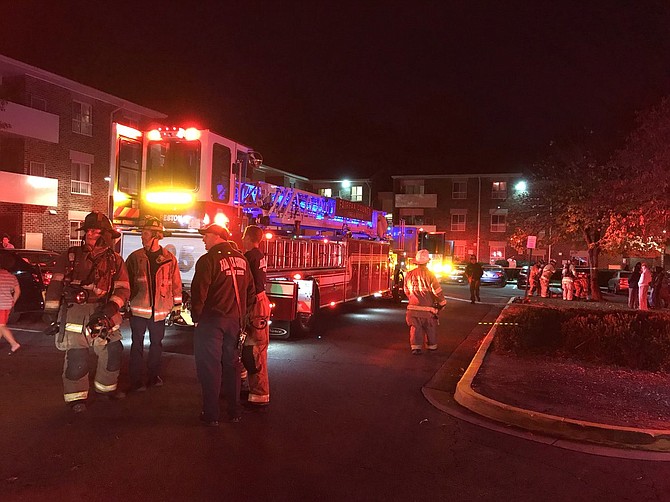 On Saturday, Nov. 3, at 5:22 p.m., units were dispatched for a report of an apartment fire in the 1600 block of Becontree Lane in Reston. While en route, additional information indicated that one person was still inside the apartment.
Units arrived on the scene of a three-story, garden style apartment building and observed smoke showing from the front. Crews quickly located a fire in an apartment on the terrace level of the building. A second alarm was requested.
Crews quickly worked to extinguish the fire. While advancing fire hose into the apartment, firefighters removed two occupants from the stairwell. They also located one person outside the building who had been removed from the fire apartment by neighbors prior to fire department arrival. The fire was quickly extinguished and confined to the apartment of origin.
A total of seven patients were assessed at the scene. Four were transported to an area hospital with non-life-threatening injuries. There were no firefighter injuries.
There were two residents home at the time of the fire. One resident self-evacuated the home when she noticed flames coming from the toaster. She called 9-1-1. Smoke alarms sounded after the fire was discovered.
Fire Investigators determined that the fire was accidental in nature and started in the kitchen of an apartment. The cause of the fire was an electrical event involving the toaster.
A temporary shelter was established at nearby Forest Edge Elementary where Fairfax County Fire and Rescue, property management, and Red Cross assisted the occupants of the building. A total of three occupants were displaced because of the fire. Red Cross assistance was offered and declined. Damages as a result of the fire were approximately $150,000, according to Fairfax County Fire & Rescue Department.