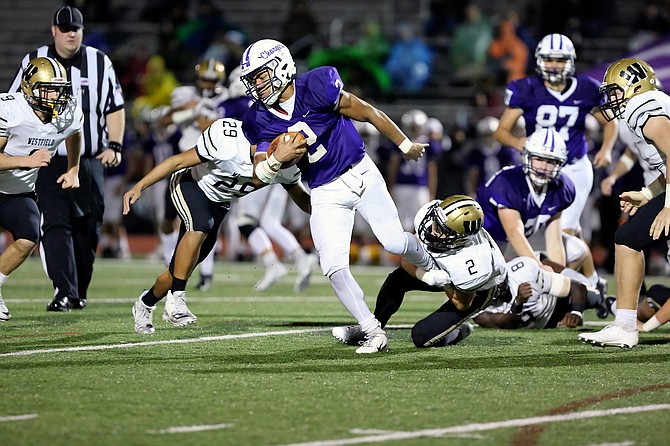 For the second consecutive week, heavy rains poured down on local games throughout the region. For the 34th consecutive game, the Westfield Bulldogs have poured it on each of their opponents. Since 2014 Westfield has not lost a conference regular season game.
Early in the first quarter, Westfield's Riley Nugent kicked a 22-yard field goal to give Westfield and early 3-0 advantage. However, Chantilly responded when Dylan Sparks ran into the end zone to give Chantilly a 7-3 advantage after a successful extra point by Will Hughes.
The second quarter wouldn't go as well for the home team Chargers. Westfield's Joe Clancy ran in from 4 yards out with 8:14 to play in the half, and after a successful extra point by Riley Nugent Westfield took a 10-7 advantage. Later in the quarter Noah Kim would rush in from 4 yards out to increase the Bulldogs lead to 17-7 with 4:44 until halftime.
In the third quarter, Westfield would add another touchdown with 10:04 when Joe Clancy ran in from 6 yards out for his second touchdown of the game. Riley Nugent's extra point was unsuccessful, and so the score remained 23-7. Roughly 6 minutes later Chantilly QB Tyler O'Reilly would run in to get Chantilly within 10 points. Chantilly would elect to go for a 2-point conversion to attempt to bring the game to a one possession game. That attempt failed, and Westfield remained atop 23-13.
In the fourth quarter, Westfield QB Noah Kim ran in for his second touchdown of the game on a 12-yard run. Westfield elected to go for a two-point conversion, which was unsuccessful. Both teams would go scoreless for the remaining 7:16 of play, for a 29-13 Westfield win.
Westfield (10-0) (4-0) will play Yorktown (6-4) (4-1) in the first round of the playoffs. Westfield will have home field advantage throughout the playoffs. Chantilly ends their season at (3-7) (1-3). Westfield was led by Eugene Asantes's 45 yards rushing. Isaiah Daniel ran for 31 as did QB Noah Kim. Kim would also run for two scores. Joe Clancy would rush for 12 yards and two touchdowns. Taylor Morin caught 3 passes for 96 yards. Chantilly was led by Tyler O'Reilly 11 carries, 163 yards, 1 TD (34 yard TD); Dylan Sparks 28 carries, 117 yards, 1 TD (2 yard TD); Mike Tacinelli 3 receptions 20 yards; and Tyler O'Reilly 3/7, 20 yards.
Head Coach Seth Curry of Chantilly stated after the game, "I am very proud of our guys and their effort; they rallied around each other, had a great week of practice, came out prepared and fought until the end. I am fortunate to have a great coaching staff and they had our boys ready to play. Westfield is not only the gold standard in our district but they also set the standard for the entire state, and our guys didn't flinch. Westfield is a great team with great players and a tremendous coaching staff."