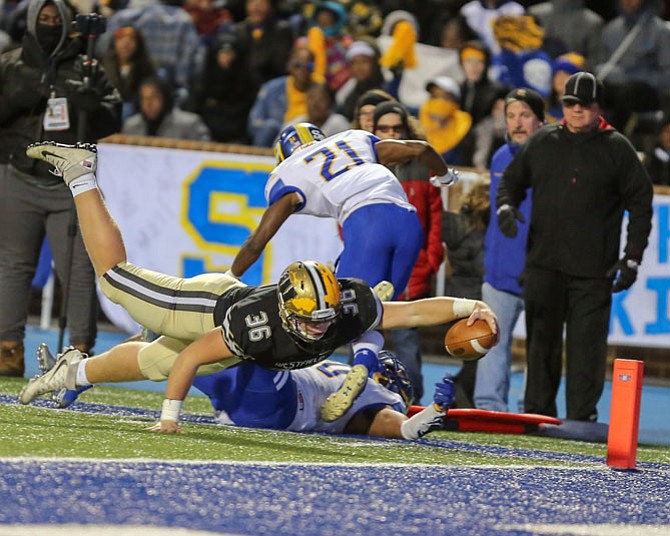 Two days after a winter storm struck Virginia causing the rescheduling of all state championship games, the Westfield Bulldogs did it again. Originally the championship was scheduled for Saturday, Dec. 9, at Armstrong Stadium in Hampton, Va., but because of power outages and snow and icy roads, the Virginia High School League (VHSL) opted to play the game one day later.

Oscar Smith would open scoring with 3:06 to play in the first quarter when Cam'Ron Kelly ran 71 yards for a touchdown. After a PAT, Oscar Smith led 7-0. After a 15 yard penalty on Oscar Smith for a face mask, Westfield was determined to get the ball to their playmaker, Taylor Morin. A pass to Morin netted 8 yards and then the ensuing play with a 3-yard run by Eugene Asante gave Westfield a new set of downs. On 1st and 2nd down, Kim's passes went incomplete to Morin. Moments later after once again moving the chains, Kim would connect with Morin from 46 yards out and after a Bulldog PAT, it was tied up again.
In the second quarter after a Westfield punt, Oscar Smith Cam' Ron Kelly fumbled the ball after a hit by Israel McClain, which was recovered by Elijah Aikines. Six plays later on 3rd and 15, Westfield QB Noah Kim would connect with Joe Clancy on the Oscar Smith side of the field where Clancy would extend the ball across the goal line for a 17-yard touchdown with 7:26 to play in the quarter, giving Westfield a 14-7 advantage. On the sixth play of the ensuing drive, Westfield's Alex Shadkhoo intercepted the Oscar Smith QB.
Westfield had deferred to the second half kickoff and made the most of the opening possession. On first down, Bizzett Woodley would bring in a Kim pass for 18 yards to the Oscar Smith 44 yard line. Two plays later Asante would blast down the Westfield sideline for a 44-yard TD run. After a missed extra point, the Bulldogs were up 20-7.
After getting the ball back, Khalid Wilson ran the ball four consecutive times for Oscar Smith. On the next play, Dominique Brooks completed a 52-yard pass to Cam'Ron Kelly for a touchdown pulling the Tigers to within six points after a successful PAT, 20-14. A Westfield punt was then blocked. Khalid Wilson would run the ball five more times before a Dominique Brooks' 1-yard TD, with 4:37 to play in the third quarter, giving Oscar Smith a 21-20 lead after a PAT. Again, Westfield would strike back on 3rd and 9 when Kim would throw his third TD pass of the game hitting a wide open Gavin Kiley for 88 yards. Westfield opted to go for a 2 point conversion, which was successful when Kim hit Joe Clancy. Westfield held a 28-21 lead heading into the fourth quarter.
After both teams were unsuccessful on their first series of the fourth quarter, Westfield's Taylor Morin opted to throw the ball. Morin's pass was intercepted by Cam'Ron Kelly, who returned it 38 yards to the Westfield 23. On 2nd down Morin would return the favor to Oscar Smith with his second interception of the game. Six plays later Westfield coughed up the ball and Oscar Smith recovered on their 49 with :27 to play. Two plays later Saadiq Hinton would close the door on Oscar Smith when he intercepted a pass at the 1 yard line.
Sophomore QB Noah Kim threw for three touchdowns on 8 of 21 attempts for 205 yards. Running Back Eugene Asante carried the ball 19 times for 109 yards and a TD. Taylor Morin had two interceptions on defense and caught five passes for 82 yards and a TD. Defensively Westfield sacked the Oscar Smith QB, three times. Dylan Winesett and Eric Schweiger teamed up for one sack and Nolan Cockrill and Aaron Dischun each had a solo sack. Alex Shadkhoo and Saddiq Hinton each intercepted the Oscar Smith QB.
With the 28-21 win, Westfield ends the season (15-0) and a historic third consecutive state 6A football title — the first time a 6A team has accomplished this. Westfield won previous 6A titles in 2003, 2007, 2015, 2016 and now 2017.