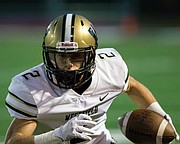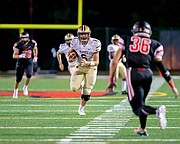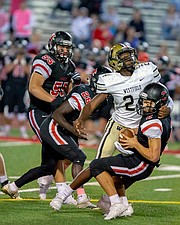 The Westfield Bulldogs and Madison Warhawks played each team's first conference game of the 2018 season on Friday, Oct. 5 in Vienna. Madison came in losing only once to Stone Bridge in the fourth week of the season while defeating South County, Washington-Lee, West Potomac, Fairfax and Marshall. Westfield came into the game with an unblemished record, and looking for its 30th consecutive victory, defeating Lake Braddock, South County Stonewall Jackson, West Springfield and Patriot.
The first quarter would end without either team able to put any points on the board.
In the second quarter the two teams put up a combined 21 points, with Westfield striking first with 9:37 when Bizzet Woodley pulled in a Noah Kim pass for a 5 yard touchdown, his seventh touchdown of the year. Later Madison would answer with 5:23 to play in the half, when chase Browning ran in from 31 yards out. Twenty-seven seconds later after a Madison turnover, Westfield would score on a 6-yard touchdown run by Isaiah Daniel, his fifth rushing touchdown of the year, giving Westfield a 14-7 advantage.
In the third quarter Riley Nugent would boot in a 33-yard field goal with 6:38 to play, Westfield leading 17-7.
In the fourth quarter Madison pulled within two points when John Finney scored a TD with 8:24 to play in the game. The Warhawks elected to go for a 2-point conversion and were successful bringing the Warhawks to within two points, 17-15. In the closing minutes the Warhawks would drive down the field, with a chance to win the game on any score, but Westfield would secure the game on fourth down when Max Ohiakpo sacked Madison QB Ry Yates. Ohiakpo said after the game, "Westfield coaches always say make big time plays in big time games." Ohiakpo also caused a fumble that teammate Taylor Morin would recover in the red zone.
Westfield with the win improves to (6-0) (1-0), while Madison falls to (5-2) (0-1). Westfield will play at home its homecoming game on Friday with Oakton. Madison will play at Chantilly (2-4).
Westfield was led by Isaiah Daniel who carried the ball for 81 yards on 17 carries and a TD. Eugene Asante carried the ball eight times for 27 yards. Taylor Morin caught six passes for 52 yards, Bizzet Woodley caught two passes for 22 yards and a TD.